Is the UK's food supply hanging in the balance?
4 June 2013
"With the UK never more than a few days away from a significant food shortage, UK consumers should also be encouraged over time to reduce how often they eat meat."
Sir Malcolm Bruce, Chair, International Development Committee, 4 June 2013
Reported in Mail, BBC, Express, Independent, Evening Standard, Sky News
'Meat should only be a treat' was the commons theme to most news outlets this morning as the International Development Committee published its report into Global Food Security.
The report itself called for consumers to eat less meat in the context of global food shortages and instead move to more sustainable foodstuffs. But one claim stood out from most others - the idea that the UK is never more than a few days away from a significant food shortage.
So does our food security really hang in the balance?
Surprisingly, the report itself doesn't explicity state this at all. After contacting the Committee, Full Fact was directed to a section of evidence from Professor Tim Lang:
"At present, levels of food stocks are low. Referring to the UK, Professor Lang told us: 'We do not store, actually, it is all on the motorway. We have a just-in-time system of food.'"
So, it's our "just-in-time" system that's being highlighted here. What exactly does this mean?
Full Fact contacted Professor Lang about the claim but he wasn't able to provide any specific information. For more info, we looked to the Deparment for Environment, Food and Rural Affairs (Defra). In 2010 they published a UK Food Security Assessment which highlighted among its 'key indicators' for food security "average retailer grocery stocks". Defra explain:
"As distribution systems have become more sophisticated over the last two decades, retailers and others in the supply chain have increasingly adopted Just-In-Time (JIT) principles of operation - sourcing supplies in small quantities at frequent intervals to provide continuous availability to consumers" But this isn't without its risks:
"Where, however, the drive for efficiency and JIT has reduced the role of stocks and "contingent capacity?, so risks have shifted towards transport-related disruptions.
"Even a short delay in supplies can have an impact on particular fast-moving lines, although in most cases shoppers would not notice this, and have alternative choices.
"But where many or all deliveries are blocked for some reason, shelves could go empty, and this could be exacerbated by panic buying, which could worsen availability for those consumers less able to respond quickly."
In other words, 'just-in-time' distribution squeezes the margin for error, meaning transport disruptions - such as bad weather or lorry strikes - can be all the more damaging to food stocks.
Okay, but are there any hard numbers?
Unfortunately actual numbers to back up this picture haven't proven easy to find. Full Fact got in touch with Defra and the Institute of Grocery Distribution (IGD), who supply the Department with industry information, to find out what they could tell us.
We're still waiting to hear back on some details, but what we were able to find was the latest estimates of retailer warehouse stock levels, published by Defra in their 2012 food pocketbook: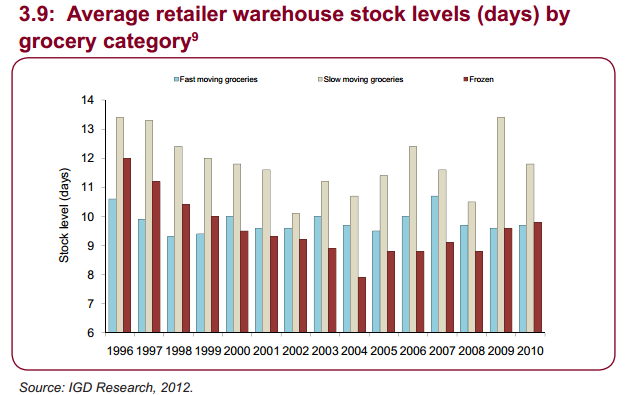 [note: vertical axis does not start at zero]
The chart above shows IGD's figures on grocery companies' stocks in warehouses, and estimates of how long they would last based on 'normal' demand and no supply. These aren't comprehensive figures as they won't include some smaller retailers and, according to Defra, some food categories which don't involve a stage of warehouse storage (such as fresh and chilled produce) are not reported.
What it does tell us, however imperfectly, is that grocery retailers do hold something in the region of 10 days' worth of food stocks. We'll update this article if we receive more info from the Department and IGD about the available figures.
What if things go wrong?

When it comes to terrorism and other malicious threats, official guidance called Defending Food and Drink states: "In practice, undertaking a major attack on the food supply chain is much more difficult than at first it may be believed."
In 2006, the government commissioned research from Cranfield University into Resilience in the Food Chain "to contribute towards 'evidence-based' policy making".  As summarised by Prof. Lang and colleagues at the Centre for Food Policy: "the study argued that most UK food retailing is resilient overall, in that it could withstand loss of stores, people, supplier, power, fuel or site access."
The report states: "The fuel protest of 2000 was the crisis most widely referred to in this study," which interviewed senior managers of food businesses and concluded: "The findings revealed that the retailers had weathered the crisis well."
There's a limit to what it would be sensible for the government to publish about the resilience of the food supply but what's out there seems more reassuring than today's announcement.
It would be premature to conclude that there is no basis for the Committee's claim that "the UK is never more than a few days away from a significant food shortage." But there is no evidence for it in the Committee's report, and the evidence we've seen doesn't suggest it's a well-established fact.
The government is required to respond to the Committee's report and it will be interesting to see if Defra accepts their assertion.