Unemployment, nurses, and knife crime: factchecking Prime Minister's Questions
20 January 2016
Honesty in public debate matters
You can help us take action – and get our regular free email
Unemployment
"The unemployment rate is now at the lowest in nearly a decade, at 5.1%; the unemployment rate is now lower than it was at the start of the recession; the latest figures show unemployment falling by another 99,000; and we have today in our country the record number of people in work ever in our history and a record number of women in work. Since I became Prime Minister 2.3 million more people in work"—David Cameron
This is right. Figures out today show over 31 million people in work, 600,000 more than last year. Employment is higher in every region of the UK, but in some places the changes aren't very significant.
74% of people aged 16-64 are in work—the headline employment rate—which is the highest since records began in the 1970s.
The unemployment rate, at 5%, is at its lowest level since 2005. It has been falling fairly consistently since late 2011.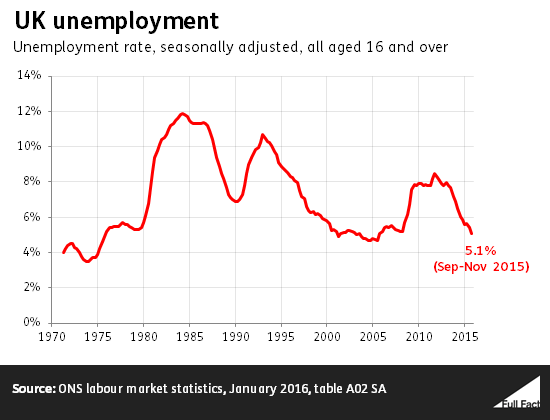 Nurses
"Two out of three people today who want to become a nurse cannot do so"—David Cameron
60% of people who applied to nursing courses in England didn't get a place, in 2014, according to the best figures we've seen. That's three-fifths, rather than two-thirds.
Those numbers come from a report by the Royal College of Nursing, which was given unpublished figures on the number of applicants by UCAS, the body that handles university applications.
This isn't the first time the government has used the two-thirds figure. Last time we asked it for a source, but it hasn't got back to us.
The Royal College of Nursing's former chief executive has also cited figureson nursing applications that support the claim that two thirds are rejected. The College told us it wasn't sure why these are different to the numbers in its report, but that it's possible the two-thirds figure is based on the whole UK rather than England alone.
"Nine out of 10 hospitals currently have a shortage of nurses."—Jeremy Corbyn
In August last year, nine out of 10 hospitals in England had fewer nurses than planned during the daytime. That's according to research (£) by the Health Service Journal (HSJ).
'Acute' hospitals record the proportion of hours when the number of nurses on duty met their plans. Since June 2014 this information has been available on the NHS Choices website.
HSJ says it collected information on 225 acute hospitals, and found that 207 of them didn't achieve their plans for daytime hours. That's 92%. Including nighttime hours, the number who didn't meet their plans was 178, or 79% of the total.
It says a deterioration in the figures "may reflect trusts increasing their planned levels for registered nurses on wards following safe staffing guidance from the National Institute for Health and Care Excellence published last year".
In other words, part of the reason hospitals may be missing nursing targets is because they've raised their own targets rather than lost nurses.
As we've written before, in recent years there's been a growing emphasis on increasing the number of nurses per patient in response to poor care at Mid Staffs.
Knife crime
"Knife crime in London rose last year and... the number of teenage deaths as a result peaked to its highest level in seven years."—Wes Streeting MP
Recorded knife crime in London rose 5% in the year to November 2015, as measured by the Metropolitan Police. There's been a generally falling trend in recent years.
Not a lot can be read into these figures: increased recording of certain offences can simply reflect police activity rather than more crimes being committed. The police are also thought to be getting better at recording crime, which may contribute towards rising figures.
We've asked the Home Office for figures on teenage deaths due to knife crime in London, but the claim is likely to be right. The website Citizens Report logs and maps teenage murders in London and shows 15 deaths in 2015—the highest number since 2008.
"Overall [knife crime] has fallen by something like 17% since 2010"—David Cameron
Knife crime recorded across England and Wales is down by about 20% since 2010, driven by a fall in recorded robberies.
As discussed above, this isn't a reliable indicator of what's happened to the number of incidents.
"We have toughened the law on knife crime offences and the custodial sentences people are getting for those crimes"—David Cameron
The law on knife crime offences has been "toughened" since 2010, although it's hard to say whether that has had any effect on crime.
In 2015, minimum sentences for possessing an offensive weapon or "article which has a blade or is sharply pointed" were brought in for repeat offenders.
The minimum is four to six months, depending on the offender's age.
The 'first strike' can be a previous conviction for possession, or for the newer crimes of threatening with knives or other weapons that were created in 2012.
The 2012 law makes it a crime if somebody has a knife or other offensive weapon on them and threatens another person with it in a way that creates "immediate risk of serious physical harm to that other person".
While this may have been illegal before 2012 under other laws, the new knife crimes also came with minimum sentences.
It can be difficult to demonstrate that tougher sentences are better sentences in terms of deterring people from crime, though.
Longer knife crime sentences may not work if people carrying or using knives aren't aware of them, or think that the protection benefits of carrying a knife outweigh the risk of going to prison.
Apprenticeships
"I will tell the honourable Gentleman what we are doing for young people and that is record numbers going to university, record numbers who are taking on apprenticeships, record numbers in work."—David Cameron
There are generally record numbers and rates of young people going to university but not record numbers taking on apprenticeships or in work. We've asked Downing Street to clarify Mr Cameron's remarks.
There's a difference between the number of people on apprenticeships—participation—and the number of people starting new ones—apprenticeship 'starts'.
There were roughly record levels of participation in apprenticeships in 2014/15 for those aged under 24.
But there weren't record levels of starts for the under-24s. More people were 'taking on' apprenticeships in 2011/12.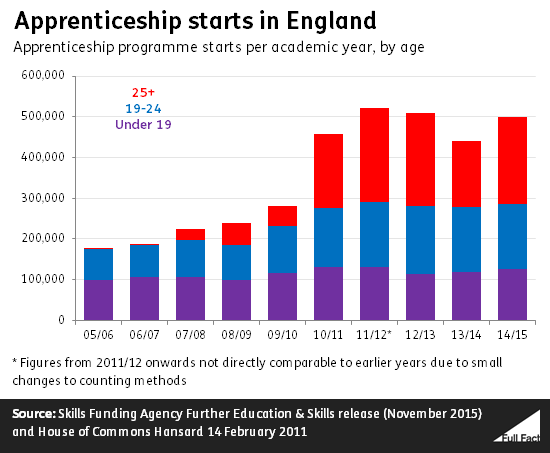 The overall employment rate is at a record high. But the number and rate of young people in employment is not.