In brief
Claim
Unemployment under Labour rose.
Conclusion
Correct. The UK unemployment rate and total number of people unemployed was higher when Labour left government than when it entered it. That said, unemployment was relatively low for much of the party's term.
"Under Labour unemployment rose."

Suella Fernandes MP, 6 April 2017
The number of people unemployed in the UK and the unemployment rate were both higher when Labour left office in 2010 than when it came to power in 1997.
That summary hides a varying trend during that time: unemployment was relatively low for most of Labour's stint, but rose considerably during the recession in the late noughties.
When Labour won the 1997 election the unemployment rate for adults was 7.2%. When it left government in 2010, it was 7.9%.
The number of people who were unemployed rose from 2 million to 2.5 million.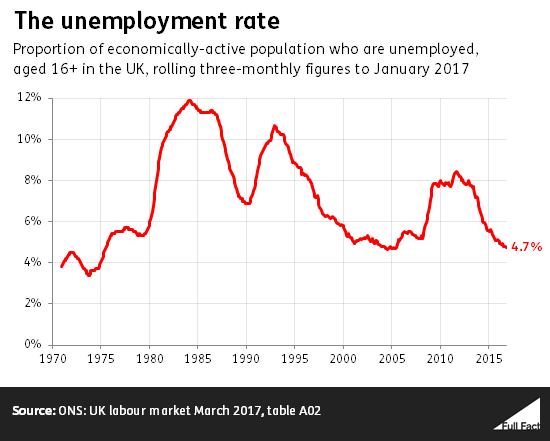 Unemployment rates generally fell from the time of Labour taking power in 1997, rising after 2005. During the Labour government unemployment remained at around 5% for most of the 13-year period—in the ballpark of full employment, in practice.
The total number of people unemployed followed roughly the same pattern.
And Labour's time in government ended in a recession, which led to increased unemployment from 2008 onwards.
The main measure of unemployment in the UK is provided by the Labour Force Survey. This looks at "people without a job who have been actively seeking work within the last four weeks and are available to start work within the next two weeks." It then shows this number as a share of the economically active population.
Correction 10 April 2017
We have corrected the figures given for the number of people unemployed.
This factcheck is part of a roundup of BBC Question Time. Read the roundup.
Full Fact wants to see greater accountability for public figures who mislead us—and we need your help.
Political debate in the UK is in flux right now. The UK's exit from the European Union is approaching, we will soon have a new prime minister and potentially a general election.
We want politicians to tell the truth, and while the best politicians realise that their work should be done honestly, some aren't taking their responsibilities seriously. Both sides in the EU referendum campaign let voters down, from deceptively designed leaflets to some of the arguments made on each side. The public rightly expects more from politicians.
We want to see greater accountability for public figures who mislead. Full Fact will continue to advocate for higher standards and call out those who don't uphold them.
But we rely on the generosity of our supporters to make sure we can spot the most harmful misinformation when we most need to.
Can you help us?
Support better public debate today.
---