It's conference season and the leader of the Liberal Democrats has taken the dais to announce a new policy: all five-to-seven year-old pupils in state schools in England will receive free school meals from September next year.
When reporting on the news the Independent wrote:
"Some 400,000 children already receive free school meals but an estimated four in 10 children living in poverty do not qualify."
Where do these claims come from, and are they accurate?
Who is entitled to free school meals?
In England, children are entitled to receive free school meals (FSM) if their families receive: Income Support, income based Job Seeker's Allowance, or income-related Employment and Support allowance, the Guarantee credit of Pension Credit, or Child Tax Credit (CTC) and have annual income of £16,190 or less. This does not apply if the family is receiving working tax credit (WTC) unless this is during the four week 'WTC run on' period.
The Independent claims that "400,000 children already receive free school meals," however DfE data shows that 1.3 million children are eligible and claiming free school meals.
If we focus on the number of children affected by the policy, we get a closer number: 347,000 children aged 5 to 7 claiming FSM. 
According to the Children's Society the DfE numbers don't necessarily reflect actual take up, and instead show simply those that are registered to receive FSM. When it comes to all children, the charity argues that 1 million or all children registered for FSM actually receive them, and reference a survey by the Children's Food Trust put the take-up rate at 75% for both primary and secondary school children.
We have contacted the DfE to ask them to clarify the distinction between those registered and those receiving FSM, and we will update as soon as we hear back.
How many school children are living in poverty and claiming free school meals?
While the Independent doesn't directly source its figure, the same statistic can be found in the government press release announcing the policy:
"many children on low incomes are not eligible for free school meals — approximately 4 in 10 children living in poverty."
The release sources the figure back to the government-commissioned study on the School Food Plan. The School Food Plan in turn references analysis by the Children's Society which, in their 'Fair and Square' investigation, looked into the proportion of children living in poverty who are not entitled to free school meals.
We spoke to Dr. Sam Royston, a policy adviser at the Children's Society who talked us through how they reached their estimates. Most of the statistics they used apply to 2011.
29% of children in England live in poverty according to the DWP's Households Below Average Income report.
Extrapolating from this suggests that out of a total 7.5 million state school children, roughly 2.2 million live in poverty. Only 1.3 million of them are actually registered for free school meals, according to the Department for Education's statistics.
This leaves 900,000 school children living in poverty and not claiming free school meals, roughly 4 in 10.
The fact that nearly a million school children are not claiming FSM does not however mean that they do not qualify for them, as the Independent reported.
According to the Children's Society, that figure is actually closer to a third.
How many school children are eligible for FSM?
The Children's Society's starting point is the HM Revenue and Customs 2011 Statististics on Child and Working Tax Credits which, according to the authors of the study, show that in 2011 20.5% of children were entitled to free school meals.
On the back of these figures, the researcher calculated that 1.5 million school children (20.5% of the total 7.5 million state-funded school population) are in families in receipt of benefits which would qualify them for FSM.
Out of a total 2.2 million children living in poverty, that leaves 700,000 (roughly a third) who are in poverty but not entitled to register for free school meals.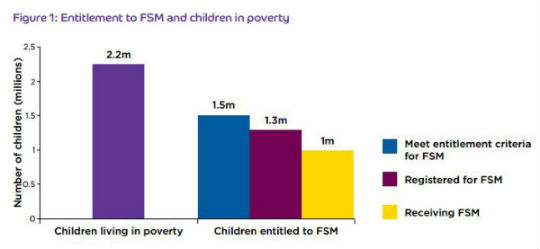 The findings rest on a series of assumptions, chief among them that all children claiming free school meals live in poverty. Whether or not this is the case is contentious. In the past commentators accused the previous Labour government of using the benefits system to bring families above the poverty line as a method of meeting its poverty reduction targets.
---
Flickr image courtesy of Liberal Democrats
With Brexit fast approaching, reliable information is crucial.
If you're here, you probably care about honesty. You'd like to see our politicians get their facts straight, back up what they say with evidence, and correct their mistakes. You know that reliable information matters.
There isn't long to go until our scheduled departure from the EU and the House of Commons is divided. We need someone exactly like you to help us call out those who mislead the public—whatever their office, party, or stance on Brexit.
Will you take a stand for honesty in politics?
---