Are more teachers quitting the profession than entering it?
15th Dec 2015
Claim
Record numbers of teachers are quitting the profession, more than entered the profession.
Conclusion
Slightly more people left teaching roles in state-funded schools in 2014 than entered them. Those that left include over one in four who retired, so not all of these people are "quitting" teaching in favour of a different job. The numbers of teachers leaving and entering state-funded schools in England in 2014 were the highest since 2011 (when records began).
"…record numbers of teachers are quitting the profession—50,000 this year, more than actually entered the profession."

Shadow Education Secretary Lucy Powell, 14 December 2015
In terms of actual numbers entering and leaving the profession, slightly more people left teaching roles in state-funded schools in 2014 than entered it. 49,110 qualified teachers left and 48,870 joined.
13,000 of those who left retired. So these aren't necessarily all teachers who might consider themselves as having "quit" in the sense of leaving the job because they're fed up of it or because they want a different one. This is important to consider in the context of Labour's claim that Ministers have "constantly talked down the profession, causing thousands of teachers to quit". The Conservatives have reportedly argued that it's "disingenuous" to include retirees in this context.
Of those who haven't retired, about one in six move to private schools, according to analysis by the National Foundation for Educational Research. So not all of these teachers are stopping teaching completely. We've got more detail on the destinations for the leavers in a separate factcheck.
All data here relates to qualified teachers unless otherwise stated.
Record numbers entering and leaving
Regardless of whether you include or exclude retirees, the number of teachers leaving state-funded schools is the highest since 2011 (when comparable records began). That's not unique to those leaving—the number entering these schools is also the highest since 2011.
So far, there have been enough entrants to mean that the total number of teachers (full time equivalent) in the state-funded sector has been increasing.
We can't compare back before 2011 because the statistics were measured differently then, including at a different time of year.
Rates of entries and leavers have been fairly similar
The other way to look at the gap between teachers entering and leaving is through the 'entry rate' and 'wastage rate'. That's the number of teachers entering and leaving state-funded schools as a proportion of all teachers in those schools. The entry rate was just under 10% in 2014, while the wastage rate was 9 or 10% depending on whether you're interested in headcount or the full-time equivalent measure.
These rates have remained broadly around the 10% mark over the last few years (and between March 2005 and March 2011, when the data was collected differently).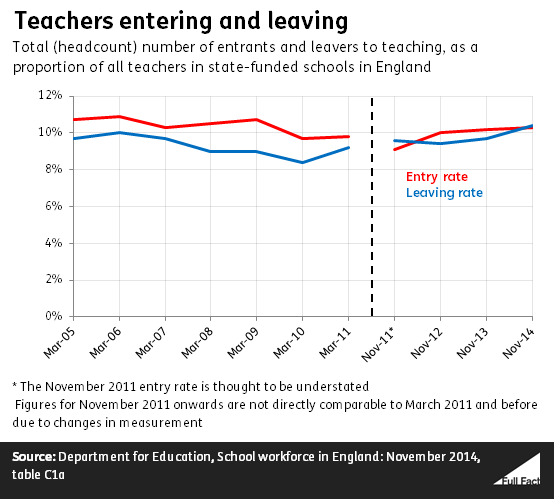 On the broader question of whether this demonstrates a teacher "recruitment crisis", as Labour and others have argued, this set of data is one of many that can be looked at. We'll have a more detailed analysis looking at the variety of data available on this soon.