Is falling net migration hitting UK universities?
30 May 2013
"When, last week, the [net migration] number declines, this is a great triumph for immigration control, which is quite absurd and unfortunately is seriously distorting the debate on sensible university policy and, indeed, sensible immigration policy."
Vince Cable, quoted in The Independent, 29 May 2013
With the Government committed to reducing net migration to the "tens of thousands, rather than hundreds of thousands", last week's news that net migration has fallen by a third since the election was seen as broadly good news for ministers.
However the progress being made towards this target has not been as warmly received by the yellow half of the Coalition as this might suggest. Yesterday Lib Dem Business Secreary Vince Cable raised eyebrows by arguing that it is "absurd" to welcome falls in net migration.
In particular, Dr Cable - who was speaking at the Global Universities Summit in Westminster - singled out the impact upon the higher education sector, warning that the 'crackdown' could put off students thinking of studying in the UK, with knock-on effects on the number of skilled workers available to British firms.
But do the latest immigration figures actually support the Business Secretary? An unnamed Conservative source hit back in this morning's Sun, claiming that actually the numbers of foreign students coming to UK universities had actually risen by 5%, in spite of the overall decline.
A closer look at the latest figures bears this out. While there was a 10% fall in 'sponsored student visas' - those visas issued to students studying at approved further- or higher-education institutions or language schools - the number of foreign university students did indeed rise by 5%. This rise was more than cancelled out by dramatic falls in foreign students at further education institutions and language schools, both of which saw drops of 46%.
Nor is this a quirk of the latest data. Longer-term figures show that the number of sponsored visas issues to university students has remained fairly stable since the election, although this compares to a period of growth under the previous Government.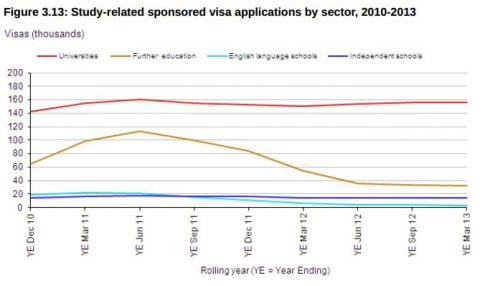 This doesn't necessarily mean that the number of students coming to the UK to get a university education will remain unaffected by stricter immigration controls.
What the latest figures do record is falls in work-related visa grants, which the ONS attributes in part to the closure of the 'post-study work route' in April 2012, particularly when it comes to the highly skilled Tier 1 applicants.
Whether this will have a longer-term effect upon the desirability of a British university education remains to be seen, as the Border Agency is still working its way through exiting applications. Similarly, a drop in students studying at further education institutions may yet translate into fewer foreign students in universities in future years, as many students choose to stay on to study at British universities after completing their college course.
Conclusion
The latest visa data does indeed show that the number of foreign students permitted to study at British universities grew in the last quarter, although there were sharp drops in visas issued to further education and language school students.
However we may need more data to see whether or not this means that the appeal of UK universities oversees has been unaffected by changes in immigration policy, as recent alterations may take time to filter through into the visa numbers.