In brief
Claim
We have cut further education budgets by 50%.
Conclusion
Incorrect. Spending on core adult skills fell by 40% in England between 2010/11 and 2015/16, taking inflation into account. Changes to funding make recent comparisons more complex but the overall picture is that non-apprenticeship core funding is set to fall slightly between 2016/17 and 2019/20, and adult apprenticeship funding is set to significantly rise.
"The priority is, why have we cut FE budgets by 50%?"

David Lammy 15 February 2018
At the end of last night's BBC Question Time Mr Lammy revised his claim, tweeting that the fall was between 40% and 50%. Mr Lammy's office has referred us since to an article in The Guardian from 2015, claiming the adult skills budget has been cut by 40% since 2010.
That's correct for the period 2010/11 to 2015/16—funding has fallen by around 35-40% accounting for inflation.
Since 2015/16, the core adult skills budget has changed, with apprenticeship funding separated out and other adult skills funding combined into one 'Adult Education Budget'. The new Adult Education Budget is set to fall by around 3% from 2016/17 to 2019/20, accounting for inflation, and the adult apprenticeship budget is set to increase by around 47%.
Cuts to the core adult skills budget between 2010 and 2015
The Adult Skills Budget includes funding for classroom-based learning, adult apprenticeships and other workplace training, for people aged 19 and over. It excludes community learning (informal courses on things like IT and employability) and training for offenders in prison.
There are two ways to look at what's happened to the budget: how much was allocated, and how much was spent. The annual budget for England is set out by the government each year, and then the Skills Funding Agency, now the Education and Skills Funding Agency (ESFA), is responsible for distributing funding.
Initial allocations by the government for the Adult Skills Budget fell by 34% between 2010/11 and 2015/16, accounting for rising prices over that period.
Spending via the Adult Skills Budget, reported in the ESFA's annual accounts, fell by around 41% over the same period.
This fall comes from a decline in funding for adult skills programmes other than apprenticeships, such as classroom-based and workplace training. The apprenticeship element of the budget actually went up over this period.
Part of this fall was due to some funding being taken out of the Adult Skills Budget and set up as separate funds. From 2013/14 grant funding for adults studying A Levels and equivalent was removed from the ASB and replaced with a separate fund for Advanced Learner Loans. A new pilot project for employer education projects was also set up in 2012/13.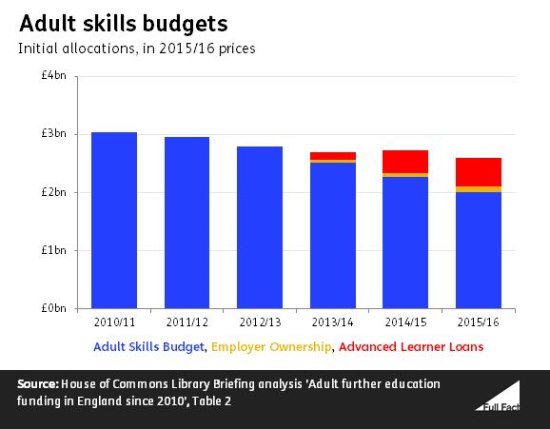 Spending since 2015/16
The Adult Skills Budget has since been replaced by the Adult Education Budget.  
The Adult Education Budget incorporates the Adult Skills Budget along with other post-18 skills budgets, but doesn't pay for apprenticeships.
Initial allocations for the Adult Education Budget are set to be £1.5 billion each year between 2017/18 and 2019/20. Taking inflation into account, spending will fall by around 3% over this period.
The adult apprenticeship budget—now separate to the core skills budget—is set to increase from £930 million to £1,400 million. That's an increase of about 47% taking inflation into account.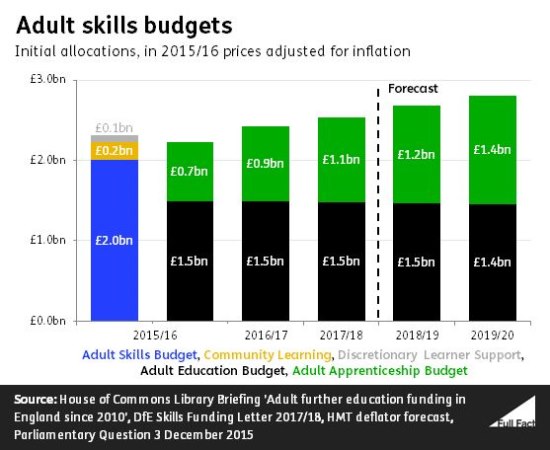 For more information about changes in adult skills budgets, the House of Commons Library Briefing explains the changes since 2010.
This factcheck is part of a roundup of BBC Question Time. Read the roundup.
We need facts more than ever.
Right now, it's difficult to know what or who to trust. Misinformation is spreading. Politics and the media are being pushed to the limit by advancements in technology and uncertainty about the future. We need facts more than ever.
This is where you come in. Your donation is vital for our small, independent team to keep going, at the time when it's needed most. With your help, we can keep factchecking and demanding better from our politicians and public figures.We can give more people the tools to decide for themselves what to believe. We can intervene more effectively where false claims cause most harm.
Become a donor today and stand up for better public debate, on all sides, across the UK.
---