The number of qualified teachers leaving the state sector has been slowly increasing year on year. Currently around 10-11% of qualified teachers leave each year. This is broadly balanced by the number of joiners being around 10% of the workforce each year.
London is seeing higher proportions of working age teachers leave the profession compared to other parts of the country, and secondary schools have seen fewer qualified teachers overall.
The proportion of teachers leaving the profession, including those that retire, is substantially less than the proportion of teachers who say they are considering leaving. So surveys asking teachers about their intent to leave the profession so far don't provide an accurate reflection of how many teachers go on to leave. But some evidence does suggest more teachers are seriously considering leaving.
Some of the teachers that leave in any given year do come back to teach in the state sector later in their career—17,200 teachers returned in 2015.
Politicians, unions, and journalists have recently suggested that teaching is in crisis and that many teachers are leaving or may shortly leave the profession.
While many new teachers enter the profession each year, the number of teachers that are leaving is growing slowly, especially in particular regions. But the numbers aren't as high as recent surveys of teacher intentions would suggest.  
Slightly more teachers are leaving the state sector
The headcount number of qualified teachers leaving the state sector in 2015 was the highest since 2011, as far back as comparable figures go. Around 50,100 teachers left the state sector in 2015 compared with 44,300 in 2011. That's up from 9.6% of all qualified teachers in 2011 to 10.6% in 2015.  
This includes teachers retiring, taking a break from teaching such as for maternity or shared parental leave, and those leaving the state sector permanently.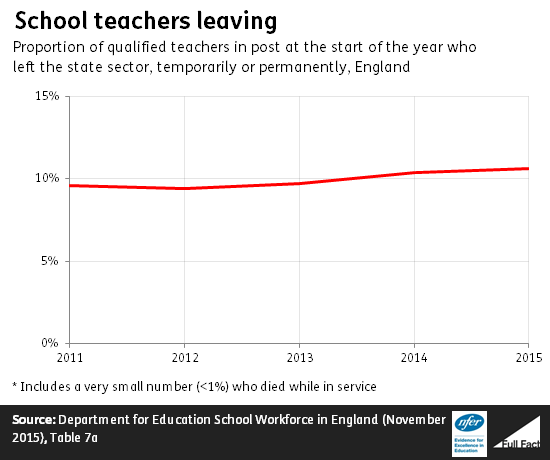 The increase in teachers leaving is greater if you look at just teachers going "out of service"—working age teachers leaving the English state sector for reasons other than retirement.
39,000 working age teachers left state schools in 2015, a steady increase from 27,900 in 2011. This rise has almost been balanced out by a fall in teachers retiring. The number of teachers retiring has fallen steadily from 16,400 in 2011 (37% of leavers) to 11,100 in 2015 (22% of leavers). This includes teachers choosing early retirement.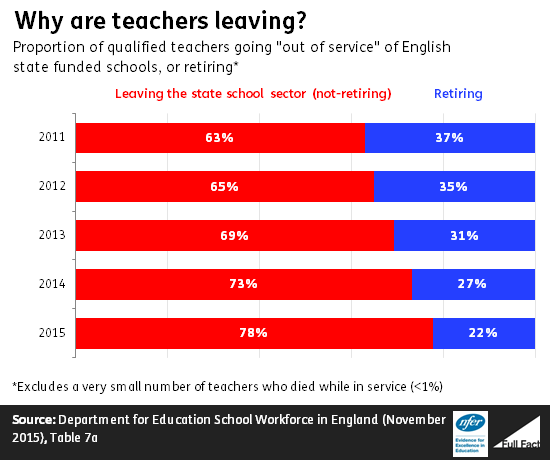 London and the South East have consistently seen the highest proportion of qualified teachers leaving, according to a recent government report.
In London the teachers that are leaving are more likely than in other parts of the country to be of working age, rather than retiring. In England overall around eight in 10 teachers who left mainstream primary and secondary schools in 2015 were of working age (80% of primary leavers and 78% of secondary leavers). This is less than the nine out of every 10 teachers in Inner London (89% primary and secondary).
Teacher numbers are going up in primary and down in secondary
There are differences in the number of teachers entering and leaving the workforce between primary and secondary schools. The number of qualified teachers (full–time equivalent) in English state primary schools has increased by 13% since 2010 while the number in secondary schools has declined by 6%.
The increase in primary teachers mirrors a similar increase in primary pupil numbers over the past six years.
In secondary schools, pupil numbers are starting to increase, having fallen over the past decade. So the pressure is now on secondary teacher numbers to increase as well.
Similar numbers leaving and entering teaching in the state sector
So does this mean more teachers are leaving than entering? It depends how you measure it, but in short the numbers are pretty even.
Overall, slightly more teachers left the state sector than entered in 2015. Around 50,100 left and 49,700 entered.
But it's the opposite way around if you adjust the teacher numbers for the number of hours individuals work. About 42,100 left and 45,800 entered on this basis. 
So the number of hours teachers are available to teach in schools has increased, but slightly more teachers are leaving the profession. This is because the number of full-time teachers has increased, while the number of part-timers has fallen.
Where are the teachers who leave going?
Not all qualified teachers who leave do so permanently. We know that some of the teachers leaving each year do come back to teaching in the state sector after a period of time. 17,200 teachers re-entered the workforce in 2015, up from 14,700 in 2011.
Teachers leaving also tend to go on to non-teaching roles in schools, going to teach in private schools, or becoming a teaching assistant. Not all teachers are permanently leaving the profession, or the education sector.
Surveys of teachers considering leaving don't reflect how many go on to leave
Much of the recent coverage of the teacher retention crisis has focused on surveys of teachers. These tend to ask if someone has, or is considering leaving within a set period.
Anywhere from 20% to 59% of teachers reportedly considered leaving in 2015, according to three surveys that year.
That's much higher than the 10% or so of all qualified state teachers who left in 2015.  
So the figures suggest that many more consider leaving the profession than actually have left so far.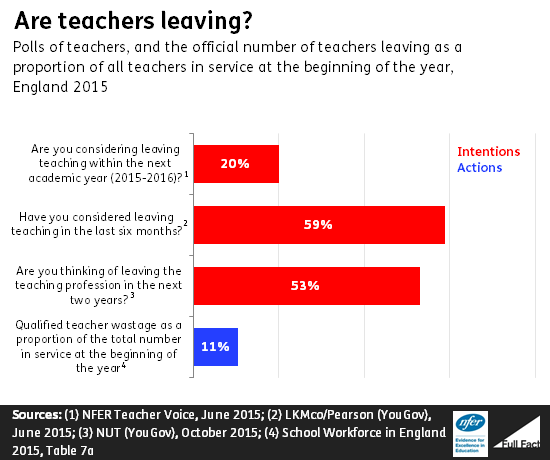 This briefing was written by Zoe des Clayes of the National Foundation for Educational Research in collaboration with Full Fact.
The integrity of our elections is in danger, and we need your help
You're probably here looking for facts. Thank you for that trust. But with the EU parliament elections on the way and more elections a possibility, we need to act now to make sure our elections are protected, before it's too late.
Could you help protect our elections by becoming a Full Fact donor?
Misinformation isn't new, but advancements in technology mean it can spread at an unprecedented scale. Our dangerously outdated election laws have not kept up with the digital age, putting our next elections at risk of abuse.
Currently, it's possible for a candidate to run a thousand different political ads to win the same seat, promising something different to each group it targets. At the same time, there's no law requiring those who publish online campaigns to disclose who they are or how they are funded. The opportunity for bad actors to manipulate election results is left wide open.
You may already know about our work to make public debate online more honest and transparent. Every day, we call out the most harmful misinformation on social media platforms when and where we see it. But right now, we're urging the government to overhaul our election laws to make sure political campaigning is held to the same level of scrutiny online as it is offline.
This work all depends on the generosity of hundreds of people who all believe that for democracy to work, we need transparency. Our monthly donors help strengthen our voice, and show our politicians that this really matters. Would you consider joining them?
Become a donor today to make sure our elections are protected.
---