In brief
Claim
A third of teachers leave state education within five years of qualifying according to new figures.
Conclusion
That is correct, but the figures haven't changed a great deal for the last 15 years.
"Almost a third of teachers quit state sector within five years of qualifying". 

Guardian, 24 October 2016

"Nearly a third of teachers who began work in England's state schools in 2010 were not in the classroom five years later, official figures show."

Telegraph, 24 October 2016

"Third of teachers quit within five years of finishing training, shocking figures show".

Sun, 26 October 2016
It's a story you may have seen.  It's certainly been featured in almost every major newspaper this week after the figures apparently came to light when a Minister in the Department for Education  provided the information to a fellow MP.
But the fact that a third of teachers leave state schools five years after qualifying isn't new. It's been very close to that for the last 15 years.
Information on how many teachers remain in state schools in England each year after they have qualified is published annually and goes as far back as 1996.
Although the number of teachers qualifying has been generally increasing since figures began in 1996, the drop-off rate after this period has remained roughly similar. There have been changes in when the data is collected, so the comparison over time isn't perfect.
The figures also don't tell us anything about what happened to these teachers. We know they weren't working in state schools, but they may have moved into private education or they may have given up the profession altogether. Even more simply it may also mean that the teachers have moved to work in state schools which are outside of England, but still within the UK.
They might also come back to work in state schools in England again later in their career. The figures don't tell us what proportion of teachers do this, but they do tell us that they still count teachers who don't have "continuous service".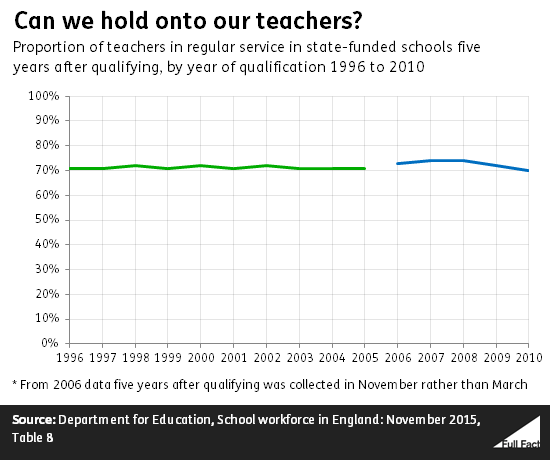 The integrity of our elections is in danger, and we need your help
You're probably here looking for facts. Thank you for that trust. But with the EU parliament elections on the way and more elections a possibility, we need to act now to make sure our elections are protected, before it's too late.
Could you help protect our elections by becoming a Full Fact donor?
Misinformation isn't new, but advancements in technology mean it can spread at an unprecedented scale. Our dangerously outdated election laws have not kept up with the digital age, putting our next elections at risk of abuse.
Currently, it's possible for a candidate to run a thousand different political ads to win the same seat, promising something different to each group it targets. At the same time, there's no law requiring those who publish online campaigns to disclose who they are or how they are funded. The opportunity for bad actors to manipulate election results is left wide open.
You may already know about our work to make public debate online more honest and transparent. Every day, we call out the most harmful misinformation on social media platforms when and where we see it. But right now, we're urging the government to overhaul our election laws to make sure political campaigning is held to the same level of scrutiny online as it is offline.
This work all depends on the generosity of hundreds of people who all believe that for democracy to work, we need transparency. Our monthly donors help strengthen our voice, and show our politicians that this really matters. Would you consider joining them?
Become a donor today to make sure our elections are protected.
---