In brief
Claim
Fee-paying schools 'save the taxpayer £20 billion'.
Conclusion
Incorrect. A report estimated that educating privately-schooled children in state schools would cost £3.5 billion per year.
"Fee-paying schools 'save the taxpayer £20 billion',"

The Times front page, 26 April 2019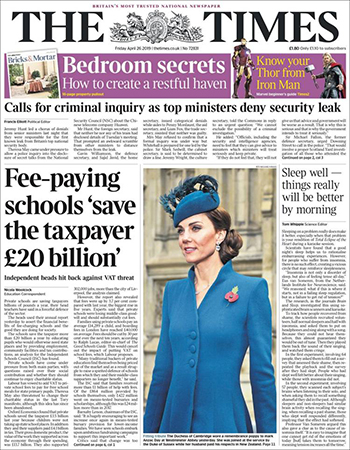 The Times last week reported the eye-catching finding on its front page that independent schools in the UK save taxpayers £20 billion per year.
The figures come from a report by the consultancy group Oxford Economics for the Independent Schools Council, which actually estimates the taxpayer saving to be £3.5 billion per year.
The report also estimates the contribution of independent schools to the UK economy, and the Times added this to the £3.5 billion figure to get a total taxpayer 'saving' of £20 billion. But this calculation is flawed because some of the money is counted twice or even three times. Oxford Economics confirmed to us that much of it can't be counted as a "taxpayer saving".
How the £20 billion figure was calculated
The first element of the £20 billion is the £3.5 billion Oxford Economics estimates it would cost the state per year to educate students who are currently independently schooled. The majority of this is day-to-day spending (like teacher salaries) and the remainder is an estimate for capital spending (like spending on new buildings or land for new schools). Oxford Economics calls this a "taxpayer saving".
As with all these figures, this is only an estimate (and we're not looking in detail at Oxford Economics' methodology in this article). For example, it assumes that all independently schooled pupils would need to be educated in newly-built school sites—which wouldn't necessarily have to be the case.
Then there's the amount independent schools contribute to the economy. Oxford Economics estimates independent schools to generate £13.7 billion of pre-tax spending, known as Gross Value Added (GVA), of which just over half (£7.1 billion) is direct spending by independent schools (e.g. on teachers' salaries). Most of the remainder is the day-to-day spending by people who are employed either by independent schools or by companies working with those schools. Put simply, this includes teachers and other employees spending their salaries on food, recreation, and household goods.
In addition to that £13.7 billion of pre-tax spending is an estimated £4.1 billion of associated tax. Most of this is the income tax and national insurance contributions of school employees or employees in other sectors supported by school spending.
Adding the £3.5bn, £13.7bn and £4.1bn gets you to around £21.4bn. But adding these numbers up and describing that figure as "taxpayer savings" is wrong on many levels.
Why it's wrong
Firstly, it is wrong to describe most of this money as taxpayer savings.
Oxford Economics, who published the report, say private schools generate "total quantifiable taxpayer savings" of £3.5 billion per year (that's the calculation of what it would cost the state to educate the students instead).
In getting a figure of £20 billion, the Times included the estimated £13.7 billion of economic activity by independent schools and the businesses and people they support. But the amount of money going into the economy as a whole is not the same as taxpayer savings.
They also count the estimated £4.1 billion of tax revenue derived from spending by independent schools. But much of that spending would also have to occur if the pupils were educated by state schools instead, and so tax revenue would still be generated.
Some of the money is double or triple counted
Secondly, you can't add up these figures and describe the result as the "economic benefits and taxpayer savings" of independent schools, as the Times did in its article.
That's because, as we've noted already, it double counts (or even triple counts) money across the three figures.
For example, the "taxpayer saving" of £3.5 billion estimated by Oxford Economics includes the salaries the state would need to pay teachers to educate these children. But teacher salaries are also part of the £13.7 billion independent schools put into the economy, and contribute to the £4.1 billion they put into taxes, directly or indirectly. So if you just add up all three figures, you're effectively counting some of the same (or equivalent) money three times over.
This money wouldn't all disappear if independent schools didn't exist
Finally, it's important to stress that—apart from the £3.5 billion estimated taxpayer saving—these figures estimate the existing contribution of independent schools, not the amount that would be lost if they didn't exist.
Take the £13.7 billion independent schools contribute to the economy pre-tax. If independent schools didn't exist, it's unlikely that £13.7 billion would disappear from the national GVA. Parents would likely spend most of this money on other things, and many of the teachers employed by private schools would presumably find jobs elsewhere.
So while you could argue the independent school sector contributes £13.7 billion to GVA currently, it's important to note that this doesn't mean the national GVA is £13.7 billion higher because of them.
The integrity of our elections is in danger, and we need your help
You're probably here looking for facts. Thank you for that trust. But with the EU parliament elections on the way and more elections a possibility, we need to act now to make sure our elections are protected, before it's too late.
Could you help protect our elections by becoming a Full Fact donor?
Misinformation isn't new, but advancements in technology mean it can spread at an unprecedented scale. Our dangerously outdated election laws have not kept up with the digital age, putting our next elections at risk of abuse.
Currently, it's possible for a candidate to run a thousand different political ads to win the same seat, promising something different to each group it targets. At the same time, there's no law requiring those who publish online campaigns to disclose who they are or how they are funded. The opportunity for bad actors to manipulate election results is left wide open.
You may already know about our work to make public debate online more honest and transparent. Every day, we call out the most harmful misinformation on social media platforms when and where we see it. But right now, we're urging the government to overhaul our election laws to make sure political campaigning is held to the same level of scrutiny online as it is offline.
This work all depends on the generosity of hundreds of people who all believe that for democracy to work, we need transparency. Our monthly donors help strengthen our voice, and show our politicians that this really matters. Would you consider joining them?
Become a donor today to make sure our elections are protected.
---