"Anne Maguire stabbing is latest in growing number of attacks on teachers"

The Mirror, 29 April 2014
The Mirror and the Daily Mail were among a number of news outlets this morning to question whether yesterday's stabbing of a teacher in Leeds by a pupil reflects a more widespread problem of violence in schools.
The official data that we have on reasons for permanent and fixed period exclusions suggests the frequency of exclusions caused by assault or abuse against teachers has remained fairly steady over the last few years. But this can only tell us about the frequency of violence that has led to exclusions and the remaining data we have to hand is patchy, unreliable or unable to tell us about the frequency of violence in schools over time.
550 permanent exclusions for attacks on adult staff
The official exclusion figures show there were 550 permanent exclusions in England in 2011/12 for physical assault against an adult (so not just teachers).
This does not necessarily mean 550 different pupils, as implied - the release notes that where a pupil has moved schools during the year, they could be counted more than once if they were excluded from more than one school.
This also represents a decrease on the previous year - when 570 permanent exclusions took place for physical assault against an adult.
Previous to 2011, the release says permanent exclusion figures were sometimes under- or over-represented - so to compare back further than this it's more reliable to look at fixed period exclusions.
The figures over the last six years show a slight decrease in the number of fixed period exclusions for physical assault against an adult, and a more dramatic decrease in verbal abuse.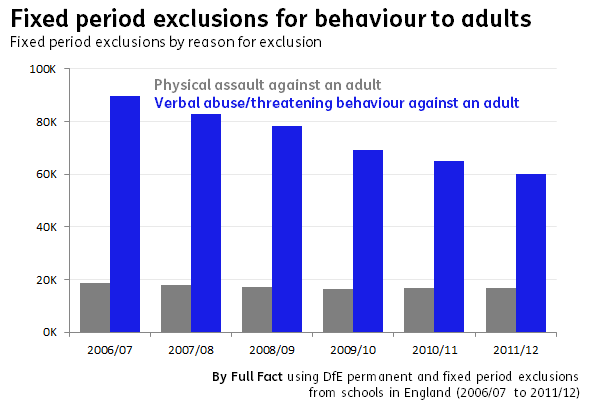 About one in four (25%/26) fixed period exclusions happen as a result of assault or abuse against teachers, and this has remained roughly the same since 2006.
Still, as we've explained before, this can only tell us how many incidents of this type of violence resulted in an exclusion, not how many violent incidents are actually taking place in English schools. Also, schools and local authorities may have different exclusion policies so pupils may be treated differently for the same type of incidents.
Average of 55 assaults on teachers in every school day
The Mirror reported that pupils had attacked teachers nearly 21,000 times in the past two years. These figures come from a Freedom of Information request carried out by the Sun - and published in December (£) last year.
Unfortunately, we haven't been able to get hold of the data behind the article. According to the Sun, they received data from 70 local authorities in England and Wales, finding an increase in attacks from 2011/12 to 2012/13 - from 10,000 to 10,750. This works out at an average of 55 per day out of the 190 required days of the school year.
Thousands of pupils caught with weapons
The Mail also picked up on a Sky News story last week, also based on Freedom of Information requests, which they said found 981 children had had weapons confiscated on school premises since 2011.
Again, we have been unable to get hold of this data. Even if we could, it still doesn't tell us whether weapons are being used more and whether more pupils are bringing weapons into school with them than previous years.
The 2011 Education Act gave school staff the powers to search pupils without their consent where they have reasonable grounds to suspect they are carrying an item that could be used to commit an offence or cause injury
So it's possible that more weapons are now being confiscated if staff are using these powers, but there's no evidence we've found yet to prove this.
Teachers' perceptions of violence in schools - buying stab-proof vests?
The Mirror claimed this morning that one firm supplying stab-proof vests said 100 buyers had identified themselves as teachers last year - which seems to trace back to a Mail article in July 2013. The article quotes a commercial director of a company who said they had "suddenly... [seen a] significant rise" in teachers buying vests from them, and estimated that they had sold about 100 vests in the last year.
The Mail also said that a survey of teachers - attributed to the NASUWT union - had found more than half had been subjected to verbal abuse or threats from pupils.
We contacted NASUWT to get hold of the survey, but they told us it wasn't published.
But, another survey conducted for NASUWT by ComRes in December 2013 found 44% of teachers said they had been subject to verbal abuse by a pupil in the last 12 months, and 8% a physical assault by a pupil. This was based on 501 responses by teachers in England, and ComRes adjusted the poll to be representative nationally. 46% of respondents said they had not been subject to any abuse or threats by pupils or parents.
We've also previously taken a look at older surveys, finding that in 2012, 9% of all educational staff had experienced violence directed at them. Unfortunately we couldn't find an older one to compare the NASUWT survey to, so we can't ascertain how these reports have changed over time.
International bad behaviour?
Today's papers also repeated the claim that a report earlier this month had found pupils in England were among the worst-behaved in the developed world. As we reported at the time this was not accurate and not reflective of the report - and in fact, taking the measure referenced, we performed above average.
So we don't know if incidences of violence or aggression in the classroom are becoming more regular. The main measure we have to go by - exclusions caused by such incidences - suggest they're not.
We aim for our factchecks to be as accurate and up-to-date as possible. If you think we've made an error or missed some relevant information, please email
team@fullfact.org
.