It is not true that Britain sends £350 million a week to Brussels. According to the UK Statistics Authority, the actual figure is £136 million.
The claim that we send £136 million to the EU each week is wrong, and the UK Statistics Authority has not said this.
We actually send about £250 million a week to the EU, using 2015's numbers. Some of that money comes back to the UK as part of EU spending here.
£136 million a week is a figure the Authority has used for where we end up financially, after you take into account money spent by the EU in the UK.
Some people argue that the money coming back makes the true cost of membership lower and we should focus on that, while others say that because we don't control how that money is spent, we should focus on what's actually sent. That's a matter of judgement.
However you look at it, most economists think that the impact of leaving the EU on the economy will be much bigger than the membership fee. That's true of economists who think we're better off out, as well as the majority who think we're better off in.
But the Authority has always put the different numbers and the choices they represent in context, as we do in our graphic: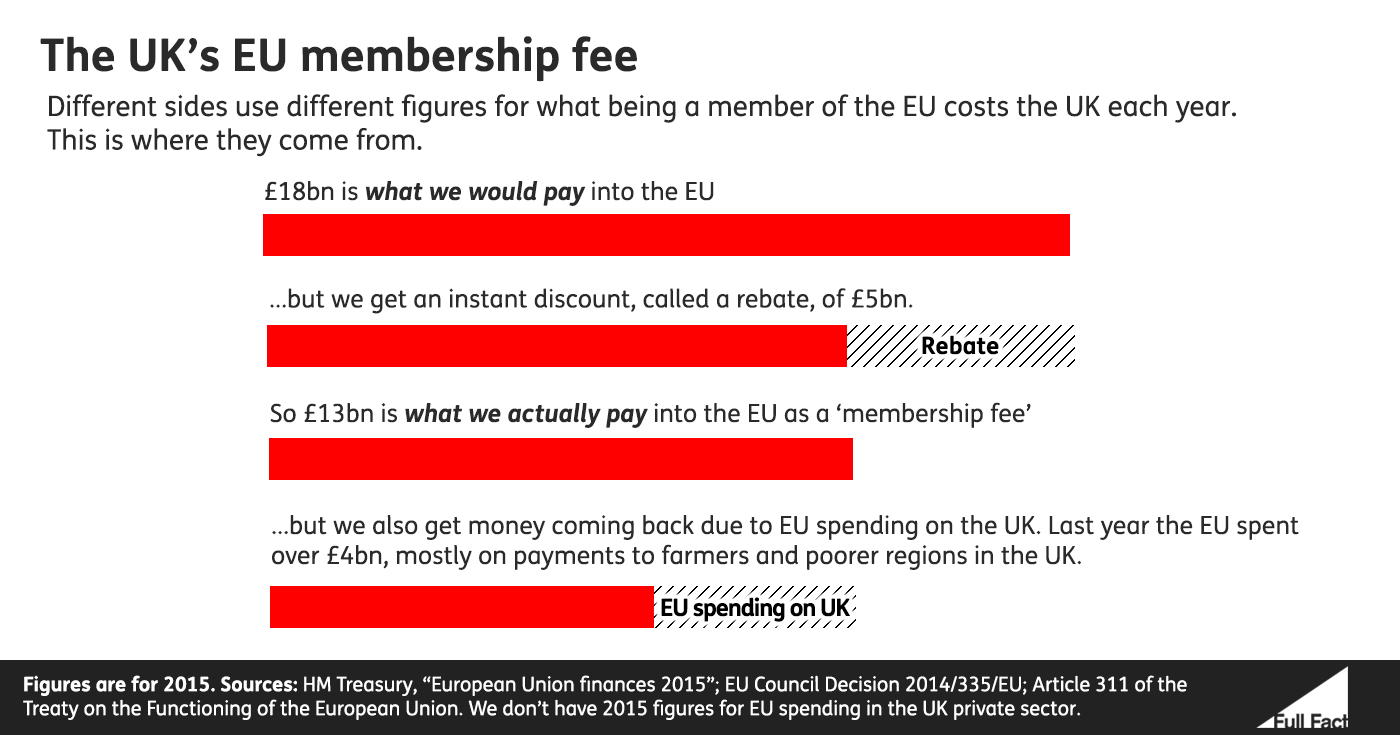 There are lots of different sets of numbers available, which is why the precise numbers people use vary.
The Treasury, the Office for National Statistics, and the European Commission all have different sets of figures which measure slightly different things in slightly different ways.
Those figures in turn vary, sometimes quite a lot, year by year. One approach to getting an overview is to take a five year average.
The £136 million is a five year average calculated by the Authority based on a set of European Commission figures that "take account of all payments to the UK, whether made to public or non-public sector bodies".
In other words, not just what we send, but everything that comes back too.
Whether or not you think this is the better figure to look at, it is not the right figure for what we send to the EU.
The Authority told us that "we have set out our position on the UK's contributions to the EU in previous published correspondence." A Statistics Authority statement lists this correspondence.
Can you help protect this election from the influence of bad information? Support Full Fact
This election, clear, accurate facts won't always be a guarantee. False and harmful claims are spread every day by our public figures and media. Intentional or not, they have the power to shape the choices we make. We all deserve better than that.
That's why we're fighting to keep this election more honest and accountable. And we can't do it without you. In a fast-paced campaign, our supporters mean we can hold all candidates to the same three principles: get your facts right, back them up with evidence, and correct your mistakes.
Just a small monthly donation keeps us scrutinising the most harmful false claims around the clock, and challenging the people who make them.
If you, like us, don't want your vote to be influenced by bad information, can you help out?
---