7 April's BBC Question Time, factchecked
11 April 2016
On the Question Time panel last night were the Conservatives' Anna Soubry MP, Labour's Chris Bryant MP, UKIP's Douglas Carswell MP, economist Ruth Lea and novelist Irvine Welsh.
We've checked their claims on EU referendum leaflets, offshore wealth, and steel.
Honesty in public debate matters
You can help us take action – and get our regular free email
EU referendum leaflets
"It [the leaflet] claims that it [the EU] will allow us to keep control of our borders, that is a false claim"—Douglas Carswell MP
The government is sending a leaflet to every household in the country making its case for why the UK should remain in the EU. It says that the UK controls its own borders.
The UK isn't part of the EU's passport-free zone—called the Schengen area. So it retains control over its borders in the sense that it can check passports at its borders and refuse entry to people without any valid identity documents, including citizens from other EU countries.
This isn't the same as saying the UK can refuse anyone from other EU countries, if they do have valid documents. There are limited reasons the UK can use to justify this under EU law, such as public security.
The right to free movement within the EU means that the UK can't put limits on the level of immigration from other EU countries.
"One fact I want to put into this, which is that in actual fact the government will pay for both sides to get information because there is freepost provided to both the 'in' and the 'out' campaign"—Chris Bryant MP
The Electoral Commission will make its decision on an official 'lead' campaign for each side—'Remain' and 'Leave'—by 14 April.
Among the benefits of being chosen as a lead campaign group is one free mailshot to every household or voter in the country and up to £600,000 which can be used towards the costs of producing it.
Both sides will also get a page in the Electoral Commission's own information booklet to state their case. This, too, goes out to every household.
Leave campaigners have complained that the government is also going to send around a leaflet giving reasons to vote Remain. It's also using public money to disseminate that leaflet online, which the lead campaigns can't use public money to do.
Restrictions on what information the government can put out for the referendum only come into force between 27 May and polling day on 23 June.
Offshore wealth and tax for the richest
"The top 1%, the most wealthy people in our nation, pay 28% of all the taxes that we collect."—Anna Soubry MP
This is wrong. Last year the top 1% of earners paid an estimated 28% of all income tax. But they won't have paid that share of "all the taxes we collect", which includes things like VAT and council tax.
Official figures on these aren't detailed enough for us to say what the top 1% paid, but we know that households in the top 10% of incomes contributed 27% of the total tax take in 2013/14. So the top 1% must therefore have contributed less than that.
The "top 10% of incomes" is not as simple as it sounds. The households are ranked by their "equivalised" disposable incomes, rather than actual disposable incomes. This is to account for things like living costs or the costs of having a large family.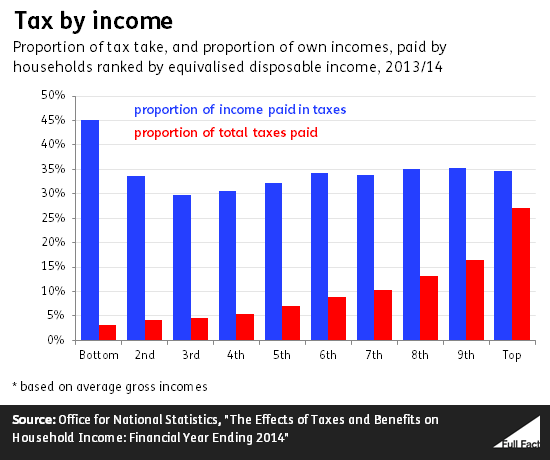 As the blue bars in our graph show, the top 10% don't pay a much higher rate of tax overall. They paid 35% of their gross incomes in taxes of all kinds, compared to 34% for average households.
"8% of the world's wealth is hidden in offshore tax havens"—Chris Bryant MP
This is one estimate. About 8% of the world's financial wealth was held in offshore tax havens in 2014, according to estimates made by an academic called Gabriel Zucman.
That's around $7.6 trillion. Of this, he said that around $2.3 trillion (30%) was held in Switzerland, while the remainder was held in other tax havens such as Singapore and the Cayman Islands.
Dr Zucman says that the results of his work are "in no way definitive". The Financial Times has said the $7.6 trillion figure is smaller than other estimates put forward by campaigners and in line with estimates made by industry analysts.
Steel
"I don't understand why the government was campaigning against tariffs in the European Union…"—Chris Bryant MP

"That's not true"—Anna Soubry MP
In 2013, the European Commission submitted plans intended to discourage what it called certain "unfair trading practices". These would allow the EU to impose higher import duties in cases where it believes a government is subsidising exports in a way that undermines a raw materials industry in Europe, such as steel.
Britain has been accused by both trade bodies and other European officials of blocking these reforms.
We don't know the precise position taken by British ministers in European Council discussions—these usually take place in private. We do know that the UK signed up to a memo sent to the committee tasked with overseeing the reforms, calling for the status quo to be maintained. This would have kept in place limits on the tariffs the EU can impose through what's called the 'lesser duty rule'.
Business Secretary Sajid Javid has also said the government doesn't wish to see "disproportionate" duties introduced, arguing that this could have a negative impact on companies which use, rather than manufacture, steel in the UK.
The UK government can point to other efforts it has made to protect the UK steel industry from Chinese steel, for instance calling for the EU Commission to make "full and timely use of the full range of EU trade policy instruments to tackle unfair trade, including anti subsidy measures, to ensure a global level playing field."
Correction 11 April 2016
We've corrected our explanation in the taxes section of how households are ranked by income. 
Round up posts like this—and those we publish for PMQs and major speeches by politicians—don't go into as much depth as our usual articles or cover every claim made in the show. Often they are done under a much shorter deadline, so we prioritise a clear conclusion above all else. As always we welcome feedback: please email the team on team@fullfact.org