Our Brexit divorce bill will probably be paid off by 2064
16th Mar 2018
Claim
The UK will be paying the Brexit divorce bill until 2064.
Conclusion
Correct. The majority of these payments will be made by 2021.
"We are going to be paying until 2064, apparently"

David Dimbleby, 15 March 2018
This is correct, according to estimates released this week about the Brexit "divorce bill" from the Office for Budget Responsibility (OBR).
The joint statement from the UK and EU published in December—at the end of phase one of the Brexit negotiations—set out the details of the Brexit bill the UK will have to pay. Until 2020 the UK will continue contributing the the EU budget "as if it had remained in the Union". After that it will continue paying towards any commitments it has or outstanding liabilities (for example pensions).
Based on this agreement the OBR estimates that the final cost of the Brexit bill will be around £37 billion in total.
Around 45% or £16 billion will be paid in the first two years—this will be the contribution to the EU's budget. About half will be due between 2021 and 2028—£18 billion—in outstanding payments. The remaining 7%—£2.5 billion—will be due between 2019 and 2064. This will cover any outstanding liabilities.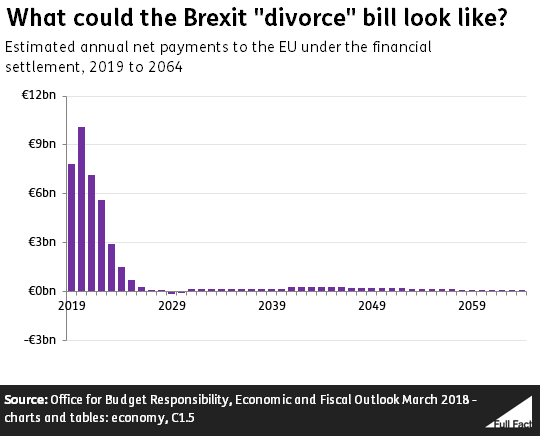 We've written more about the Brexit "divorce bill" and previous estimates for how much this might cost here.
This fact check is part of a roundup of BBC Question Time: factchecked. Read the roundup.