This morning's Times featured an article jointly authored by Shadow Chancellor Ed Balls and Shadow Foreign Secretary Douglas Alexander which called for the European Union to "spend less and spend differently."
However the duo warned fiscal reform on the continent needs to extend beyond "'EU fat cats' in Brussels", claiming that administration costs represent only 6% of the money spent by the EU.
As you can see from the chart below, this is true. According to the EU's accounts for 2011, it spent €8.4 billion of its €129.4 billion budget on administration costs, some 6.5% of the total.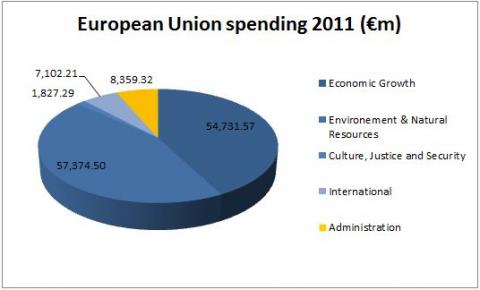 So where does the Brussels-based institution spend most of its cash?
The area highlighted by Mr Balls and Mr Alexander as being ripe for cuts was the Common Agricultural Policy (CAP). This represents about €44 billion of the €57.4 billion the EU spends on managing natural resources across member states.
Other large areas of outlay include €35.9 billion spent on the EU's economic structure, of which the largest part - €27.1 billion - is spent on meeting the 'convergence objective'. This aims to reduce economic disparities among members states by investing in infrastructure and businesses in Europe's 'developing' nations.
Some of this spending is due to be phased out by 2013, so while Mr Balls and Mr Alexander's figures are correct, we should bear in mind that this can be a moving target.
The integrity of our elections is in danger, and we need your help
You're probably here looking for facts. Thank you for that trust. But with the EU parliament elections on the way and more elections a possibility, we need to act now to make sure our elections are protected, before it's too late.
Could you help protect our elections by becoming a Full Fact donor?
Misinformation isn't new, but advancements in technology mean it can spread at an unprecedented scale. Our dangerously outdated election laws have not kept up with the digital age, putting our next elections at risk of abuse.
Currently, it's possible for a candidate to run a thousand different political ads to win the same seat, promising something different to each group it targets. At the same time, there's no law requiring those who publish online campaigns to disclose who they are or how they are funded. The opportunity for bad actors to manipulate election results is left wide open.
You may already know about our work to make public debate online more honest and transparent. Every day, we call out the most harmful misinformation on social media platforms when and where we see it. But right now, we're urging the government to overhaul our election laws to make sure political campaigning is held to the same level of scrutiny online as it is offline.
This work all depends on the generosity of hundreds of people who all believe that for democracy to work, we need transparency. Our monthly donors help strengthen our voice, and show our politicians that this really matters. Would you consider joining them?
Become a donor today to make sure our elections are protected.
---