This morning's Times featured an article jointly authored by Shadow Chancellor Ed Balls and Shadow Foreign Secretary Douglas Alexander which called for the European Union to "spend less and spend differently."
However the duo warned fiscal reform on the continent needs to extend beyond "'EU fat cats' in Brussels", claiming that administration costs represent only 6% of the money spent by the EU.
As you can see from the chart below, this is true. According to the EU's accounts for 2011, it spent €8.4 billion of its €129.4 billion budget on administration costs, some 6.5% of the total.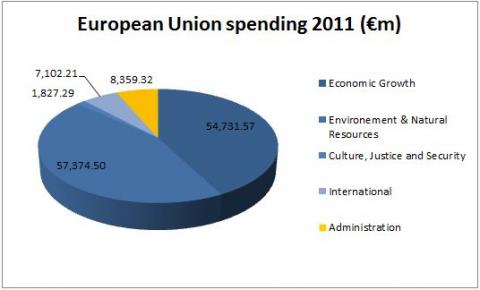 So where does the Brussels-based institution spend most of its cash?
The area highlighted by Mr Balls and Mr Alexander as being ripe for cuts was the Common Agricultural Policy (CAP). This represents about €44 billion of the €57.4 billion the EU spends on managing natural resources across member states.
Other large areas of outlay include €35.9 billion spent on the EU's economic structure, of which the largest part - €27.1 billion - is spent on meeting the 'convergence objective'. This aims to reduce economic disparities among members states by investing in infrastructure and businesses in Europe's 'developing' nations.
Some of this spending is due to be phased out by 2013, so while Mr Balls and Mr Alexander's figures are correct, we should bear in mind that this can be a moving target.
Can you help protect this election from the influence of bad information? Support Full Fact
This election, clear, accurate facts won't always be a guarantee. False and harmful claims are spread every day by our public figures and media. Intentional or not, they have the power to shape the choices we make. We all deserve better than that.
That's why we're fighting to keep this election more honest and accountable. And we can't do it without you. In a fast-paced campaign, our supporters mean we can hold all candidates to the same three principles: get your facts right, back them up with evidence, and correct your mistakes.
Just a small monthly donation keeps us scrutinising the most harmful false claims around the clock, and challenging the people who make them.
If you, like us, don't want your vote to be influenced by bad information, can you help out?
---