In brief
Claim
The EU currently represents 15% of the world's economy and it's forecast to go down to 12% by 2030.
Conclusion
There is no single estimate, but two separate IMF figures say the EU's share (including the UK) of the global economy is around either 16% or 22% in 2017. That share has been decreasing and is expected to continue doing so. One estimate for 2030 says it could fall to around 12% (assuming the UK is no longer part of the EU).
"The EU currently represents just 15% of the world's economy and it's forecast to go down to 12% by 2030."

Audience Member, BBC Question Time, 16 November 2017
There are two common ways of measuring the size of an economy. They give quite different estimates of the EU's share of the world economy: 16% or 22%, as of October 2017.
Both measures show that the EU's share of the world economy is declining and expected to continue doing so. One unofficial forecast estimates the EU's share (excluding the United Kingdom) could be 12% by 2030.
There are two main measures of GDP
One way is to look at the value of a country's economic output (GDP), and see what it's worth in US dollars (USD).
Using market exchange rates has the advantage of being quite simple (it's like the exchange rates you use when going on holiday), but they're not consistent over time. A country's share of world GDP can move up or down quite suddenly if exchange rates change.
For instance, just because the UK sterling exchange rate fell suddenly on 24 June 2016 doesn't mean that the UK's economic output suddenly got smaller, even though it was worth less in US dollars.
So an alternative is to calculate GDP in terms of 'Purchasing Power Parity' (PPP).
This adjusts the figures to reflect different price levels around the world, and to account for how currency values have changed over time.
That solves the problems with the market exchange rates approach, but creates new ones too. One issue is that it involves many more assumptions and has the potential for errors.
The EU's estimated share of world GDP is currently 16% or 22%
Looked at in terms of PPP, the EU's share of world GDP in 2017 is around 16%, according to figures from the IMF. This measure includes the United Kingdom in the EU. Without the UK, the EU's share would be roughly 14%.
This measure also shows that the EU's share of the world economy has been steadily declining over time. It was 30% in 1980 and is expected to be 15% by 2022.
These historic figures include all states who are members of the EU today. So for example, although Spain and Portugal only became members later in the 1980s, the EU share of world GDP figure for 1980 includes their economies, as they are members today.
The IMF also has figures based on USD. This measure puts the EU's share of world GDP at 22%.
It shows a similar trend of the EU's share declining over time – from 34% in 1980 to an expected 20% by 2022.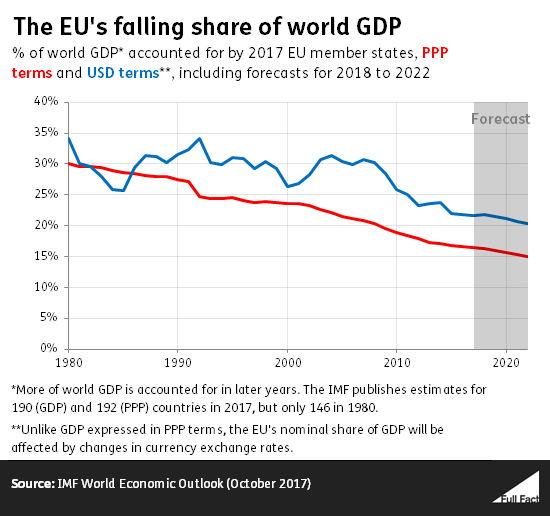 This is not because the EU's GDP is getting smaller (it has risen consistently over time). However, the rest of the world has grown faster.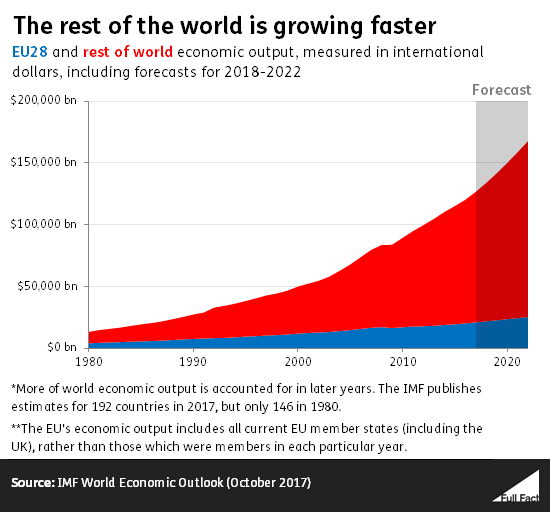 It's also likely that estimates for earlier years over-estimate the EU's share of world GDP as only 146 countries were accounted for in 1980, compared to 190 for GDP estimates and 192 for PPP estimates in 2017.
Falling further by 2030
Estimates to 2030 and beyond were published by accounting firm PwC earlier this year, based on its own analysis.
Its estimates suggest that by 2030, the EU's share of the global economy could be around 12%, based on PPP figures. This estimate assumes that the UK will not be a part of the EU then.
Correction 28 November 2017
We've changed the labels on the last chart so that it shows EU and rest of world economic growth separately.
This factcheck is part of a roundup of BBC Question Time. Read the roundup.
The integrity of our elections is in danger, and we need your help
You're probably here looking for facts. Thank you for that trust. But with the EU parliament elections on the way and more elections a possibility, we need to act now to make sure our elections are protected, before it's too late.
Could you help protect our elections by becoming a Full Fact donor?
Misinformation isn't new, but advancements in technology mean it can spread at an unprecedented scale. Our dangerously outdated election laws have not kept up with the digital age, putting our next elections at risk of abuse.
Currently, it's possible for a candidate to run a thousand different political ads to win the same seat, promising something different to each group it targets. At the same time, there's no law requiring those who publish online campaigns to disclose who they are or how they are funded. The opportunity for bad actors to manipulate election results is left wide open.
You may already know about our work to make public debate online more honest and transparent. Every day, we call out the most harmful misinformation on social media platforms when and where we see it. But right now, we're urging the government to overhaul our election laws to make sure political campaigning is held to the same level of scrutiny online as it is offline.
This work all depends on the generosity of hundreds of people who all believe that for democracy to work, we need transparency. Our monthly donors help strengthen our voice, and show our politicians that this really matters. Would you consider joining them?
Become a donor today to make sure our elections are protected.
---