In brief
Claim
Experts agree that… prices would rise
Conclusion
If we voted to leave the EU that could see prices rise in the short term due to the expectation that the value of the pound would fall. The longer term is more uncertain.
Lower prices for families — competition between businesses across Europe means lower prices in UK shops, cheaper flights and lower energy bills
The studies cited emphasise how trade competition in the EU might lower prices but don't look at how other factors such as EU regulation and agricultural policy might raise prices. It's difficult to say overall what the impact of being in the EU has had on prices in the UK.
Claim 1 of 2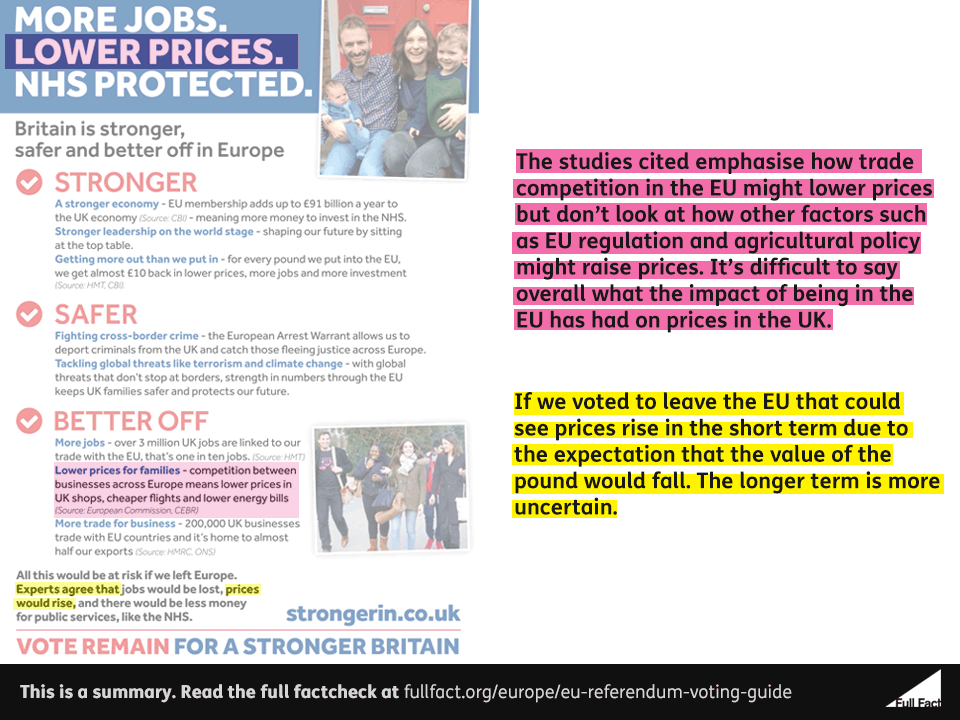 It's difficult to say what impact being in the EU has had on prices overall, as other global trends such as greater competition from other non-EU countries have also had an impact.
We're not aware of any study that tries to quantify all of the EU factors that might push prices up or down, and realistically that would be extremely difficult to do as we cannot know what would have happened had the UK not been in the EU.
For example, trade competition in the EU might be expected to lower prices but EU regulation and agricultural policy might be expected to raise prices. You would need to look at both sides of the balance to say what effect the EU has had on prices overall.
If we voted to leave the EU it's widely expected, including by the Governor of the Bank of England, that the short term impact would include a fall in the pound. Some components of spending, notably fuel, fluctuate with the exchange rates, and this could see prices rising in the short term. The longer term is of course more uncertain.
Shop prices
Research by the London School of Economics and by the European Commission have been cited by Stronger In as evidence that being in the EU has led to lower prices.
Both find that the EU's trade deals with other countries have led to EU consumers paying less for imported goods. They say that's because those deals reduce the taxes that are paid on goods imported from non-EU countries, which encourages greater trade from those countries whose businesses then compete with companies in the EU.
This isn't the impact of being in the EU as such, but of the free trade deals it has negotiated.
If these trade deals did not exist and tariffs remained in place, the research suggests that prices would be higher. That doesn't mean that is what would happen if the left the EU—that would depend on what tariffs we put in place and what trade deals we negotiated.
Leave campaigners argue that the UK could strike its own trade deals, better and more quickly, outside the EU.
The House of Commons Library has commented on this:
"On the one hand, concluding deals might be easier for the UK alone, given the greater diversity of interests involved when the EU negotiates as a group...On the other, the smaller size of the UK market may mean other countries give higher priority to deals with the EU."
Stronger In also cite a CEBR report it commissioned which canvases a number of other ways the EU may have led to lower prices, such as elimination of tariffs for trade within EU members states and the free movement of labour.
The study does not consider whether other EU action may have increased prices, for example through increased regulation.
Cheaper flights
As for "cheaper flights", EU rules have gradually opened up air travel to competition, creating a single market in air travel so that all EU airlines can operate on all EU routes, which wasn't the case before.
This has resulted in lower fares for consumers, according to a recent OECD paper, but it's difficult to say what would've happened without this EU policy.
Energy
Competition might mean that energy prices are lower than they would otherwise be, as the leaflet says, but that's not the same as saying that's the overall effect of membership of the EU. For example, extra regulation or environmental targets may have pushed them up.
The research cited by the leaflet does not attempt to say what effect EU membership has on energy bills.
If the question is what would happen to energy prices if we left, there is no simple answer.
The UK does have its own domestic targets on carbon emissions, for instance, which would still be in place if we left the EU unless MPs decided to abolish them. Also, you don't have to be an EU member to be part of its energy market—Norway is part of it despite not being an EU member.
The integrity of our elections is in danger, and we need your help
You're probably here looking for facts. Thank you for that trust. But with the EU parliament elections on the way and more elections a possibility, we need to act now to make sure our elections are protected, before it's too late.
Could you help protect our elections by becoming a Full Fact donor?
Misinformation isn't new, but advancements in technology mean it can spread at an unprecedented scale. Our dangerously outdated election laws have not kept up with the digital age, putting our next elections at risk of abuse.
Currently, it's possible for a candidate to run a thousand different political ads to win the same seat, promising something different to each group it targets. At the same time, there's no law requiring those who publish online campaigns to disclose who they are or how they are funded. The opportunity for bad actors to manipulate election results is left wide open.
You may already know about our work to make public debate online more honest and transparent. Every day, we call out the most harmful misinformation on social media platforms when and where we see it. But right now, we're urging the government to overhaul our election laws to make sure political campaigning is held to the same level of scrutiny online as it is offline.
This work all depends on the generosity of hundreds of people who all believe that for democracy to work, we need transparency. Our monthly donors help strengthen our voice, and show our politicians that this really matters. Would you consider joining them?
Become a donor today to make sure our elections are protected.
---