In brief
Claim
More trade for business — 200,000 UK businesses trade with EU countries and it's home to almost half our exports
Conclusion
HMRC estimated in 2012 that over 200,000 VAT-registered UK businesses trade with other EU countries. 44% of the UK's exports went to other EU countries in 2014 — this share has been declining since the 2000s.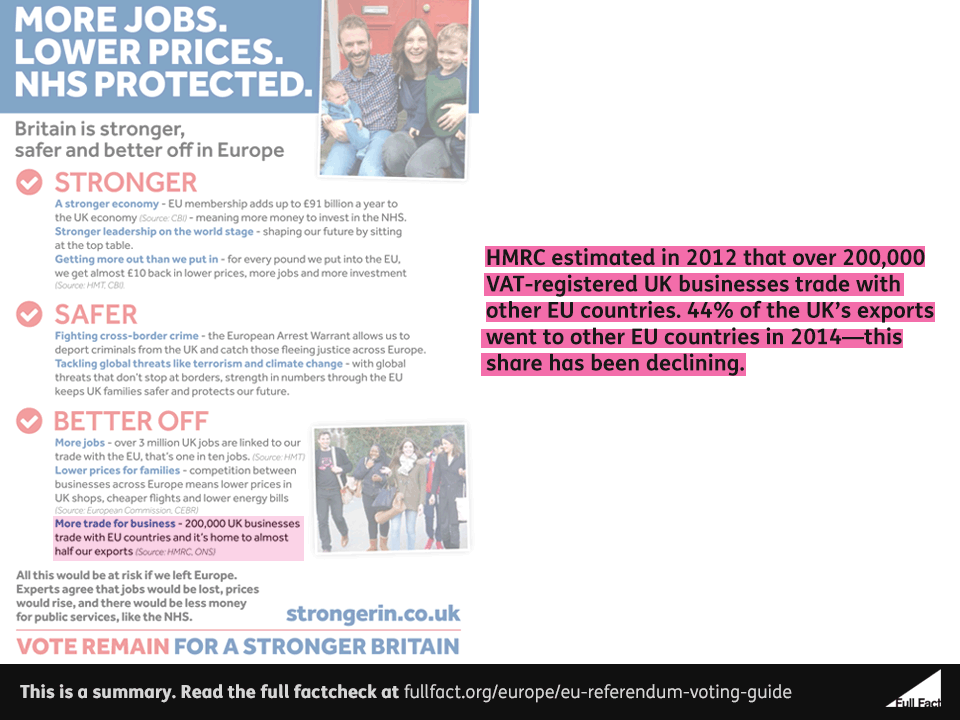 HMRC has previously estimated that almost 200,000 VAT-registered traders in the UK were importers or exporters of goods to other EU member states. That was in 2012, when there were 2.15 million businesses registered for VAT or PAYE. It's now 2.45 million.
It said that the number "may be significantly higher" once businesses trading in services were added, but didn't have data on this.
About 44% of UK exports in goods and services went to other countries in the EU in 2014. This share has been declining since the 2000s, as exports to other countries have been increasing at a faster rate.
It's sometimes argued that these statistics overstate the proportion of UK exports that go to the EU, as a lot of goods pass through ports like Rotterdam before being shipped to a final destination outside the EU.
Both the Office for National Statistics and the government's review of our EU membership have concluded that it's hard to quantify the extent of this 'Rotterdam effect' or establish whether it's a serious problem for the statistics. That said, the ONS have estimated that it may account for around 2% of all exported goods and services to the EU.
It's not clear what would happen to this trade if the UK votes to leave the EU. If the UK leaves the EU, the future rules on trade would depend on what kind of agreement, if any, the UK reaches with the EU after its departure.
Update 8 June 2016
We added that the share of UK exports to other EU countries has been declining "since the 2000s", to make it clear when the share started to decline. 
Can you help protect this election from the influence of bad information? Support Full Fact
This election, clear, accurate facts won't always be a guarantee. False and harmful claims are spread every day by our public figures and media. Intentional or not, they have the power to shape the choices we make. We all deserve better than that.
That's why we're fighting to keep this election more honest and accountable. And we can't do it without you. In a fast-paced campaign, our supporters mean we can hold all candidates to the same three principles: get your facts right, back them up with evidence, and correct your mistakes.
Just a small monthly donation keeps us scrutinising the most harmful false claims around the clock, and challenging the people who make them.
If you, like us, don't want your vote to be influenced by bad information, can you help out?
---