In brief
Claim
Only 6,000 asylum seekers have been relocated from Italy and Greece to other EU countries under a scheme meant to relocate 160,000 people.
Conclusion
Correct. The target is now for up to 100,000 people to be relocated from Italy and Greece by September 2017, although fewer than that may qualify.
"Europe's flapship refugee scheme was branded a flop last night after figures revealed just 5,600 out of a 160,000 target had been relocated"

The Sun, 29 September 2016
This is correct, according to figures from the European Commission. But it says that the target is no longer 160,000; it's now committed to relocating up to 100,000 people from Italy and Greece. New proposals might require EU countries to 'resettle' the remaining quota of 60,000 people from countries outside the EU instead.
The Migration and Home Affairs department said that 5,651 asylum seekers had been relocated from Italy and Greece to other European countries, as of 27 September.
The EU uses 'relocate' to talk about transferring asylum seekers within the EU (and a few other countries like Switzerland), whereas 'resettlement' refers to refugees being brought directly from the Middle East.
Relocating asylum seekers within Europe was agreed last year
These are people who have crossed into Europe and applied for asylum, but haven't had a decision yet. They aren't eligible to be relocated unless they are citizens of a country from which asylum applications to EU countries are successful at least 75% of the time.
That applies to a handful of countries, including Syria and Eritrea. Iraqis also used to be successful in their asylum applications more than 75% of the time, but aren't any more, and so are no longer eligible for relocation.
Almost 2,000 of those relocated so far have gone to France, with no other country taking more than a thousand. The UK isn't taking part in the scheme, as it has an opt-out.
Target of 160,000 has been revised down to 100,000
The Commission said in September 2015 that it would "relocate a total of 160,000 people in clear need of international protection in the coming two years".
But that's no longer the ambition. The Commission told us that the commitment is now to relocate up to 100,000 people.
It said that's partly because 54,000 of the 160,000 people were meant to be relocated from Hungary. As Hungary opposed the plan, so this number were never allocated.
The intention is that EU countries will now be asked to re-settle this number of refugees from Turkey instead. This proposal needs to be signed off by the Council.
The Commission also said that there aren't enough people of the nationalities eligible to be relocated to fill all the places anyway. It says there are around 30,000 people still in Greece that are eligible, whereas its quota is for over 60,000.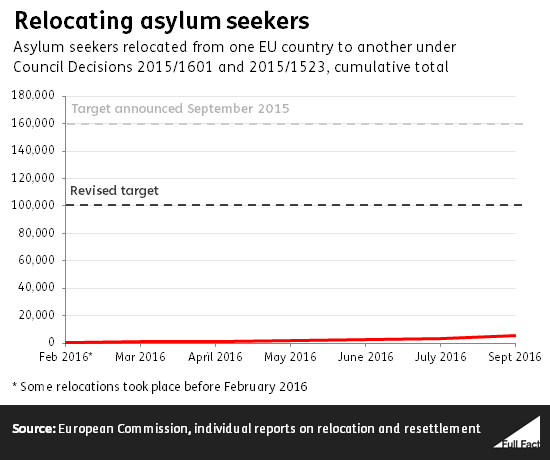 The UK isn't the only EU country not to participate in the relocation scheme, which has proved controversial in some countries.
The Hungarian government doesn't want to accept any asylum seekers under the plan, and will shortly hold a referendum on it.
Sweden has been relieved of its obligations to relocate people for the time being, due to the number of asylum seekers the country is already dealing with.
This is separate from efforts to resettle refugees from countries near Syria
The Commission says that "the groundwork needed for making relocation work has been laid and significant progress achieved".
It's making better progress on a plan to resettle refugees from countries in the Middle East (as opposed to relocating people already in the EU). Almost 11,000 of a 23,000 target have been resettled, counting those brought over from Turkey under the terms of a separate deal agreed in July to try to discourage people from crossing into Europe by sea.
That includes 2,200 allocated to the UK, although more people than that target have actually been resettled here: around 3,400 since the start of July 2015.
We aim for our factchecks to be as accurate and up-to-date as possible. If you think we've made an error or missed some relevant information, please email
team@fullfact.org
.