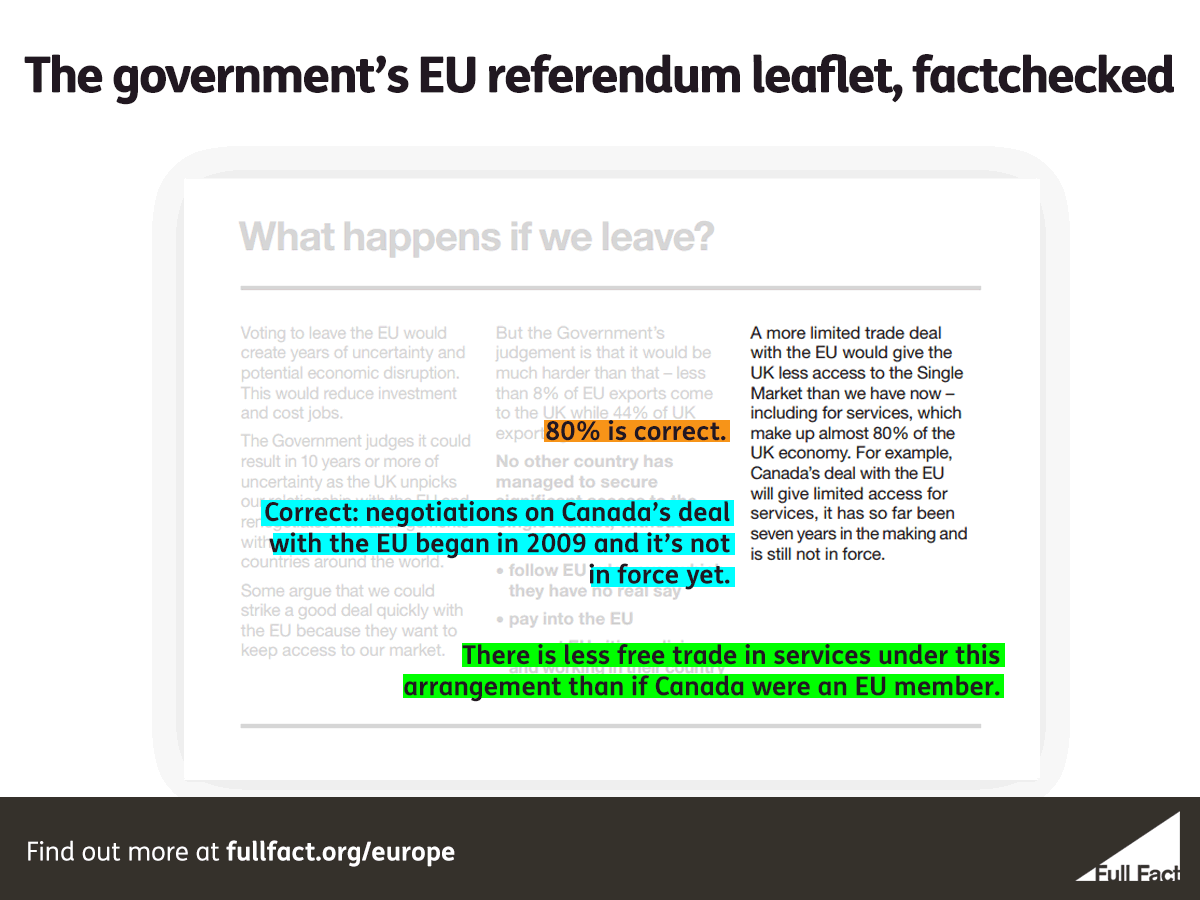 "A more limited trade deal with the EU would give the UK less access to the single market than we have now—including for services, which make up almost 80% of the UK economy. For example, Canada's deal with the EU will give limited access for services, it has so far been 7 years in the making and is still not in force."
It's correct that the UK economy is around 80% services, so being able to sell services to the EU if we left would be particularly important to the UK.
Negotiations on Canada's deal with the EU were announced in May 2009, although the EU says they were completed in 2014.
It's correct that the deal hasn't been signed or brought into force yet, as there have been legal technicalities to iron out, and it still needs to be approved by the EU's Council, Parliament and perhaps each individual member country. The think tank Open Europe has looked at how long free trade deals typically take from start to finish.
The deal is perceived to allow for fairly free trade in goods, but less free trade in services than if Canada were an EU member. There are restrictions on airlines, TV and some areas of financial services.
Not being in the single market or having a Canada-style trade deal after leaving doesn't mean that trade with the EU dries up entirely. The UK would fall back on World Trade Organisation rules.
We need facts more than ever.
Right now, it's difficult to know what or who to trust. Misinformation is spreading. Politics and the media are being pushed to the limit by advancements in technology and uncertainty about the future. We need facts more than ever.
This is where you come in. Your donation is vital for our small, independent team to keep going, at the time when it's needed most. With your help, we can keep factchecking and demanding better from our politicians and public figures.We can give more people the tools to decide for themselves what to believe. We can intervene more effectively where false claims cause most harm.
Become a donor today and stand up for better public debate, on all sides, across the UK.
---