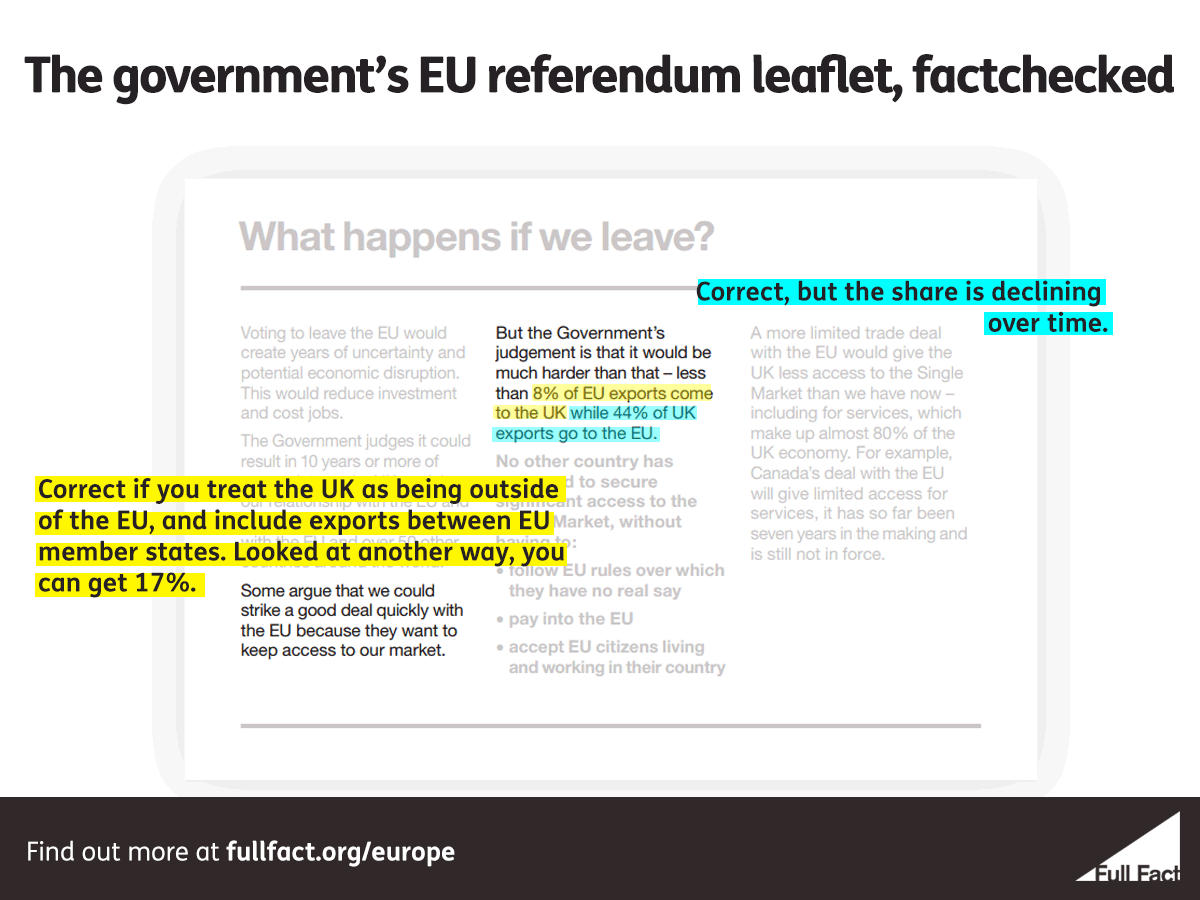 "Some argue that we could strike a good deal quickly with the EU because they want to keep access to our market. But the Government's judgement is that it would be much harder than that—less than 8% of EU exports come to the UK while 44% of UK exports to go the EU."
Whether the 8% is correct depends on how you treat exports from the EU. Looked at another way, you can get 17%.
Either way the data is quite unreliable, and can change depending on whether you look at which countries in the EU say they export to the UK, and what the UK says it imports from other countries in the EU.
The UK is estimated to make up just under 8% of total EU exports in 2014, according to Eurostat data. That treats the UK as being outside of the EU, and includes exports between EU member states.
If you treat the EU minus the UK as one block and look at who it exports to, the UK takes a 17% share of exports, compared to 83% to the world outside the EU.
Those figures count both exports in goods and services.
About 44% of UK exports in goods and services went to other countries in the EU in 2014.
That share has been declining, as exports to other countries have been increasing at a faster rate.
It's sometimes argued that these statistics overstate the proportion of UK exports that go to the EU, as a lot of goods pass through ports like Rotterdam before being shipped to a final destination outside the EU.
Both the Office for National Statistics and the government's review of our EU membership have concluded that it's hard to quantify the extent of this 'Rotterdam effect' or establish whether it's a serious problem for the statistics.
It's not clear what would happen to this trade if the UK votes to leave the EU. If the UK leaves the EU, the future rules on trade would depend on what kind of agreement, if any, the UK reaches with the EU after its departure.
The integrity of our elections is in danger, and we need your help
You're probably here looking for facts. Thank you for that trust. But with the EU parliament elections on the way and more elections a possibility, we need to act now to make sure our elections are protected, before it's too late.
Could you help protect our elections by becoming a Full Fact donor?
Misinformation isn't new, but advancements in technology mean it can spread at an unprecedented scale. Our dangerously outdated election laws have not kept up with the digital age, putting our next elections at risk of abuse.
Currently, it's possible for a candidate to run a thousand different political ads to win the same seat, promising something different to each group it targets. At the same time, there's no law requiring those who publish online campaigns to disclose who they are or how they are funded. The opportunity for bad actors to manipulate election results is left wide open.
You may already know about our work to make public debate online more honest and transparent. Every day, we call out the most harmful misinformation on social media platforms when and where we see it. But right now, we're urging the government to overhaul our election laws to make sure political campaigning is held to the same level of scrutiny online as it is offline.
This work all depends on the generosity of hundreds of people who all believe that for democracy to work, we need transparency. Our monthly donors help strengthen our voice, and show our politicians that this really matters. Would you consider joining them?
Become a donor today to make sure our elections are protected.
---