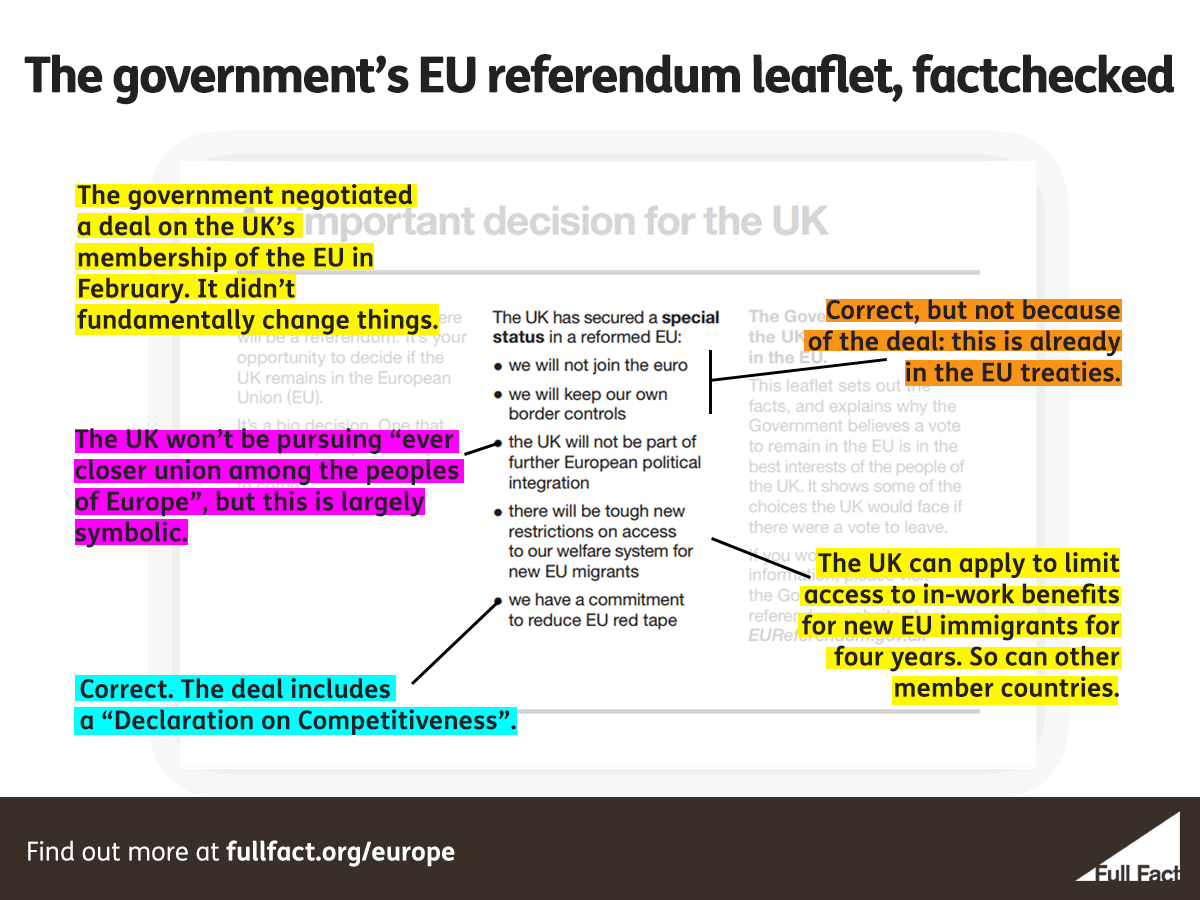 "The UK has secured a special status in a reformed EU:

We will not join the euro
We will keep our own border controls
The UK will not be part of further European political integration
There will be tough new restrictions on access to our welfare system for new EU migrants
We have a commitment to reduce EU red tape"
The UK does have special arrangements in some of these areas, although not all of them came about due to the EU deal negotiated by David Cameron earlier this year.
Of these five examples, two aren't from that deal, one doesn't make very much difference, and two aren't specific to the UK.
It's correct that the UK doesn't have to join the euro. This is already in the EU treaties. The same goes for keeping UK border checks.
The deal negotiated with other EU leaders in February did take in the other issues mentioned, although none of the legal experts who analysed the deal for us suggested that it amounts to a fundamental change in the UK-EU relationship.
The deal would exempt the UK from aspiring to "an ever closer union among the peoples of Europe". This phrase has a symbolic political impact, but has little or no legal effect. Saying that it no longer applies to the UK doesn't change anything about how the EU works, or the powers it has.
On benefits for new EU migrants, it would allow any member country to limit their access to in-work benefits for up to four years. The law to set up the emergency brake will need the agreement of the European Parliament. The UK will then require the agreement of other governments to activate the brake.
And there is a commitment on EU 'red tape', in the form of a Declaration on Competitiveness. This also isn't specific to the United Kingdom.
The integrity of our elections is in danger, and we need your help
You're probably here looking for facts. Thank you for that trust. But with the EU parliament elections on the way and more elections a possibility, we need to act now to make sure our elections are protected, before it's too late.
Could you help protect our elections by becoming a Full Fact donor?
Misinformation isn't new, but advancements in technology mean it can spread at an unprecedented scale. Our dangerously outdated election laws have not kept up with the digital age, putting our next elections at risk of abuse.
Currently, it's possible for a candidate to run a thousand different political ads to win the same seat, promising something different to each group it targets. At the same time, there's no law requiring those who publish online campaigns to disclose who they are or how they are funded. The opportunity for bad actors to manipulate election results is left wide open.
You may already know about our work to make public debate online more honest and transparent. Every day, we call out the most harmful misinformation on social media platforms when and where we see it. But right now, we're urging the government to overhaul our election laws to make sure political campaigning is held to the same level of scrutiny online as it is offline.
This work all depends on the generosity of hundreds of people who all believe that for democracy to work, we need transparency. Our monthly donors help strengthen our voice, and show our politicians that this really matters. Would you consider joining them?
Become a donor today to make sure our elections are protected.
---