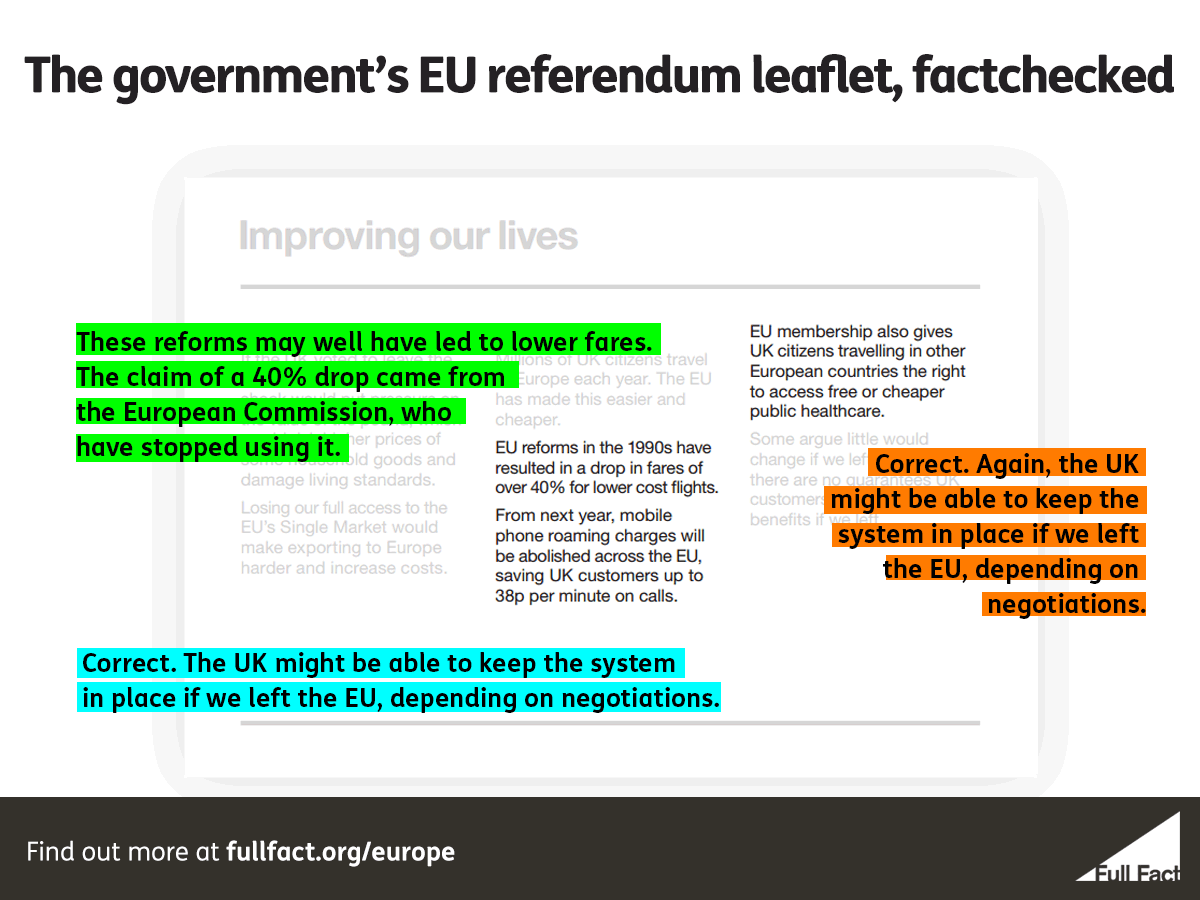 "EU reforms in the 1990s have resulted in a drop in fares of over 40% for lower cost flights.

From next year, mobile phone roaming charges will be abolished across the EU, saving UK customers up to 38p per minute on calls

EU membership also gives UK citizens travelling in other European countries the right to access free or cheaper public healthcare. Some argue little would change if we left the EU. But there are no guarantees UK customers would keep these benefits if we left."
The government sources the 40% figure to the European Commission, which told us that it no longer uses this number. It said it made little sense to use an average such as this, as airlines don't share this kind of information and there may be a lot of variation within it.
EU rules have gradually opened up air travel to competition, creating a single market in air travel so that all EU airlines can operate on all EU routes, which wasn't the case before. This has resulted in lower fares for consumers, according to a recent OECD paper, although it's difficult to say what would've happened without this EU policy.
From June 2017, there will be no extra roaming fee for using your mobile phone in other EU countries. That's after EU policies have reduced the maximum charge permitted every year since 2007. The saving of 38p refers to the fact that extra charges for calls were capped at this amount from July 2009 to July 2010.
Non-EU countries in the European Economic Area are also covered by these rules, so if the UK joined that group or negotiated to keep the system in place, roaming charges might not be affected.
It's correct that UK citizens can get free or cheaper healthcare while travelling in the EU if they have a European Health Insurance Card. Whether there's a charge or not depends on the country: the idea is that you get the same deal as people from that country. The card also gives you access to healthcare in the European Economic Area countries and Switzerland, so, again, it might be possible to keep the system if we left.
With Brexit fast approaching, reliable information is crucial.
If you're here, you probably care about honesty. You'd like to see our politicians get their facts straight, back up what they say with evidence, and correct their mistakes. You know that reliable information matters.
There isn't long to go until our scheduled departure from the EU and the House of Commons is divided. We need someone exactly like you to help us call out those who mislead the public—whatever their office, party, or stance on Brexit.
Will you take a stand for honesty in politics?
---