Last week, we wrote about the cash support for asylum seekers in different European countries. We said that insofar as it's possible to compare, many EU nations provide a similar weekly rate to the UK.
But when you take into account daily living costs in those other countries, it turns out that in fact the UK is the least generous of the countries we looked at.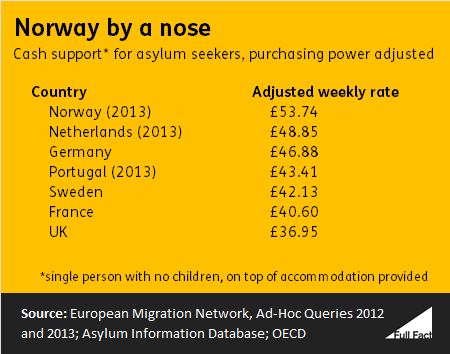 It's hard to make comparisons between different systems. Even taking the most like-for-like payments possible, simply converting them into sterling doesn't show us the differences in what those payments buy.
As a single asylum seeker with no children, you might get the equivalent of £56 a week in Norway to pay for food and other living costs, but that doesn't mean you have the same standard of living as you would on £56 a week here.
A basket of goods that costs £1 here currently costs £1.07 in Norway, according to the Organisation for Economic Co-operation and Development.
That's not a huge difference, so Norway's rate still looks comparatively generous—the equivalent of around £54.
But in countries like Sweden, France, Germany and the Netherlands, consumer goods and services cost less than they do in Britain. So while their weekly rates for asylum seekers look similar to the UK in cash terms, the money goes further in all those countries.
Even these adjusted rates don't factor in different allowances for families, nor tell us about asylum seekers' varying access to the likes of public healthcare, education, employment, integration programmes and one-off supplies on arrival.
The integrity of our elections is in danger, and we need your help
You're probably here looking for facts. Thank you for that trust. But with the EU parliament elections on the way and more elections a possibility, we need to act now to make sure our elections are protected, before it's too late.
Could you help protect our elections by becoming a Full Fact donor?
Misinformation isn't new, but advancements in technology mean it can spread at an unprecedented scale. Our dangerously outdated election laws have not kept up with the digital age, putting our next elections at risk of abuse.
Currently, it's possible for a candidate to run a thousand different political ads to win the same seat, promising something different to each group it targets. At the same time, there's no law requiring those who publish online campaigns to disclose who they are or how they are funded. The opportunity for bad actors to manipulate election results is left wide open.
You may already know about our work to make public debate online more honest and transparent. Every day, we call out the most harmful misinformation on social media platforms when and where we see it. But right now, we're urging the government to overhaul our election laws to make sure political campaigning is held to the same level of scrutiny online as it is offline.
This work all depends on the generosity of hundreds of people who all believe that for democracy to work, we need transparency. Our monthly donors help strengthen our voice, and show our politicians that this really matters. Would you consider joining them?
Become a donor today to make sure our elections are protected.
---