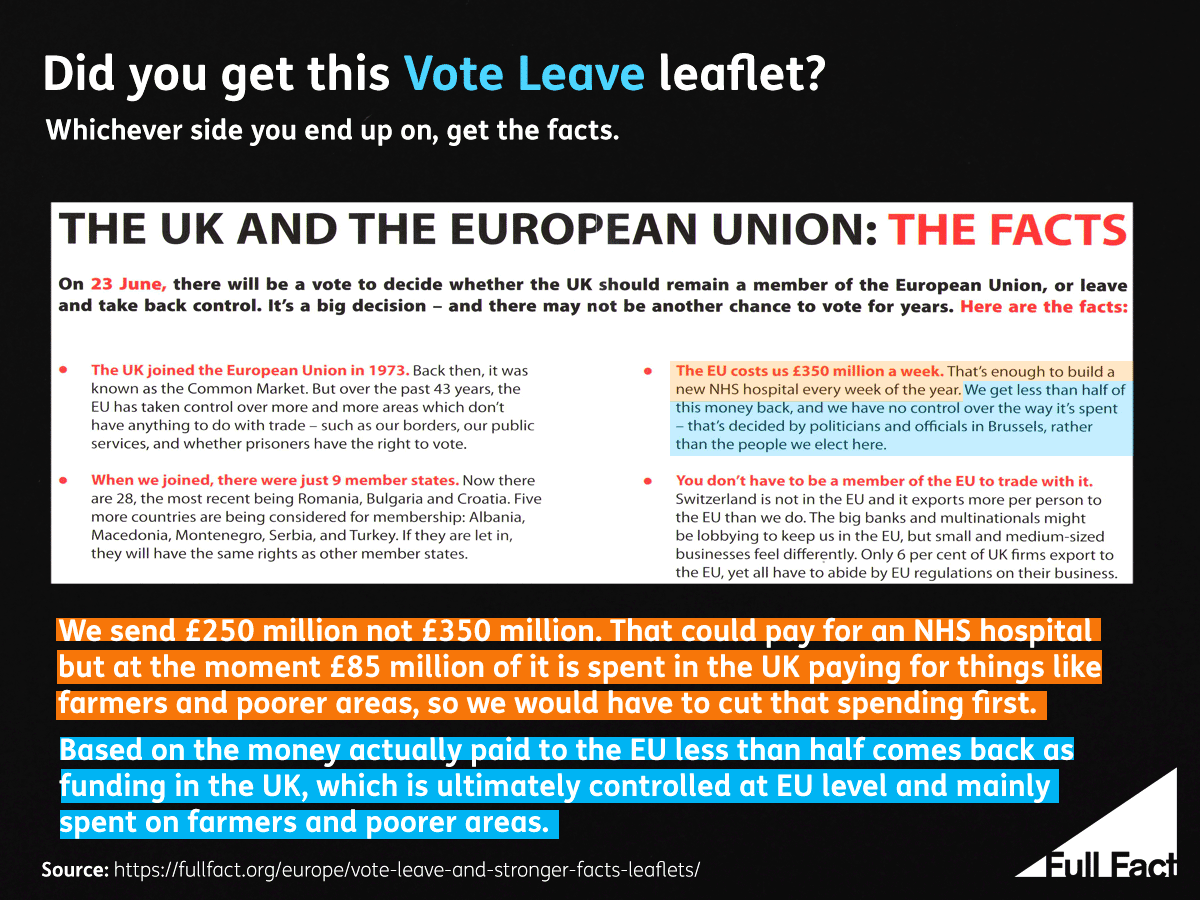 "The EU costs us £350 million a week. That's enough to build a new NHS hospital every week of the year. We get less than half of this money back, and we have no control over the way it's spent - that's decided by politicians and officials in Brussels, rather than the people we elect here"
The claim that the UK sends £350 million per week to the EU is wrong.
This figure does not include a rebate, or discount, on what the UK has to pay. In 2014 the UK would have paid £18.8 billion without the rebate but ended up paying £14.4 billion.
The estimate for 2015 is £12.9 billion. This is £248 million per week, or £35 million per day.
How much does the UK receive back?
The UK then gets money back in grants and payments from the EU. Some flow through the public sector, and mainly go to support farmers and poorer areas of the country. In 2015 this was estimated at £4.4 billion, or £85 million per week. More money, such as research grants, goes directly from the EU to the private sector.
Even so, the UK does get back less than half of the money it pays to the EU in most years.
What can be done with the money?
Neither the money that goes back to public sector nor the private sector is fully within the government's control. If we left the EU we might choose to spend it all differently, or spend the same amount ourselves on farmers, poorer regions and the rest—leaving less to spend on building hospitals.
Assuming that every penny available is spent on hospital building, then anything from half a hospital to three hospitals a week might be built.
Full Fact wants to see greater accountability for public figures who mislead us—and we need your help.
Political debate in the UK is in flux right now. The UK's exit from the European Union is approaching, we will soon have a new prime minister and potentially a general election.
We want politicians to tell the truth, and while the best politicians realise that their work should be done honestly, some aren't taking their responsibilities seriously. Both sides in the EU referendum campaign let voters down, from deceptively designed leaflets to some of the arguments made on each side. The public rightly expects more from politicians.
We want to see greater accountability for public figures who mislead. Full Fact will continue to advocate for higher standards and call out those who don't uphold them.
But we rely on the generosity of our supporters to make sure we can spot the most harmful misinformation when we most need to.
Can you help us?
Support better public debate today.
---