The official designated campaign for leaving the EU is called Vote Leave. You can find their arguments at their website http://www.voteleavetakecontrol.org/.
The official designated campaign for remaining in the EU is called Britain Stronger in Europe. You can find their arguments at their website http://www.strongerin.co.uk/.
Both sides summed up their arguments in one page in the Electoral Commission leaflet sent to every home in the UK. We've factchecked the Stronger In and the Vote Leave one.
We've also factchecked lots of other EU referendum claims made by campaigners on each side, and you can ask us any factual question you want (but not, sorry, which way to vote) at fullfact.org/ask.
Ipsos MORI have some research on what EU referendum issues are helping other people make their minds up: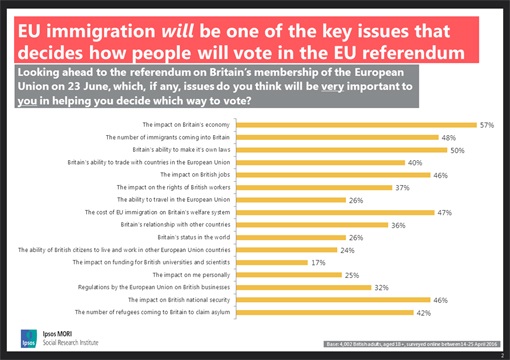 This series of articles answers the most popular Google searches about the European Union and the EU referendum on 23 June.
With Brexit fast approaching, reliable information is crucial.
If you're here, you probably care about honesty. You'd like to see our politicians get their facts straight, back up what they say with evidence, and correct their mistakes. You know that reliable information matters.
There isn't long to go until our scheduled departure from the EU and the House of Commons is divided. We need someone exactly like you to help us call out those who mislead the public—whatever their office, party, or stance on Brexit.
Will you take a stand for honesty in politics?
---