In brief
Claim
Two and a half thousand more people every day are being treated within four hours in A&E departments.
Conclusion
Correct, measuring patient attendances from 2009/10 to 2015/16.
1.8 million people had to wait longer than four hours for treatment in A&E departments last year.
Correct, for A&E attendances rather than individual patients.
Claim 1 of 2
"1.8 million people had to wait longer than four hours last year in A&E departments"

Jeremy Corbyn, 11 January 2017
"The fact [is] that we are seeing more people being treated in our NHS. Two and half thousand more people are treated within four hours every day in the National Health Service."

Theresa May, 11 January 2017
The number of A&E visits that took more than four hours to process did hit 1.8 million in 2015/16, according to data from NHS Digital. The previous year it was 1.4 million.
The Prime Minister replied that 2,500 more daily visits are being processed within four hours. That's also true: over 900,000 more annually since 2009, if you look at all types of A&E departments. Both the 'good' and the 'bad' figures can be on the rise simultaneously, as many more people are visiting A&E overall.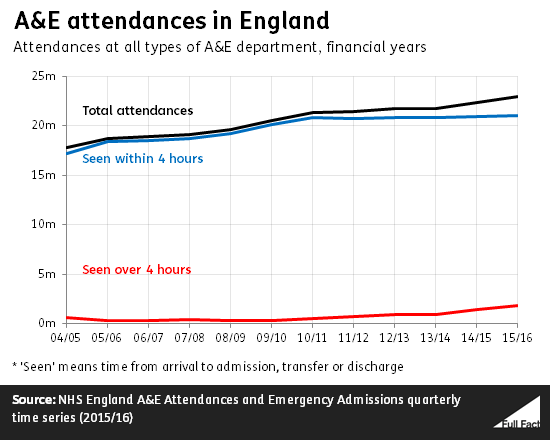 Looking just at 'major' A&E departments, however, the number being seen within four hours has actually fallen over the same period. And on either measure, the percentage of patient visits being dealt with within four hours has dropped from 98% to around 90% last year.
The target has been 95% since 2010. It used to be 98%.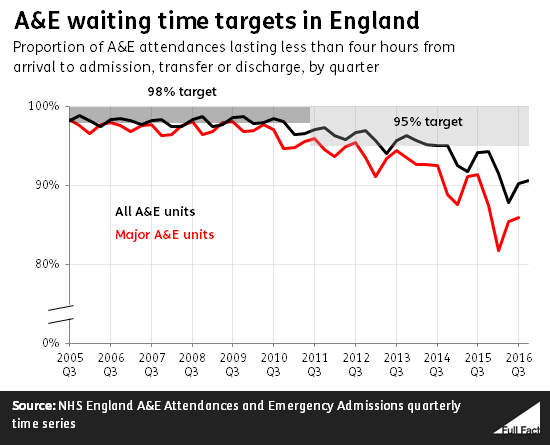 These annual figures doesn't tell us about A&E performance this winter. The very latest data available, for October 2016, shows that the figure for those treated in under four hours in 'major' departments—big 24-hour A&Es staffed by consultants—was down to 84%.
A footnote: in all cases, these figures are for the number of attendances at A&E rather than the number of individual patients. They also cover England only.
This factcheck is part of a roundup of Prime Minister's Questions. Read the roundup.
We aim for our factchecks to be as accurate and up-to-date as possible. If you think we've made an error or missed some relevant information, please email
team@fullfact.org
.