"Ban packed lunches, head teachers urged" reported the BBC this morning after a government-commissioned food plan drawn up by the founders of the Leon fast food chain delivered its verdict on the state of the nation's school dinners.
The news wasn't good - while the report's authors took the view that the quality of food in England's schools has improved "enormously" since 2005, they stated that too many dinners served remain too "bland, boring and beige".
Furthermore, they found not enough children are actually having school dinners. The majority take in a packed lunch, of which only around 1% have been found to meet all the food-based standards for school meals in England.
Co-author Henry Dimbleby took to the airwaves and papers today to make the case for why there is a problem, claiming: "20% of children are obese by the time they leave primary school."
So how much do the figures tell us children need a change of diet?
Overweight and obese - but when?
The two main sources for figures on childhood obesity are the Health Survey for England (based on a sample of schoolchildren) and the National Child Measurement Programme (NCMP) (essentially a census measurement of schoolchildren taken at reception and year six).
Both sources suggest that the problems of obesity and being overweight grow as children get older. But, as the Health Survey's long-term trends show, this change has always been the case (at least since 1995, when the Survey began). The actual proportion of children at a given stage of education who are overweight or obese has stayed broadly constant for almost two decades.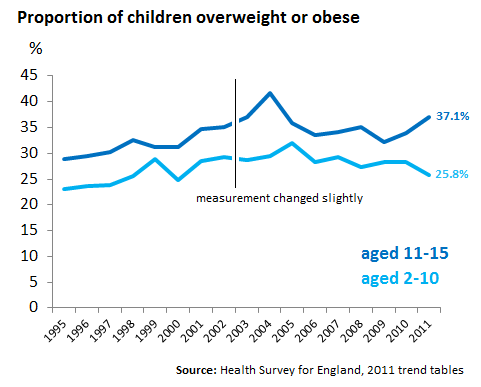 [In 2003 people who didn't respond to the survey were weighted in, so the figures before and after 2003 aren't perfectly comparable]
So what about the present day? The NCMP is more helpful for finding out what proportion of children are obese at the start and at the end of primary school, as Mr Dimbleby alluded to. The latest figures for 2011-12 are shown below: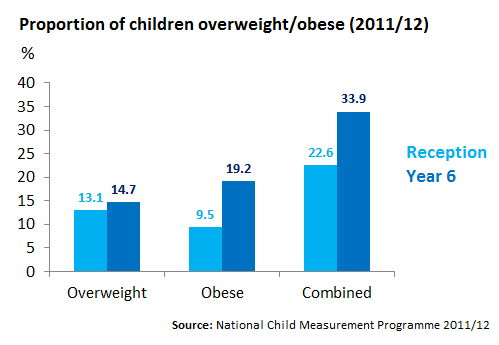 So the prevalence of overweight and obese children tends to be higher at the end of primary school than at the start. It's obviously not possible from these numbers alone to conclude that meals eaten at lunchtime are the big cause, but it's plausible they're a factor.
The NCMP has run since the 2006/7 academic year and, although the earlier years of the programme had lower rates of participation, again the picture has changed very little. For that year, 13% of children were overweight at reception and 14.2% at year six. 9.9% were obese at reception and 17.5% at year 6.
So while there's definitely an issue with some schoolchildren being more overweight or obese by tendency as they grow up, the long term evidence suggests this is nothing new, although there has been a slight improvement for younger children since 2005 (from when school dinners are purported to have improved).
Nevertheless, the actual proportion of children at a given stage of education who are overweight or obese has stayed broadly constant for almost two decades, so the Government and schools still have their work cut out for them to make a difference in the wake of this report.
With Brexit fast approaching, reliable information is crucial.
If you're here, you probably care about honesty. You'd like to see our politicians get their facts straight, back up what they say with evidence, and correct their mistakes. You know that reliable information matters.
There isn't long to go until our scheduled departure from the EU and the House of Commons is divided. We need someone exactly like you to help us call out those who mislead the public—whatever their office, party, or stance on Brexit.
Will you take a stand for honesty in politics?
---