Today the Sun announced that "Almost 1,000 doctors left the NHS in just one month", according to figures from the Health and Social Care Information Centre (HSCIC).  
The state of the NHS has been the subject of debate in recent weeks, with the latest news suggesting chronic shortages of NHS clinical staff in hospital wards.  Further, the past few weeks have seen Labour attacking the Coalition for cutting the number of frontline staff.
Did around 1,000 doctors leave the NHS between March-April 2013? 
The HSCIC measures the total NHS workforce through three different measures: "Head Count", "Full Time Equivalent" and "Role Count". Any conclusion on what's happening to staff numbers in the NHS depends on what type of measurement we use. 
Using all three measurements, it's true that the number of doctors did fall between March and April 2013, the latest data available: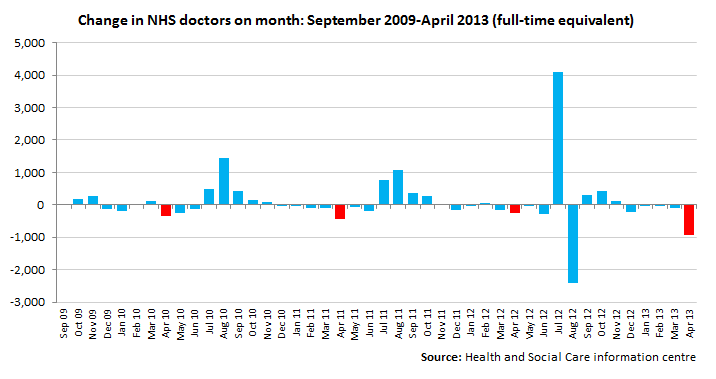 However, as the above time series shows, this fall in clinical staff numbers is cyclical. Indeed, between March and April every year since 2009, the number of clinical staff has dropped, picking up later in the year.
We can also see this pattern looking at what's happened to the number of doctors over the same period. Although there's been an overall increase, there are also seasonal dips in recruitment.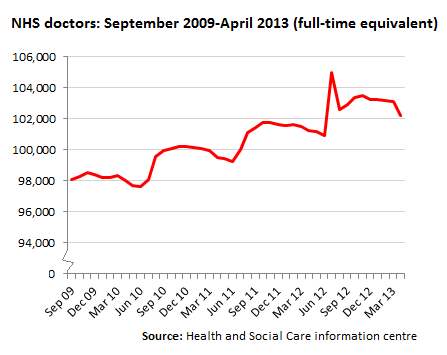 This suggests that the fall in staff numbers has less to do with cuts and restructuring, than the contracts of NHS employees. As the Sun noted towards the end of its article:
"The Department of Health said workforce levels often dropped between March and April as contracts expired at the end of the financial year."
We aim for our factchecks to be as accurate and up-to-date as possible. If you think we've made an error or missed some relevant information, please email
team@fullfact.org
.