In brief
Claim
There are 5,000 fewer mental health nurses since 2010.
Conclusion
This is correct looking just at mental health nurses and excluding those who work in learning disabilities. NHS Digital, which publishes the figures, uses a broader definition of mental health nurse that includes both groups. Looking at both of these the number of nurses has decreased by around 7,000 since 2010.
"Under this Government there are 5,000 fewer mental health nurses."

Royal College of Nursing, 31 July 2017
Following an announcement by the government of plans to recruit more mental health nurses in England, the Royal College of Nursing has raised concerns about how this will be done. It claims that 5,000 nurses alone are needed to get staffing levels back to 2010 levels.
This is correct for mental health nurses, excluding nurses who work in the field of learning disabilities. Including these, the number of mental health nurses in this larger category has fallen by 7,000 since 2010.
Falling numbers
There were just under 5,000 fewer full time equivalent (FTE) nurses identified as working in "mental health" in hospital and community health services in NHS England in March 2017 compared to May 2010 when the Conservative government took office. The numbers decreased from 40,600 to 35,700 during that time.
It's a fall of just over 5,000 comparing the same months in each year, from March 2017 to March 2010.
That's not the total number of people who work as nurses in mental health, but the number if you added all their hours together to create only full time roles.
Staffing levels have fallen by more using a broader definition of "mental health nurse" 
We spoke to NHS Digital, which publishes the figures, and it told us that it uses a broader definition of mental health nurses when answering queries about the data which also includes nurses who work in learning disabilities and difficulties. (You wouldn't know this from the data, which excludes these nurses from the category of "mental health" nurses.) 
Including these, the number of nurses working in mental health has decreased by around 7,000 since 2010.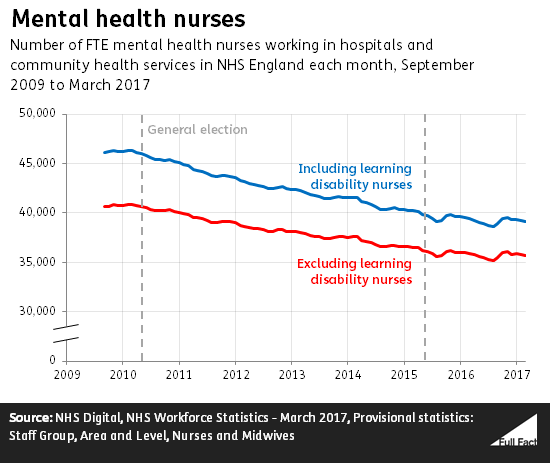 The number of places for trainee mental health nurses has increased in recent years. But this won't necessarily lead to more nurses actually working for the NHS. Before the government's latest announcement Health Education England (which oversees training) said it was concerned that "the existence of over 3,000 vacancies indicates this education supply is not translating into increased numbers in employment".
Can you help protect this election from the influence of bad information? Support Full Fact
This election, clear, accurate facts won't always be a guarantee. False and harmful claims are spread every day by our public figures and media. Intentional or not, they have the power to shape the choices we make. We all deserve better than that.
That's why we're fighting to keep this election more honest and accountable. And we can't do it without you. In a fast-paced campaign, our supporters mean we can hold all candidates to the same three principles: get your facts right, back them up with evidence, and correct your mistakes.
Just a small monthly donation keeps us scrutinising the most harmful false claims around the clock, and challenging the people who make them.
If you, like us, don't want your vote to be influenced by bad information, can you help out?
---