"New analysis published today by Labour shows that some 360,000 more women are overdue to be screened for cervical cancer compared to three years ago, as women struggle to book check-ups at their local GP surgery at convenient times."

Labour Party Press Release, 24 April 2014
Findings by the Labour party on the number of women who are overdue an appointment for a cervical cancer check were covered by, among others, the Times and ITV news today. The party also pointed to difficulties in getting a convenient GP appointment as one cause of overdue tests.

Labour's figures on overdue appointments are right, but the rise in overdue appointments may owe more to a historical anomaly wearing off than more recent developments under the Coalition.
And while over a third of respondents to a 2011 survey reported that difficulty in getting a GP appointment was a factor in delaying or cancelling their appointments, this doesn't tell us anything about the impact of GP availability more recently.
2009: a good year for screening
The NHS aims to screen women between the ages of 25-49 every three years and women between the ages of 50-64 every five years.
The latest available data - for 2012/13 - shows that in England 3.7 million women aged 25-64 were overdue a cervical smear test, according to official policy on how regularly they should be given. The number is an increase of 360,000 on that of 2009/10.
That said, part of the rise in the number of women who were overdue could be explained by an increase in the number who were eligible for the test.
Between March 2010 and March 2013, the proportion of women eligible who had been screened within the recommended period also fell in both groups. But for women aged 25-49 the proportion is still higher than it was in 2008.
But the proportion of women being tested jumped markedly in 2009, resulting in unusually high numbers of women being tested. The Times's article pointed to the well-publicised death of television personality Jade Goody from cervical cancer in 2009 as driving an increase in the number of tests taken that year.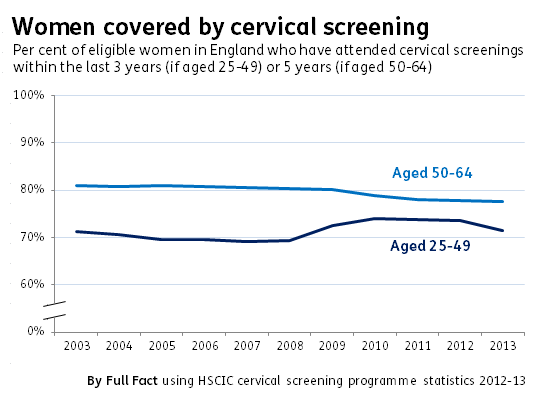 Women who took a smear test in 2009 would not be counted as due for another test until 2012, meaning the proportion who were considered overdue for one would be lower throughout the period.
So the recent rise in the proportion could represent a return to the longer term trend.
Over a third of those who have missed or delayed an appointment say GP opening hours played a role
A 2011 survey of British women aged over 20 (or over 25 in England and Northern Ireland) found that 32% of respondents had missed or delayed an appointment for a smear test.
Of these, over a third agreed that if GP surgery opening hours had been more flexible it would have ensured they attended a missed appointment, or at least encouraged them to attend.
But not all of these women will have been overdue for an appointment as a result - some may have rescheduled the test for a time that stayed within the recommended period. Others would have fallen out of the 25-64 age band for which there is a policy on how often to take the test.
We aim for our factchecks to be as accurate and up-to-date as possible. If you think we've made an error or missed some relevant information, please email
team@fullfact.org
.