Are NHS staff "10% worse off" under the coalition?
17 March 2014
"Staff are on average 10% worse off than when the coalition came to power."
Christina McAnea, Head of Health at UNISON, quoted in the Guardian, 14 March 2014
Last week the government's decision not to extend a public sector pay increase to all NHS workers made headlines. The trade union UNISON claimed that NHS staff are 10% poorer since the coalition came into office.
Pay bands and RPI
The source of the claim is a paper UNISON submitted to the NHS Pay Review Body in September 2012. They calculated the gap between the salary bands set for 2013 and what they would have been had they risen from 2010 levels in line with the Retail Price Index (RPI) measure of inflation.
But RPI is no longer considered robust enough by international standards. Its replacement, RPIJ, tends to come out lower and might provide a better benchmark for inflation over this period.
The paper also looks at the upper limits of some salary bands rather than the amounts actually earned by staff, which is how readers may have understood Ms McAnea's claim. This means it doesn't take into account changes in income for NHS workers who have progressed within pay bands, moved to new roles, or taken on extra hours.
So what do we know about recent trends in NHS pay?
Pay increases in the NHS are below inflation
Official statistics show that from May 2010 to November 2013, the Consumer Price Index measure of inflation rose by 11% and RPIJ rose by 10.4%. Across the same period average earnings for all NHS staff in England — excluding GPs - have risen from £29,023 to £30,746, an increase of 5.9%.
So while the earnings of NHS staff have not risen in line with inflation under the Coalition, the difference between the two is not 10%.
But the disparity varies according to profession.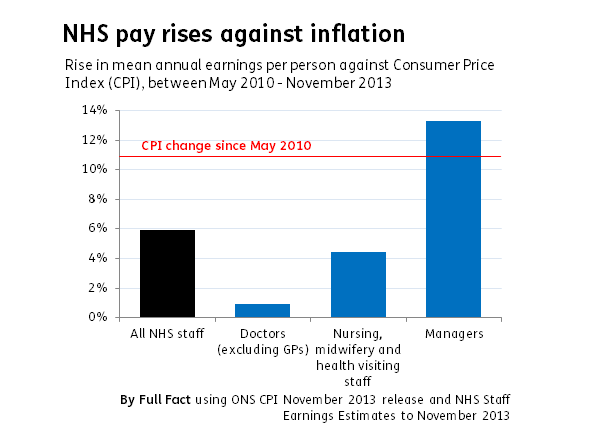 It's important to note that real earnings do not necessarily give us the full picture of how 'well off' staff are; they don't factor in changes in working conditions, responsibilities or hours, for example.