A blue light to NHS privatisation?
24 April 2013
This article has now been updated with more information on spending on private ambulances under the Labour government. (Please see below.)
"In the last two years, the London Ambulance Service has increased spending on private contractors from £400,000 to £4.2 million - a ten-fold increase."
Andy Burnham MP, Labour party website, 24 April 2013
Today the House of Lords have been debating the regulations of the Health and Social Care Act, which will determine to what extent 'third party' suppliers will be able to compete with the NHS to provide healthcare. 
Insisting that the Conservatives are intent on selling off parts of the NHS, the Labour party argued that ambulance trusts in England are spending more money on 'private' ambulances.

The Daily Mail, quoting data supplied by the Labour party, cited statistics from the London, South East Coast and Yorkshire ambulance trusts, all of which showed an increase in spend on 'private' ambulances.
After we put in a request, the office of Jamie Reed MP, Shadow Health Minister, kindly sent us a copy of the data it had collected via Freedom of Information requests. We were told that researchers had requested a breakdown by month of the amount of money being spent on private ambulances - those used for emergency cases as well as those routinely deployed to transport patients from hospital back home.
First off, let's look at Labour's headline claim of a ten-fold increase in the amount of money spent on private ambulances in London.
It appears that this is based on comparing data from 2010/11 with 2012/13: between April 2010 and Feburary 2011 inclusive, the London ambulance trust spent some £465,000 on private ambulances while between April 2012 and February 2013 it spent £4.2 million. As Labour observe, this constitutes (approximately) a ten-fold increase. 
Although the Daily Mail note that two other ambulance trusts have also diverted more money to private ambulances, there are a total of 11 ambulance trusts in England. So what's the picture elsewhere? 
On the road to privatisation?
Although Labour surveyed all of England's ambulance trusts, only seven of them responded to its request for information. Here's what the complete set of FoI data shows: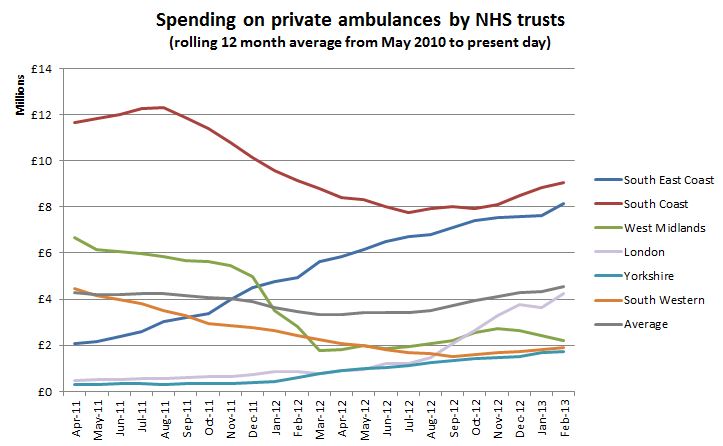 n.b. Jan and Feb 2013 data missing for West Midlands
What this graph demonstrates is that we're dealing with a range of scenarios. On a national level, we can see that there has been no real change in the average amount of money spent on private ambulances. This is explained by the fact that some ambulance trusts are spending more money in this area, while others are spending less.
It's clear that more money is now being spent on private ambulances in London (with a dramatic rise in 2012), the South East Coast (a steady increase) and Yorkshire (a more gradual upturn). 
However, since 2010 there has been - on average - a decrease in the spend on private ambulances at the West Midlands and South Western ambulance trusts, with an overall decline at the South Coast ambulance trust. Meanwhile, the Isle of Wight does not deal with any private contractors (a fact which explains why it doesn't appear on the graph).
It's also worth noting that when Labour refers to private ambulances, it's also including the likes of St John Ambulance which is not a company, but a charity. We also don't know how much more money is being spent on NHS ambulance services, which means that we can't put these numbers in context. It might be that in certain places an ambulance trust is spending more money overall so the increase in spending on private ambulances might be relatively small compared to the increase in spending on NHS ambulances.
A long term trend?
The observant among you will have realised that we have been looking exclusively at the Coalition's time in office (which is, of course, Labour's prerogative). However, this means that we're missing part of the story - namely, how much money was spent on private ambulances before May 2010.
According to the Daily Mail, the Conservatives - in response to the release of these figures - have accused Labour of "rank hypocrisy". A spokesperson for Jeremy Hunt, the Secretary of State for Health, insisted:
"Using a variety of healthcare providers to deliver patient transport services is a system which was started under the last Labour government."

In the light of this argument, it would be helpful to compare what happened to spending on private ambulances under New Labour. With this in mind, we'll be submitting FOI requests of our own to try to obtain data for this period. This will allow us to see whether the 'privatisation' of ambulance trusts has - as Labour say - accelerated under the Coalition. Until then, we won't know whether the Labour party are denying their own record on the NHS, or if it's true, as the Conservatives allege, that they're "playing party politics".
UPDATE (6 June 2013)
We now know how much money was being spent on private ambulances under the Labour Government. We submitted a Freedom of Information request to those ambulance trusts that the Labour party originally surveyed. The idea behind this was to put in context Labour's claim that under the Coalition there has been higher expenditure on non-NHS ambulances.
The graph below shows expenditure on private ambulances under the Labour Government (to May 2010) and the Coalition (to December 2012).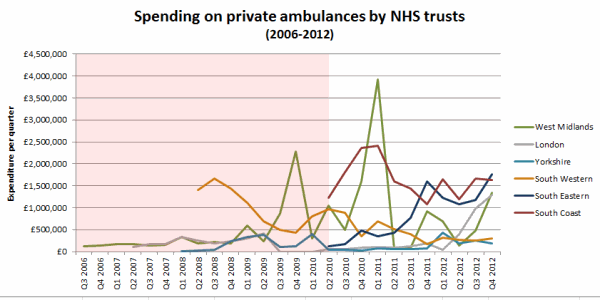 This graph tells a number of different stories. 
South Western ambulance trust spent more money on private ambulances during Labour's term than it has so far under the Coalition (to the end of 2012).
On the other hand, at West Midlands ambulance trust spending peaked in 2011, having fluctuated wildly since mid-2009. And in London there has been an increase in the amount of money paid to non-NHS providers since the beginning of 2012.
However, at Yorkshire ambulance trust, there's been no significant change in expenditure over time, regardless of which party has been in government. 
We don't have data for South Eastern and South Coast ambulance trusts during Labour's term, so there's no basis for comparison there.
Since we have an incomplete set of data, we can't draw strong conclusions about the differences between the current and previous governments when it comes to private provision in the ambulance service. However, the information we do have shows that the NHS was spending money on private ambulances before the Coalition entered office, even if the Labour party has chosen not to reference this fact.