In brief
Claim
The delays in cancer care waiting times are the longest since targets were first introduced.
Conclusion
There are a number of cancer care waiting times. Targets for the proportion of patients being treated within 62 days of being urgently referred by a GP are being missed. In January 2017 the proportion meeting the target was the lowest since targets were set in 2009. The rest of the targets were all hit.
"And today, figures were released, for the first time, showing devastating delays in people waiting for cancer care, the longest delays for most people since the targets were first put there."

Polly Toynbee, 9 March 2017
There are a number of waiting time targets linked to cancer care in England. The latest figures show that one of these was being missed by a record margin across England in January this year. Ms Toynbee told us this is what she was referring to.
The rest of the NHS cancer waiting time targets were all hit that month.
NHS England says that 85% of cancer patients should wait for no longer than two months between being urgently referred for diagnosis by their GP and receiving their first treatment. This was the target being missed.
Just under 80% of patients were seen within this target time in January, the lowest proportion since 2009. The last time the target was met was in December 2015.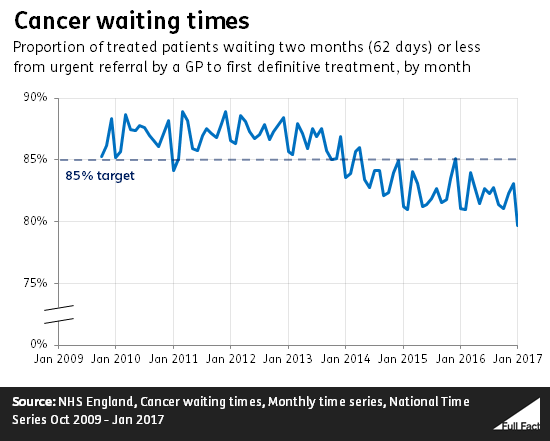 Other waiting times cover parts of this process between being referred by a GP and being treated.
They include 93% of patients waiting no longer than two weeks between referral with suspected cancer and getting their first outpatient appointment. Another is that 96% of patients should wait no more than a month between diagnosis and first definitive treatment.
There is also a 62-day target for patients who aren't referred by a GP, but are referred by an NHS screening service (90% of patients are to be seen in this time). The aim that no patient should wait more than 62 days between a consultant upgrading the priority of their case and their first treatment has no percentage target.
Specific targets for cancer waiting times were introduced in 2009.
Just under 12,000 people were first treated for cancer in January after being urgently referred by a GP. Around 1,800 were treated after being referred by a screening service and 2,200 after having their priority upgraded by a consultant.
Update 4 April 2017
We updated this piece to include more information about cancer waiting times.
Update 4 April 2017
We updated this piece to include more information about cancer care waiting times.
This factcheck is part of a roundup of BBC Question Time. Read the roundup.
We need facts more than ever.
Right now, it's difficult to know what or who to trust. Misinformation is spreading. Politics and the media are being pushed to the limit by advancements in technology and uncertainty about the future. We need facts more than ever.
This is where you come in. Your donation is vital for our small, independent team to keep going, at the time when it's needed most. With your help, we can keep factchecking and demanding better from our politicians and public figures.We can give more people the tools to decide for themselves what to believe. We can intervene more effectively where false claims cause most harm.
Become a donor today and stand up for better public debate, on all sides, across the UK.
---