In brief
Claim
Suicide is the main cause of death among new mothers.
Conclusion
Suicide was the main cause of death between six weeks and one year after pregnancy in the period 2012-2014. Other causes of death were more common in the six weeks after giving birth.
"There's a report that came out last week which showed that suicide is the main cause of death of new mums"

BBC Question Time audience member, 8 December 2016
Experts said in a report published on 7 December that "maternal suicides are now the leading cause of direct maternal deaths occurring within a year after the end of pregnancy".
But, somewhat confusingly to the lay reader, they also cite cardiovascular (heart and blood vessel) problems as "the leading cause of maternal death in the UK".
There are, reading closely, two details that account for the apparent contradiction. Cardiac disease is classed as an indirect cause of death, whereas suicide has recently been reclassified as a direct cause of death. Direct deaths are "from pregnancy-specific causes" such as preeclampsia, whereas indirect deaths are "from other medical conditions made worse by pregnancy".
However, suicide isn't the main direct cause of death during pregnancy or within six weeks of giving birth. Between 2012 and 2014, 14 women died this way, compared to 16 who died from an 'amniotic fluid embolism' and 20 who died from 'thrombosis and thromboembolism'. These are also classified as direct causes.
Where suicide overtakes other causes of death is between six weeks and one year after delivery, when it accounts for 15% of deaths—more than any other pregnancy-related cause.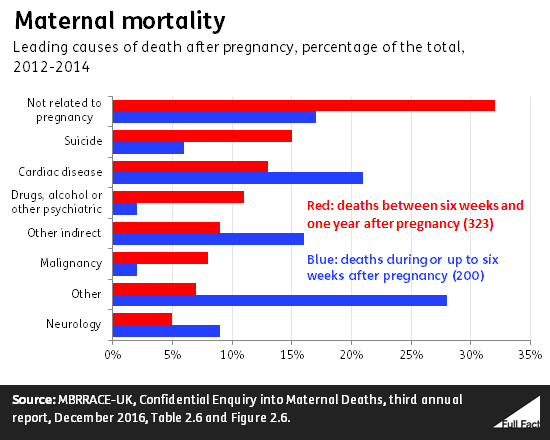 This factcheck is part of a roundup of BBC Question Time. Read the roundup.
Isn't it nice to have the whole picture?
We rely on your donations to continue and grow our factchecking efforts - to help us maintain our independence we need 1000 donors to give £10 a month. We are currently at 502 - please help Full Fact grow.
---