In brief
Claim
Homeless deaths soar by 24% as 597 people die in a single year.
Conclusion
Correct according to new estimates for England and Wales. The Office for National Statistics says this is a conservative estimate and the real number may still be higher.
"Homeless deaths soar by 24% as 597 people die in a single year"

Daily Mirror, 20 December 2018
An estimated 597 homeless people died in England and Wales in 2017, up 24% since 2013, according to new figures released by the Office for National Statistics (ONS).
The ONS says the figure is a "robust but conservative estimate, so the real numbers may still be higher."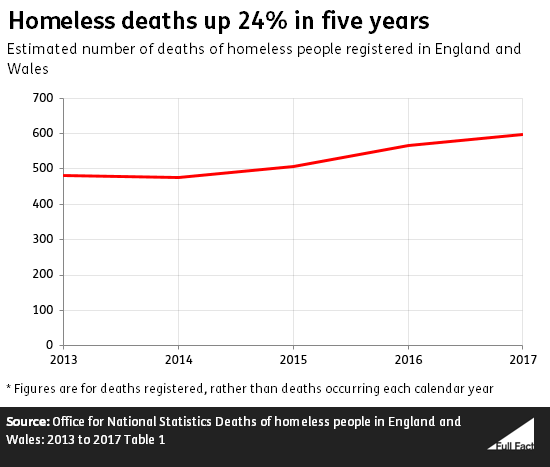 Between 2013 and 2017 the average age of death for homeless people was 44 years-old. For all people across England and Wales the average age of death was 76 for men and 81 for women.
Men made up the majority of the people who were homeless who died in 2017—84%.
A third of deaths were due to drug poisoning, up from 26% in 2013, suicide accounted for 13% of deaths and liver disease for 9%.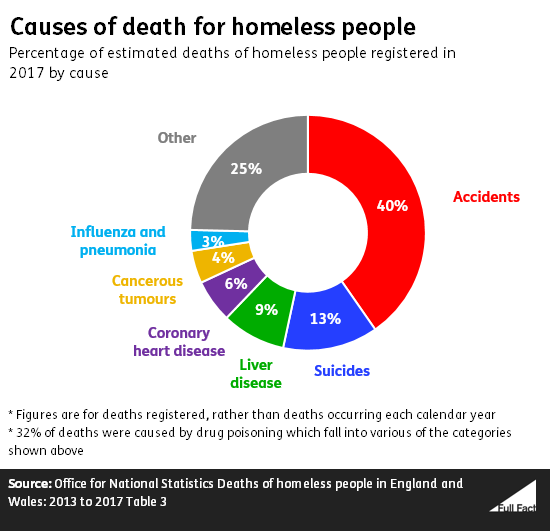 The ONS said that "Our findings show a pattern of deaths among homeless people that is strikingly different from the general population… More than half were related to drug poisoning, suicide, or alcohol, causes that made up only 3% of overall deaths last year."
How reliable are these figures?
There are different definitions of homelessness, and in this case the ONS refers to "mainly people sleeping rough, or using emergency accommodation such as homeless shelters and direct access hostels, at or around the time of death."
Because this definition differs from the one used to measure the total number of "homeless" people and from the number of those people who are "rough sleeping", the ONS says it was unable to calculate a death rate for homeless people.
To calculate their estimate, the ONS combined a number of things. It looked at the number of homeless people who could be identified as homeless by details in their death records—for example it said they had "no fixed abode". It also combined this with an estimate of how many people were homeless but couldn't be identified from their death records.
The figures also show the number of deaths registered each year, rather than deaths occurring each year. Because of the time it takes for an inquest to be completed—which happens in around 12% of cases when a person who is homeless dies—not all deaths will be recorded in the same year as they happened. This also means that not all deaths in 2017 will have been recorded yet.
We need facts more than ever.
Right now, it's difficult to know what or who to trust. Misinformation is spreading. Politics and the media are being pushed to the limit by advancements in technology and uncertainty about the future. We need facts more than ever.
This is where you come in. Your donation is vital for our small, independent team to keep going, at the time when it's needed most. With your help, we can keep factchecking and demanding better from our politicians and public figures.We can give more people the tools to decide for themselves what to believe. We can intervene more effectively where false claims cause most harm.
Become a donor today and stand up for better public debate, on all sides, across the UK.
---