In brief
Claim
Diabetes prescriptions are costing the NHS in England more than £1 billion a year, according to figures from NHS Digital.
Conclusion
We can't know how much it actually costs the NHS. £1 billion was the net ingredient cost in 2017/18 of items for diabetes prescribed in England through NHS primary care settings. There is no available information on what discounts the NHS might receive or extra costs relating to dispensing.
"Diabetes prescriptions are costing the NHS in England more than £1 billion a year, according to figures from NHS Digital."

BBC News, 8 November 2018
This claim about the cost of diabetes prescriptions was reported in a number of news outlets last week.
It refers to the listed value of drugs that were prescribed by GPs and pharmacists through the NHS in England in 2017/18. But that doesn't tell us how much the NHS actually paid for them, or how much they cost to prescribe. It also doesn't include any costs for drugs administered in hospitals.
How much the NHS actually paid for the drugs will be affected by things like the discounts it may have received for bulk buying, income from prescription charges, and dispensing costs. There isn't information available on how much this was worth, so we can't know the actual sum the NHS paid.
53 million items were prescribed for diabetes last year
Figures published by NHS Digital, the organisation that publishes lots of the data relating to health and social care in England, show that around 53 million items were prescribed for diabetes in 2017/18 with a net ingredient cost of just over £1 billion.
But this isn't necessarily the amount the NHS in England paid for these prescriptions. The net ingredient cost is the amount the drugs are listed at—rather like the recommended retail price (RRP) you see in shops (although VAT isn't included in the net ingredient cost as it would be for an item bought in a shop). But, as NHS Digital says, it "does not take into account any contract prices or discounts, dispensing costs, fees or prescription charges income, so the amount the NHS paid will be different."
There isn't information on exactly how much all of the items prescribed for diabetes last year cost the NHS in England overall.
These figures also only cover the drugs and other medical items prescribed and dispensed in "primary care" settings by GPs, nurses, and pharmacists working in the community, so they don't count the cost of any drugs administered in a hospital setting.
Diabetes meters and sensors aren't included in the cost of prescriptions as these aren't dispensed in primary care. We've written more about some of these sensors here.
People with diabetes can qualify for free prescriptions.
The number of items prescribed for diabetes has increased 73% over the last ten years
Drugs prescribed for diabetes made up around 5% of all items prescribed through primary care in the NHS in England in 2017/18, and around 11% of the net ingredient costs of those items.
The net ingredient costs of prescriptions for diabetes have increased much more over the last ten years than the net ingredient cost of all prescriptions—which has remained relatively flat.
Part of that difference is down to the number of diabetes prescriptions having risen at a faster rate than the overall number of prescriptions.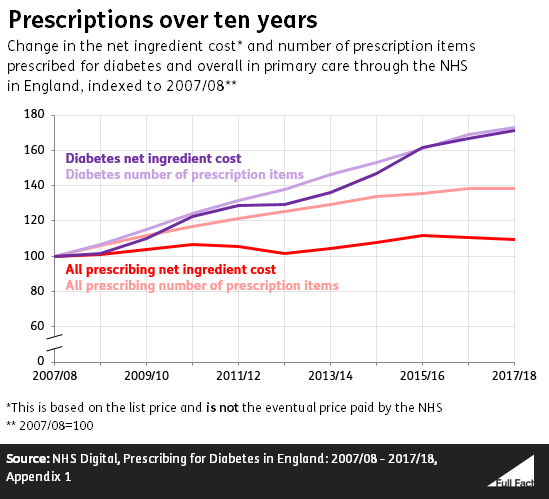 Of the £1 billion total net ingredient cost for diabetes drugs in 2017/18 the largest amount, just under £480 million, was spent on antidiabetic drugs (which help manage sugar levels in the blood stream and is usually prescribed for type 2 diabetes). This was followed by £350 million on insulins and £180 million on diagnostic and monitoring devices.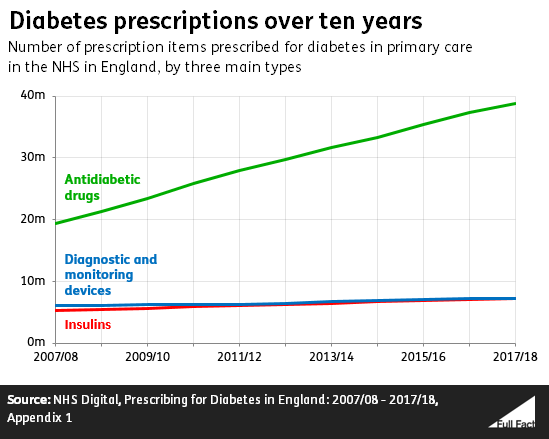 Of these three main types, antidiabetic drugs have seen the biggest increase in the number of prescriptions over the last ten years—with twice as many items prescribed in 2017/18 as in 2007/08. Overall the number of items prescribed across the board for diabetes has increased by 73% in that time.
The number of patients aged 17 and above diagnosed with diabetes has increased by around 37% since 2009/10.
The data published by NHS Digital doesn't break down the prescriptions for diabetes between the different types of diabetes.
The integrity of our elections is in danger, and we need your help
You're probably here looking for facts. Thank you for that trust. But with the EU parliament elections on the way and more elections a possibility, we need to act now to make sure our elections are protected, before it's too late.
Could you help protect our elections by becoming a Full Fact donor?
Misinformation isn't new, but advancements in technology mean it can spread at an unprecedented scale. Our dangerously outdated election laws have not kept up with the digital age, putting our next elections at risk of abuse.
Currently, it's possible for a candidate to run a thousand different political ads to win the same seat, promising something different to each group it targets. At the same time, there's no law requiring those who publish online campaigns to disclose who they are or how they are funded. The opportunity for bad actors to manipulate election results is left wide open.
You may already know about our work to make public debate online more honest and transparent. Every day, we call out the most harmful misinformation on social media platforms when and where we see it. But right now, we're urging the government to overhaul our election laws to make sure political campaigning is held to the same level of scrutiny online as it is offline.
This work all depends on the generosity of hundreds of people who all believe that for democracy to work, we need transparency. Our monthly donors help strengthen our voice, and show our politicians that this really matters. Would you consider joining them?
Become a donor today to make sure our elections are protected.
---