Factcheck: are 500 GP practices at risk of closure?
6 October 2014
"An analysis by the Royal College of GPs has identified 543 GP practices out of the 8,000 in England it believes could be forced to shut in the next year. They all have more than 90% of their doctors aged over 60 - the average retirement age is 59." - BBC News, 2 October 2014
We've taken a look at the data, which confirms that in 2013 there were over 500 GP surgeries in England where over 90% of doctors were aged 60 or over. Depending on which surgeries and which doctors you count, they number between 530 and 543.
In fact, in all of these surgeries 100% of doctors were over 60. That may seem surprising but it's less so given that 97% of the surgeries had only one or two GPs, compared to five working in the average practice. As you'd expect, they also treat fewer patients overall, although they treat more patients per GP.
The extent to which they're at risk of closure is difficult to say, as many GPs will go on working past the average retirement age of 59. And when they do retire, whether or not their practices close will depend in part on how many doctors are around to replace them. As of this summer there had been a fall in the number of trainee GPs despite an increase in the number of training posts available.
The 500+ practices "at risk of closure" are smaller than average
Out of 8,000 practices in England in 2013, there were around 535 practices with patients where all GPs were at least 60 years old (or where the only doctor was) according to data from the Health and Social Care Information Centre (HSCIC). There were a further eight practices which appeared to have no patients for reasons that aren't clear. Together these made up 543 surgeries. These figures exclude "returners and retainers" - doctors who are returning to GP practice and whose skills need refreshing, or who are working shorter hours in order to retain their skills. When these doctors are included the number of practices where all doctors are 60 or above is similar, at 535.
Those practices where all GPs were 60 or over had on average fewer GPs. 377 had one GP working there and 144 had two. So 97% of the practices had two or fewer GPs. That compares to the average practice which had about 5 GPs.
The practices served 2,700 patients on average, and about 2,000 patients per GP. That compares to the average practice which had about 7,000 registered patients and around 1,500 patients per GP.
At risk of closure? We can't tell from this data alone
The average age of retirement for GPs is 59 according to research by the Centre for Workforce Intelligence.
The same research found that 64 was also a common age for retirement, implying that some of the surgeries with doctors who are all over 60 could well be staffed by the same doctors for a few years yet.
When the GPs in question do retire, it's far from clear how likely that is to lead to the closure of their former practice. It'll depend in part on a number of circumstances particular to them; for instance the number of GPs in the local area or willing to move to it, or the wishes of the GPs who are partners in the practice.
On a national level there are efforts to increase the number of trainee GPs. The government has given the body responsible for education and training in the English NHS - Health Education England (HEE) - a target to ensure 50% of trainee doctors enter GP training programmes by 2016. As part of that it's increased the number of training posts, but as of June this year the number of the posts it had filled fell compared to 2013.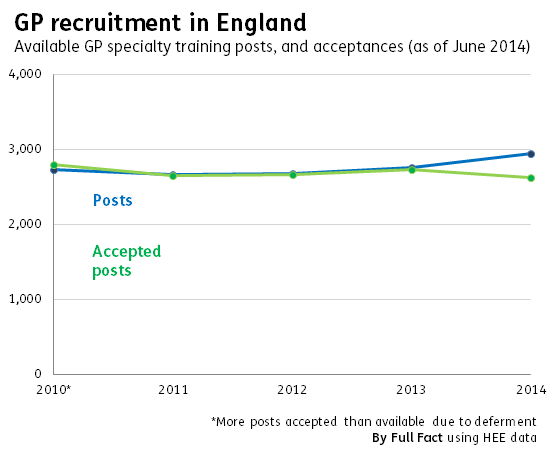 HEE told us the drop in filled posts was due to a falling number of applications, and possibly partly because some applicants didn't meet the required standard. There might have been further application rounds since June, so the number of unfilled posts may have fallen since then.
Image courtesy of Adrian Midgley