"A&E waiting is worst for a decade".

BBC News, 6 January 2015
This is right: figures published this morning showed that in the last three months of 2014, less than 93% of attendances were seen within four hours. That's the lowest for any three-month period since 2004.
Since 2010 the NHS in England has had a target that 95% of patients be seen within four hours at A&E. In practice that means from the time they arrive to the time they are either admitted for treatment, transferred elsewhere or discharged.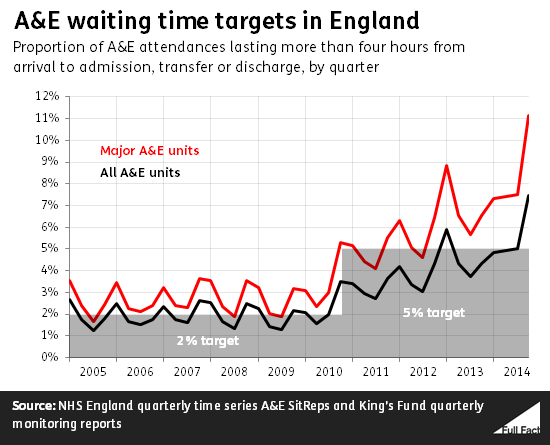 But both Labour and the Conservatives took to Twitter with a different side to the story—neither of which was particularly enlightening. Here is Labour: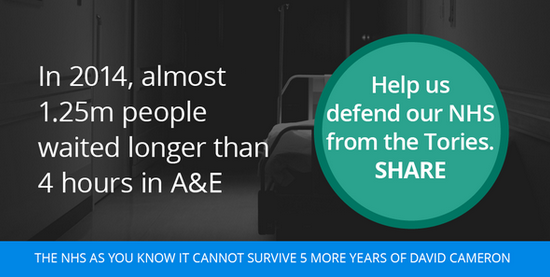 Meanwhile Health Secretary Jeremy Hunt took a different tack (and similarly in several other tweets):
Both claims are right, and neither is meaningful. The number of people attending A&E in England in 2014 was at record levels, as was the number seen within four hours. As was the number seen in over four hours.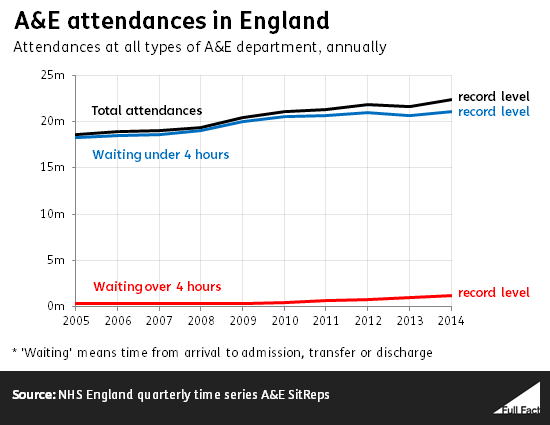 People who are admitted for treatment spend on average three and three quarter hours in A&E (median), while people who aren't spend just under two hours.
This is only a broad picture, and the King's Fund has analysed some of the drivers of trends in attendances and waiting. Even so, claims about 'record' levels aren't always that useful, when viewed in context.
We need facts more than ever.
Right now, it's difficult to know what or who to trust. Misinformation is spreading. Politics and the media are being pushed to the limit by advancements in technology and uncertainty about the future. We need facts more than ever.
This is where you come in. Your donation is vital for our small, independent team to keep going, at the time when it's needed most. With your help, we can keep factchecking and demanding better from our politicians and public figures.We can give more people the tools to decide for themselves what to believe. We can intervene more effectively where false claims cause most harm.
Become a donor today and stand up for better public debate, on all sides, across the UK.
---