In a speech today Ed Miliband has said that a quarter of people can't get an appointment with their GP within a week. It's a claim he's made before.
The best figures on GP waiting times show that 11% of patients couldn't get an appointment at all the last time they contacted their GP surgery, while another 14% saw or spoke to someone a week or more later. We had to do a bit of number crunching on that.
So it's fair to say a quarter of patients don't get an appointment within a week. However, that doesn't mean they can't get one. Some people would have been happy to book that far ahead, for instance if they wanted to get a repeat prescription or otherwise if their need for an appointment wasn't urgent.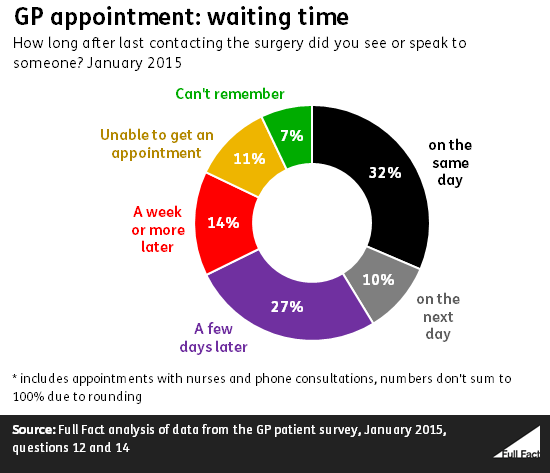 With Brexit fast approaching, reliable information is crucial.
If you're here, you probably care about honesty. You'd like to see our politicians get their facts straight, back up what they say with evidence, and correct their mistakes. You know that reliable information matters.
There isn't long to go until our scheduled departure from the EU and the House of Commons is divided. We need someone exactly like you to help us call out those who mislead the public—whatever their office, party, or stance on Brexit.
Will you take a stand for honesty in politics?
---