GP recruitment fell in 2014, but not by the Telegraph's 10%
30 June 2014
"...figures disclose a major shortfall in the number of doctors training to become GPs — with a 10 per cent fall in filled places this year, the lowest number for at least five years." - The Telegraph, 30th June 2014
A headline on the front page of today's Telegraph blamed a shortage of GPs for "turning A&E into 'war zones'".
As it currently stands, in England the number of GP training posts that have been accepted by doctors has fallen by around 4% this year, not 10% as the Telegraph says. The fall in accepted posts came at the same time as a rise in the number of places, meaning that about 11% of the posts have not been filled. That compares with around 1% in 2013.
The fall in filled places partly reflects a drop in the number of applications this year, although some posts may not have been filled due to doctors not meeting the requirements. We've been told that for 2014 there might yet be some new places created and/or accepted.
It's worth bearing in mind that the training usually takes three years, so the full impact on primary care settings won't be felt for a while.
Fewer GP training posts were filled this year, and the shortfall was especially marked in particular regions
Qualified doctors — those who've completed a five year degree and then a further two 'foundation' years — may apply to specialise in a particular area of medicine or apply for a GP training post. GP training generally takes 3 years.
The body responsible for education and training in the English NHS, Health Education England (HEE), has given us figures showing that at the time of writing there are 316 unfilled GP training posts in England. In 2013 there were 23. Since it's possible  that more application rounds for 2014 posts will be held, the figures may not be fully comparable.
HEE told us the current number of unfilled posts is down to a combination of falling applications and an increased number of posts available.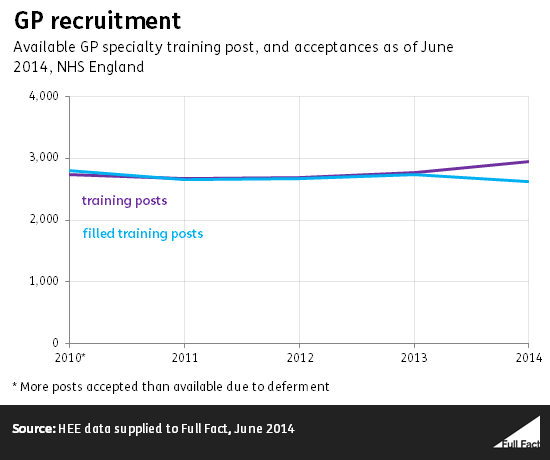 Accepted posts are counted the year they were accepted, even if the post in question only became available the following year.
Unfilled posts were present across the country. In 2013 99.2% of posts were filled, with 8 out of 11 English regions filling all their posts. In 2014, the proportion of posts currently filled has dropped to 89.3%, and no region has filled all its posts.
Three regions seemed to have particular trouble; in the East Midlands 62.5% of posts were filled, in the North East 69.3% were filled, and in Yorkshire and Humberside the figure was 77.8%.
The data hasn't been published, but was sent to us by HEE on request. It appears to differ from data used by the BMA earlier in the month that they say also came from HEE; we've contacted the BMA to ask for clarification on why this might be.
The government and NHS are working to increase the number of GPs
A lack of interest from doctors is not the only reason training posts might go unfilled. HEE says another reason might be that trainees didn't have the necessary qualifications.
It wasn't able to provide information on the number of applications. But Health Education East Midlands, which had the lowest proportion of its posts filled, told us that 2014 applications in the region have been lower than anticipated, "as they have been across the country". It says it is reviewing the reasons for this.
On a national level, HEE says it's working to increase the number of training places in England to 3,250 in order to meet a government-set mandate that 50% of doctors completing their foundation years will start GP training by 2016. This is part of a longer-term strategy to increase the numbers of doctors and other staff trained to provide care in community settings rather than in hospitals.
It also says that in some regions it's addressing unfilled posts by providing "pre-GP" years for doctors whose applications were unsuccessful. These will involve work experience and some teaching aimed at helping them be selected for the training in future application rounds. The East Midlands is one area running the scheme this year.