In brief
Claim
The government has given the NHS the money that it asked for.
Conclusion
The head of NHS England says this is not the case.
"We've given the NHS the money that they asked for."

Karen Bradley, 28 September 2017
The NHS "got less than we asked for", the chief of NHS England Simon Stevens told MPs in the Public Accounts Committee in January.
Mr Stevens also said last year that the money the government has committed is at the lowest end of a range of options the NHS set out.
For it to be enough, he said the service also needs to see "continuing access to social care" and "enhanced effort on prevention and public health". Public health spending is expected to fall and spending on social care is set to fall short of what experts think is needed.
Total health spending—the Department of Health's budget—will increase by around £5.9 billion over the period 2015/16 to 2020/21, while spending specifically on NHS England will increase by £9 billion.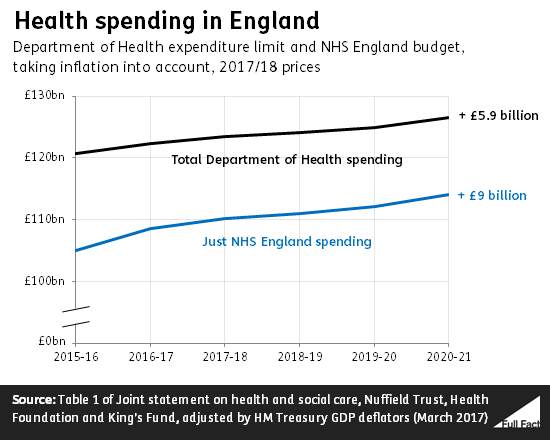 The government did agree to 'front loading' the spending increases over this period—meaning that more money will be made available in the early years, and comparatively smaller increases in the later years.
This factcheck is part of a roundup of BBC Question Time. Read the roundup.
With Brexit fast approaching, reliable information is crucial.
If you're here, you probably care about honesty. You'd like to see our politicians get their facts straight, back up what they say with evidence, and correct their mistakes. You know that reliable information matters.
There isn't long to go until our scheduled departure from the EU and the House of Commons is divided. We need someone exactly like you to help us call out those who mislead the public—whatever their office, party, or stance on Brexit.
Will you take a stand for honesty in politics?
---