"AT LEAST 1,165 people have starved to death in NHS hospitals over the past four years."
Sunday Express, 3 March 2013
The reputation of the National Health Service has taken a bit of a knock recently, with the Francis Report into Mid Staffordshire Foundation Trust revealing a series of examples of poor care.
This weekend's Sunday Express suggested that Mid Staffs wasn't an isolated case, blaming the NHS for the deaths of at least 1,165 deaths patients through malnutrition over the past four years, adding that four times that number had died from thirst over the same period.
According to the paper, food and drink is often placed out of reach of vulnerable patients, while nurses are "too busy" to feed them.
So is this another example of negligence by NHS staff?
Where are the figures from?
The Sunday Express writes that the number of deaths was unearthed through a Freedom of Information request to the Office for National Statistics.
Sure enough, we found that the ONS did publish figures on the number of deaths where malnutrition is a factor in response to an FoI request in January. While it only provided two years worth of figures, rather than the four years used by the Sunday Express, they do seem to tally with the numbers in the article, and we can use data revealed by a Parliamentary Question last year to fill in the gaps.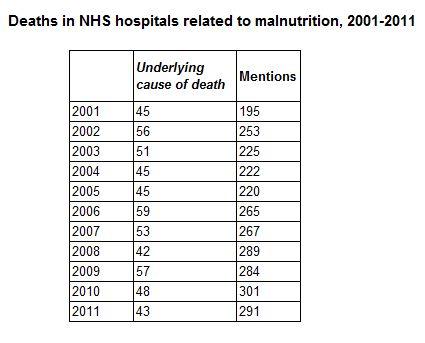 Does this mean the NHS is starving patients?
No: we need to be very careful in how we interpret this data.
Firstly, of the 1,165 cases referred to in the Sunday Express's headline, only a fraction were those where malnutrition was the underlying cause of death. The remainder are those cases where the patient was recorded as being malnourished when they died, although malnutrition wasn't necessarily the main reason for them dying.
This is important: certain fatal conditions are often linked to malnutrition as it becomes harder for the patient to eat or retain food.
As the ONS's response to the Freedom of Information request makes clear, this means that the numbers don't provide any clue about who is to blame for the deaths:
"These data do not provide enough information to link the deaths to the quality of care in the hospital. It is not possible to determine from these figures how or where the condition originated. There are many explanations as to why someone becomes malnourished: for example they may have cancer of the digestive tract, which means they can't eat properly or can't absorb nutrients; they may have suffered from a stroke or have advanced dementia which can cause difficulties chewing and swallowing; or they may abuse alcohol and so not eat properly. The deceased may have been malnourished before they went into hospital (for any of the reasons mentioned above), and perhaps only have been in hospital a very short time and the malnutrition may have nothing to do with not being fed properly in hospital. While it is possible that poor care may have been a factor in some of the deaths, ONS data does not provide enough evidence to draw this conclusion."
Sadly this is advice that the Sunday Express seems to have ignored, for the most part. While the very last paragraph does contain a quote from the ONS which summarises these problems with its interpretation of the data, its headline leaves readers in little doubt over who is to blame:


Can you help protect this election from the influence of bad information? Support Full Fact
This election, clear, accurate facts won't always be a guarantee. False and harmful claims are spread every day by our public figures and media. Intentional or not, they have the power to shape the choices we make. We all deserve better than that.
That's why we're fighting to keep this election more honest and accountable. And we can't do it without you. In a fast-paced campaign, our supporters mean we can hold all candidates to the same three principles: get your facts right, back them up with evidence, and correct your mistakes.
Just a small monthly donation keeps us scrutinising the most harmful false claims around the clock, and challenging the people who make them.
If you, like us, don't want your vote to be influenced by bad information, can you help out?
---