In brief
Claim
Over 200,000 nurses have quit the NHS since 2010.
Conclusion
This figure covers all nurses and health visitors who have left the NHS in England in the last eight years, including those with an unknown reason for leaving as well as those who have retired or died in service. Overall the number of nurses working in the NHS is slightly higher than in 2010.
"Labour reveals over 200,000 nurses have quit the NHS since 2010."

Labour party, 27 March 2018
Research released by the Labour party this week and quoted by a number of media outlets claimed that over 200,000 nurses have quit the NHS since 2010.
That's correct for England, but this figure should also come with a health warning.
While the turnover of nurses has increased since 2010, not all of the 200,000 staff "quit" the NHS voluntarily. Some retired (as Labour outlined in their full press release, though did not make as clear in the online version), others were transferred, some were dismissed and others died in service.
This doesn't mean we have 200,000 fewer nurses and health visitors now than in 2010, as new staff have joined the NHS or been retrained as nurses in that time too.
In June 2018, there were around 2,700 more nurses and health visitors (full-time equivalent) working for the NHS than in June 2010 (a 1% increase).    
Most nurses leaving the NHS resigned voluntarily
Over the eight years Labour looked at, just under 97,000 of the 200,000 nurses and health visitors had 'voluntary resignation' recorded as a reason for leaving—the single most common reason for leaving.
In the year to June 2011, 50% of nursing staff who had a reason for leaving recorded, voluntarily resigned. By the year ending June 2018, this had increased to 63%.
In total, around a third of voluntary resignations between June 2010 and 2018 did not have a specific reason for them recorded. Around a quarter were listed as being due to relocation and around one in five cited 'work life balance'. Just under one in ten resigned for reasons relating to promotion.
Looking at the increase in the number of nurses and health visitors resigning between the year ending June 2010 and 2018, the largest component of the increase were resignations due to relocation and 'work life balance'.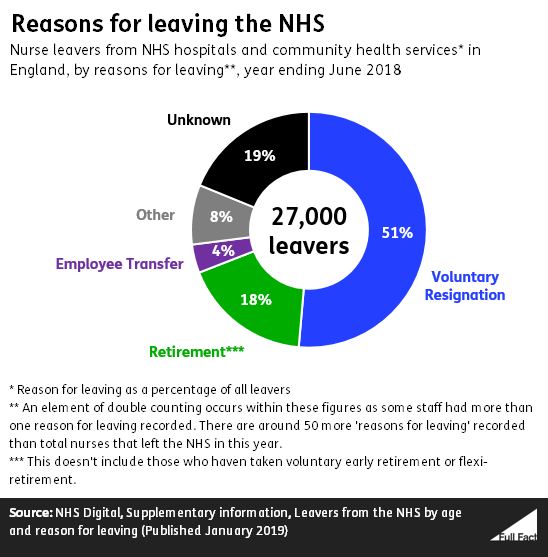 The data counts each individual nurse leaving the NHS (or the headcount), rather than the using the full-time equivalent (FTE) measure commonly used. Rather than just counting every individual person FTE factors in the number of hours they work, for example two nurses working part-time would be counted as one person working full-time hours.
More nurses and health visitors are leaving the NHS than joining it
Looking at slightly different data on the number of nurses and health visitors leaving the NHS in England (for years ending September rather than June) we can compare this to the number of nurses joining the NHS. These figures use the headcount measure too, rather than looking at the FTE numbers.
The data shows the number of leavers fluctuating, in some years keeping pace with the number of nurses joining and in some years exceeding it. The year ending September 2012 saw the largest difference, over 8,000 more nurses and health visitors left than joined the NHS.
The number of joiners was larger than the number of leavers in only three of the nine years measured.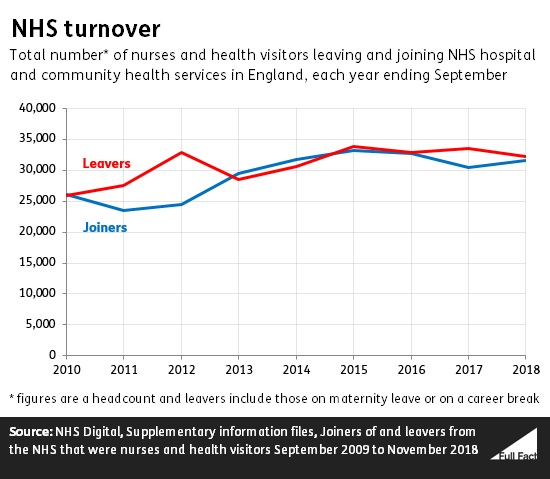 Unlike those used by Labour, the figures on the number of leavers used here include staff on maternity leave or career breaks.
But the number of nurses overall is still going up
Although more nurses are leaving the NHS in England than joining it, there are still slightly more nurses and health visitors working in the health service than eight years ago. NHS Digital, who produce figures on the NHS workforce in England, told us that this discrepancy was most likely because staff already inside the NHS were being reclassified or retrained as nurses and health visitors, so being counted in the total staff figures, but not in the joiners' figures.
Between June 2010 and June 2018 the total number of nurses and health visitors working in NHS hospitals and community health services in England increased by just over 200.
Looking at the FTE figure, it increased over the same time period by around 2,700 (1%).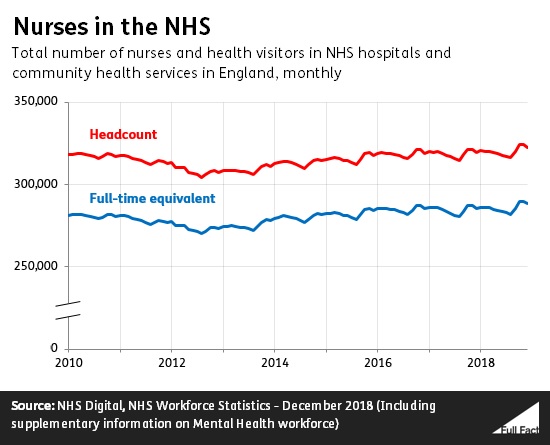 Can you help protect this election from the influence of bad information? Support Full Fact
This election, clear, accurate facts won't always be a guarantee. False and harmful claims are spread every day by our public figures and media. Intentional or not, they have the power to shape the choices we make. We all deserve better than that.
That's why we're fighting to keep this election more honest and accountable. And we can't do it without you. In a fast-paced campaign, our supporters mean we can hold all candidates to the same three principles: get your facts right, back them up with evidence, and correct your mistakes.
Just a small monthly donation keeps us scrutinising the most harmful false claims around the clock, and challenging the people who make them.
If you, like us, don't want your vote to be influenced by bad information, can you help out?
---