Earlier this year the Health and Social Care Act came into being, ending almost three years' worth of legislative struggle. Yet in spite of its implementation, the controversy surrounding the proposals lives on.
Still the Labour party claims the government "has spent £3 billion on an unecessary reorganisation of the NHS" and still the government claims otherwise.
So what do the latest figures tell us about the costs?
The government's take
Last week Health Secretary Jeremy Hunt updated the Commons on how things were going financially:
"Last September I reported to the House that the current estimate of costs was in the range £1.5 billion to £1.6 billion, which is equivalent to £1.6 billion to £1.7 billion in today's prices. I can confirm today that I expect the costs—including spending on redundancy—to be no higher than announced last year."
In fact, as the Secretary of State also published the Department's Business Case for the Transition Programme last week, the current cost estimates can be viewed in full. At present, the government thinks the total costs of transition will be at most £1.5 billion.
Around two-thirds of this comes from redundancy payments to existing staff at Primary Care Trusts and Strategic Health Authorities (which are both being abolished) - the central estimate is that about 13,000 posts will be made redundant. The rest comes from 'estates' and 'others' such as the cost of office space and IT systems.
The Health Secretary confirmed in Parliament that there have, to date, been around £1 billion of actual costs incurred, two-fifths of which have come from redundancies.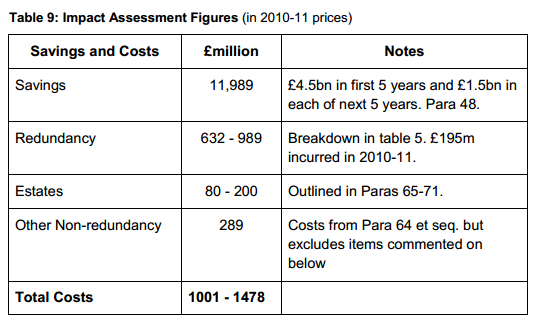 The opposition's take
In spite of the DH's impact assessments and costing estimates being available online, the Labour party continues to assert that the costs are actually much higher - totalling some £3 billion. Why?
We have to go back to late 2011 to see where the opposition is drawing its figures from. The NHS's own Operating Framework - which sets out the planning and financial requirements all sections of the NHS need to live up to - states that PCTs themselves will be paying for at least some of the costs of transition.
Labour claims this 2% amounts to around £1.6-1.7 billion per year - so over a two year transition period PCTs are "holding back" over £3 billion "from the NHS frontline."
So has the government underestimated its own policy's cost?
It looks unlikely. The DH themselves admit to the £1.6 billion figure being set apart from PCTs' funding. But it states:
"Most of the financial resources to support transition are held at local level. SHAs and PCTs are expected to fund their redundancy and other Business Case for the Health and Care Modernisation Transition Programme transition costs within the 2% headroom for non-recurrent spending they have been required to create.
"This 2% headroom is worth approximately £1.6 billion per annum and is recognised in current NHS plans. However non-recurrent spending within this amount is not restricted to transition costs."
So the government is setting aside £1.6 billion a year from PCTs' funding to pay for "non-recurrent" spending (money which goes to specific projects or emergencies rather than operational and salary costs). But not all of this is going to the transitions happening as a result of the Health and Social Care Act. 
In fact, the 2% tariff on PCT's funding isn't new - it existed in last year's Operating Framework and in the 2010/11 Framework, which was published by the previous government.
So it's correct that £3 billion over two years has been sectioned off from the main operational NHS budget as spent by local health authorities, but this isn't the same as putting a price tag on transition as a result of the Health and Social Care Act. The practice of sectioning off this kind of money from "frontline" operations isn't new, and in fact predates the Coalition government and all the recent reforms to the NHS.
Even then, the government estimates it'll save vastly more than it spends on modernisation/reorganisation/major de-layering (as it has variously been called). For now the government's own estimates still provide the best of the two available sources for costing the transition.
The integrity of our elections is in danger, and we need your help
You're probably here looking for facts. Thank you for that trust. But with the EU parliament elections on the way and more elections a possibility, we need to act now to make sure our elections are protected, before it's too late.
Could you help protect our elections by becoming a Full Fact donor?
Misinformation isn't new, but advancements in technology mean it can spread at an unprecedented scale. Our dangerously outdated election laws have not kept up with the digital age, putting our next elections at risk of abuse.
Currently, it's possible for a candidate to run a thousand different political ads to win the same seat, promising something different to each group it targets. At the same time, there's no law requiring those who publish online campaigns to disclose who they are or how they are funded. The opportunity for bad actors to manipulate election results is left wide open.
You may already know about our work to make public debate online more honest and transparent. Every day, we call out the most harmful misinformation on social media platforms when and where we see it. But right now, we're urging the government to overhaul our election laws to make sure political campaigning is held to the same level of scrutiny online as it is offline.
This work all depends on the generosity of hundreds of people who all believe that for democracy to work, we need transparency. Our monthly donors help strengthen our voice, and show our politicians that this really matters. Would you consider joining them?
Become a donor today to make sure our elections are protected.
---