Health tourism: is the British taxpayer out of pocket?
3 July 2013
Under plans announced by the Government today, foreign nationals visiting these shores could have to cough up £200 before they are allowed access to NHS healthcare.
At this afternoon's PMQs, David Cameron rejected the Opposition's claim that the move was "xenophobic", arguing that it was necessary to protect "British families [who] pay about £5,000 a year in taxes for our NHS."
So are UK citizens being left out of pocket by overseas visitors?
That was certainly the suggestion in one Daily Mail headline last week, which read: 
"The health tourist 'hit and runners' who rip you off... with £24million in unpaid NHS bills as abuse of free care by non-EU patients doubles in just one year."
The story was based on Freedom of Information responses from 120 Hospital Trusts, which found that overseas patients had been billed £30.9 million in the past year, with £23.8 million as yet unpaid.
As usual, we need to take care when interpreting FOI data. We don't know if the 40 Trusts that didn't provide data would have noted the same trends as those that did, for example, while the figures which have been collected may not be entirely comparable.
There are however other reasons to be cautious about using this number as the much sought-after 'cost of health tourism'.
Unfortunately, we don't have access to the responses collated by the Mail, although a look through various Trusts' disclosure logs does reveal the sort of information that the paper is likely to have been provided with.
As we've seen before, there is a difference between debts that haven't yet been recovered and those that have been written off as unrecoverable. One of the reasons which might be behind the sharp increase in unpaid debts in the most recent year (the Mail claimed that it had doubled) might simply be that the efforts by hospital staff in recouping the money from these unpaid bills may need more time to bear fruit.
While the Health Secretary himself has recognised that there is no official measure of the cost of 'health tourists', Health Minister Anne Milton has provided Departmental estimates of the 'bad debts' incurred by foreign nationals that are written off by hospitals, and placed the sum at closer to £12 million for the most recent year.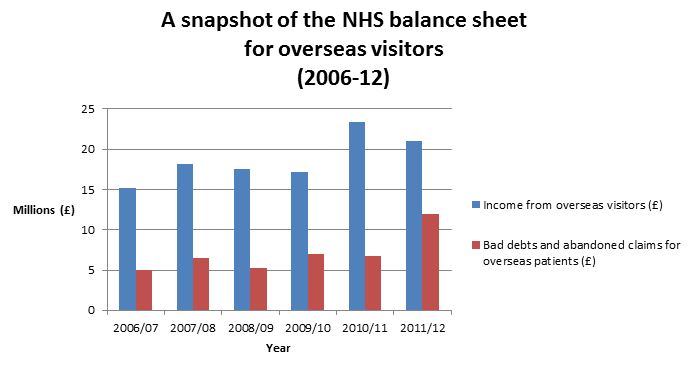 As the Royal College of General Practicioners' Clare Gerada told the Today programme this morning, there is also a second side to this particular ledger, which is the debts incurred by British citizens abroad which aren't recouped. 
Is it a case of quid pro quo? Unfortunately, there isn't enough information available to answer this.
The Department of Health was only able to provide Full Fact with the relative sums paid out to and recovered by European Economic Area (EEA) countries. In the most recent year for which there is data, the Department paid out £800 million to cover healthcare costs incurred by Brits abroad, and recovered £50 million.
However as European health debts are recovered by centrally-managed arrangements with other EEA states, these don't provide any clues as to the size of any 'bad debts' incurred further afield, meaning we can't compare these figures to the costs touted in the newspapers. Ultimately, more research would be needed in order for these costs to be pinned down with any accuracy.