How many people die in fires?
16th Aug 2018
Claim
There were 334 fire deaths in England (including 71 at Grenfell). This is the worst year for fire deaths since 2010/11.
Conclusion
There were 334 fire-related fatalities in England, including 71 the Home Office counts as occurring as a result of Grenfell Tower fire. The last time this was higher was 2010/11 when there were 335 deaths.
"Fire deaths in England increased sharply last year. There were 334 fire deaths in England (including 71 at Grenfell). This is the worst year for fire deaths since 2010-11."

Grahame Morris MP, 9 August 2018
Fire-related fatalities in England rose by a quarter between 2016/17 and 2017/18, from 263 to 334. This increase, of 71 deaths, was the same as the official Grenfell Tower death toll.
Fewer people are dying in fires in general but recent figures have fluctuated
The year just gone had the highest number of deaths since 2010/11, when there were 335 fire-related fatalities.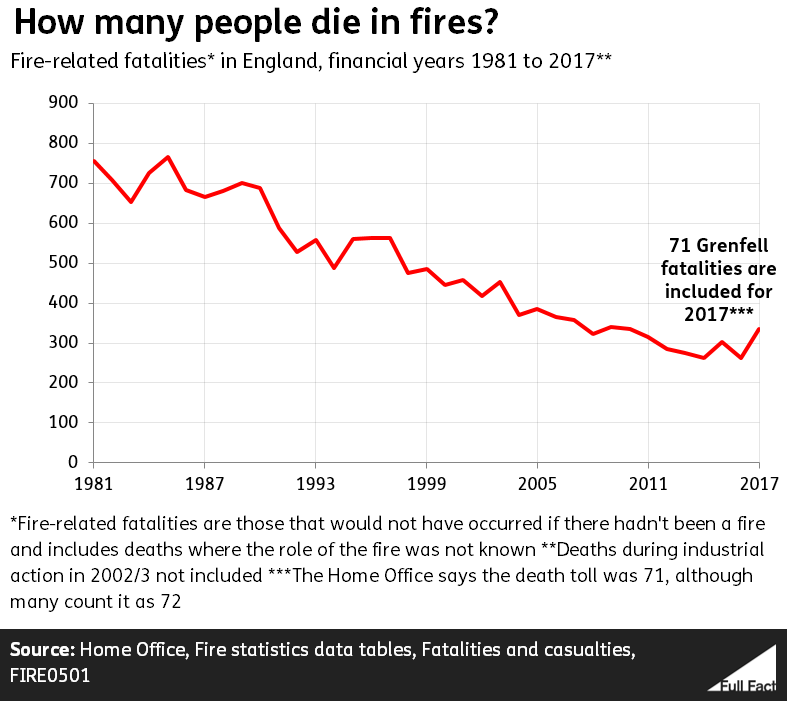 Although the Home Office refers to 71 fatalities of the Grenfell Tower fire, it's widely acknowledged that there was a 72nd victim—Maria del Pilar Burton—who was rescued from the tower and died seven months later. Grahame Morris MP acknowledged this in a later tweet.
Looking at the number of fatalities per million people of the population, there have been 5 or 6 a year since 2010/11. That's down from a high of 16 per million in 1981/82 when this data set began.
The majority of fire-related deaths in 2016/17 (80%) occurred because of fires in single occupancy dwellings. This includes houses, flats and maisonettes occupied by, for example, a family or a couple, but not those shared by three or more occupants who aren't related or in relationships. Road vehicle fires caused 8% of fatalities.
There were around 7,300 non-fatal casualties as a result of fires in England in 2017/18. That number is down generally from a peak in 1996/97 when there were 14,800.
But the Home Office says "it appears that the downward trend has slowed in the last few years and shows some fluctuation."
Almost half of these casualties last year required hospital treatment, a third needed first aid, and less than a quarter had a "precautionary check".
Where were most fires?
Fires are categorised as larger primary fires, which are usually in homes or cars and involve casualties, less serious secondary fires, and chimney fires.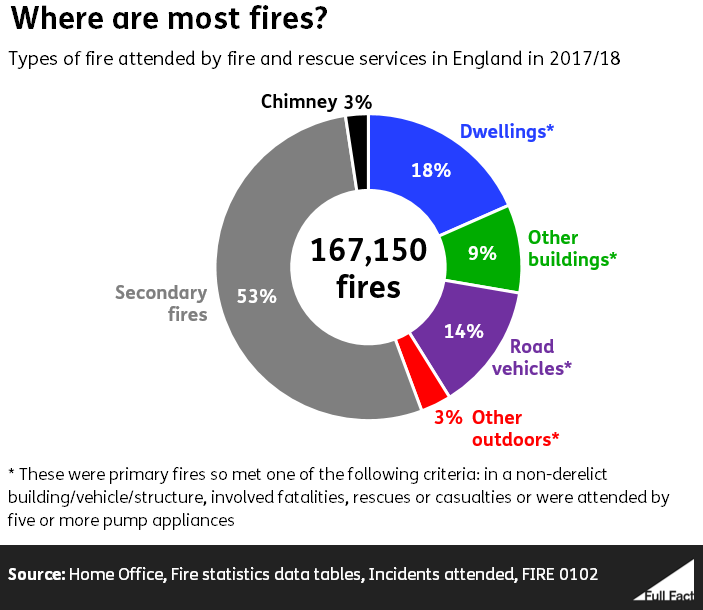 To qualify as a primary fire, it has to involve fatalities, casualties, rescues, or five or more pumps in attendance. Fires in buildings, vehicles or outdoor structures that aren't derelict also count.
Primary fires can happen in dwellings, which includes houses and flats, while the other buildings category covers places like hotels, student halls, offices and shops.
The number of primary fires has dropped by 60% since a peak in 2001/02 when there were 189,000. In 2017/18 there were 74,100. Primary fires in homes are down by over 40% over the same period, from 54,500 to 30,700.
Incidents attended
The total number of incidents attended by fire and rescue services in England is down by around 15% since 2009/10 (when comparable records began), from 680,600 to 564,800 in 2017/18.
Just 30% of the incidents fire and rescue services attended in 2017/18 were actual fires.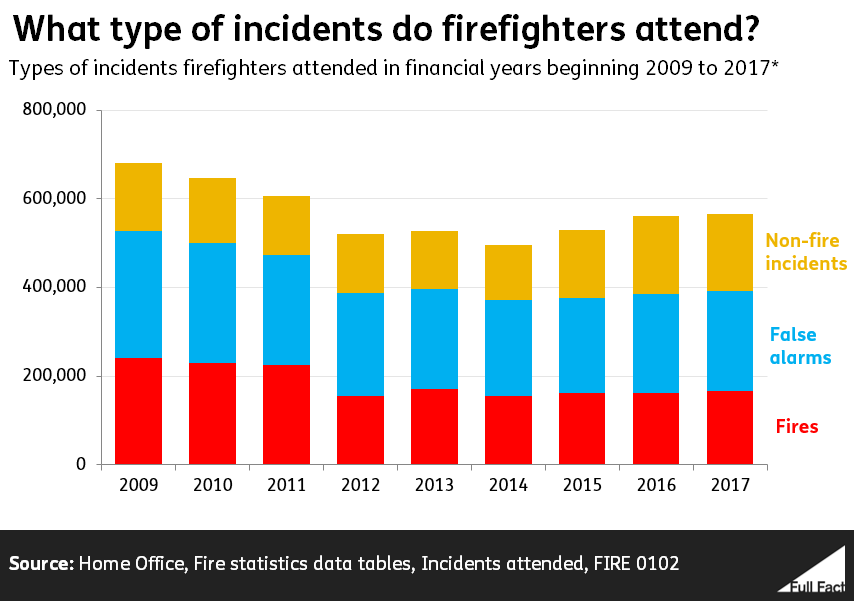 In 2017/18 firefighters attended more non-fire incidents than fires, having done so for the first time on record the year before. Non-fire incidents can include extracting people from cars after collisions, evacuating during floods, and being the first responder in medical emergencies.
Fire and rescue services attended almost 40% more non-fire incidents in 2017/18 than they did three years earlier. The Home Office said that was "mainly due to an increase in [Fire and Rescue Services] attending medical co-responding incidents".