The i needs to go further in correcting nursing jobs error
1 June 2012
Today the i newspaper published a correction to its recent front page article which overstated the number of nursing jobs that were estimated to have been cut by the Royal College of Nursing.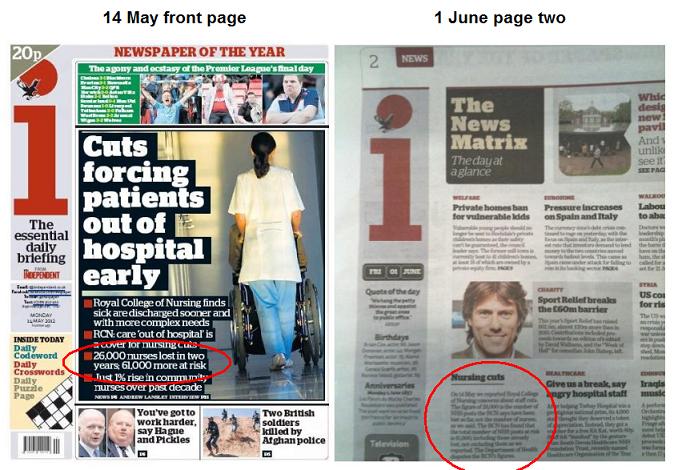 Full Fact is pleased that the newspaper responded promptly after they were made aware of the problem. The printed correction, however, does not go far enough.
There are two problems with it. The first is that the original error is printed prominently on the paper's front page, while the correction appears on page two. More worryingly however is the fact that the clarification printed today isn't labelled as a correction at all.
The Editor's Code of Practice, enforced by the Press Complaints Commission (PCC), states in clause one that:
"A significant inaccuracy, misleading statement or distortion once recognised must be corrected, promptly and with due prominence, and - where appropriate - an apology published. In cases involving the Commission, prominence should be agreed with the PCC in advance."
Full Fact maintains that the claim on the i's front page is a significant inaccuracy given that it overstates the number of nursing jobs estimated as having been cut by a factor of five, fails to distinguish between nurses and NHS staff in general, and double-counts the number of staff estimated at risk overall - as explained by Full Fact last month.
For this reason, we believe that "due prominence" in this case warrants a front page correction so that the as much of the damage done by misinforming readers that saw the original front page can be put right as possible.
Full Fact will therefore continue to pursue action via the PCC. We are also still awaiting action from the Times on a similar error.
Let us know what you think about the i's correction on our Facebook page.