The Health and Social Care Information Centre (HSCIC) has stepped in to correct inaccurate reporting of figures on the number of new nurses who are recruited from overseas.
Earlier in the week the Daily Mail reported that "four out of five new nurses on NHS wards are foreign".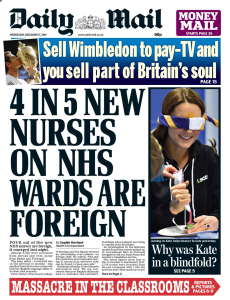 They've worked that out by taking figures from the Health Service Journal (£) on the number of foreign nurses recruited and dividing them with the net increase in the number of nursing staff (the total number of recruited nurses minus the number who've left).
The HSCIC statement explains why that calculation doesn't make a whole lot of sense.
Imagine that in the last year a hospital has hired 1 foreign nurse and 9 British ones. That's 10 new nurses.
Now imagine that in the same year, 9 nurses have left the hospital.
The net increase in nurses is 1, and the number of new foreign nurses is also 1. Does that mean 100% of the nurses hired that year were foreign? Of course not.
According to the HSCIC's own analysis the proportion of new nurses who were non-British was more like 1 in 5 in the year up to September 2014 (although it doesn't know the nationality of all new recruits).
We need facts more than ever.
Right now, it's difficult to know what or who to trust. Misinformation is spreading. Politics and the media are being pushed to the limit by advancements in technology and uncertainty about the future. We need facts more than ever.
This is where you come in. Your donation is vital for our small, independent team to keep going, at the time when it's needed most. With your help, we can keep factchecking and demanding better from our politicians and public figures.We can give more people the tools to decide for themselves what to believe. We can intervene more effectively where false claims cause most harm.
Become a donor today and stand up for better public debate, on all sides, across the UK.
---