Labour's claims on the NHS
25 September 2013
This article has now been updated with more information on redundancy payouts. 
According to the shadow secretary of state for health, the Coalition can't be trusted with the NHS. Speaking at the Labour party conference, Andy Burnham cited the "crisis" in A&E, staff redundancies and the availaibility of treatment as areas where the government has allowed the NHS to fail. We've looked at whether the claims he made stand up to scrutiny.
NHS care restricted?
Mr Burnham suggested that the principle of free and universal NHS care has been abandoned by the Coalition, arguing that "patients are left paying thousands as NHS care is restricted." He offered the example of older people being denied cataract, hip and knee operations because their local hospital had limited the availability of treatment.
NHS care isn't always free at the point of use. However, there's no provision to deny patients orthopaedic or opthalmic surgery on the NHS. Nevertheless, in 2012 the King's Fund noted, "Current government policy does not include any measures to tackle the significant local variations in access that remain."
The UK's most prominent health think tank cites a number of studies that suggest access to care might be a postcode lottery. A poll by GP magazine found that of 101 Primary Care Trusts (PCTs), over half were setting limits to joint and bariatric (weight loss) surgery, and two thirds were restricting cataract surgery. A separate survey of 71 PCTs showed 50% restricting access to cataract surgery.
The Kings Fund points out that this practice is not in line with national guidance, as well as the fact that treatment rates from area to area varied considerably before this time. During a period when budgets are under strain, it's perhaps unsurprising that elective procedures are not regarded as a priority. The Kings Fund spells out the dilemma for NHS management:
"Access to elective care is one of the few areas where demand can be controlled, so it is only to be expected that commissioners will seek to limit demand."
And on the subject of pressure points, that leads us to... 
A&E at breaking point?
The Labour party has continued to attack the Coalition for the "crisis" in Accident and Emergency. Mr Burnham is more or less correct when he says that this year one million people have spent more than four hours in A&E. The most recent data shows that between July 2012 and June 2013, approximately 950,000 people were kept waiting more than four hours. The government's current target is for 95% of A&E patients to be discharged or admitted within four hours of their arrival. 
Mr Burnham also alleged that the NHS has experienced "the first summer A&E crisis in living memory". Official statistics only date from 2010, so it's not possible to verify this claim in full. However, we can see that earlier this year was the first time that the government's target for A&E waiting times was breached during the spring.
A&E departments are usually at their busiest during the winter months (more often than not a combination of flu and festive over-indulgence) and this is where we normally see breaches of the 95% target. While March is not exactly summer, Mr Burnham's point seems to be that we've seen delays at a time of year when we'd normally expect A&E departments to be coping.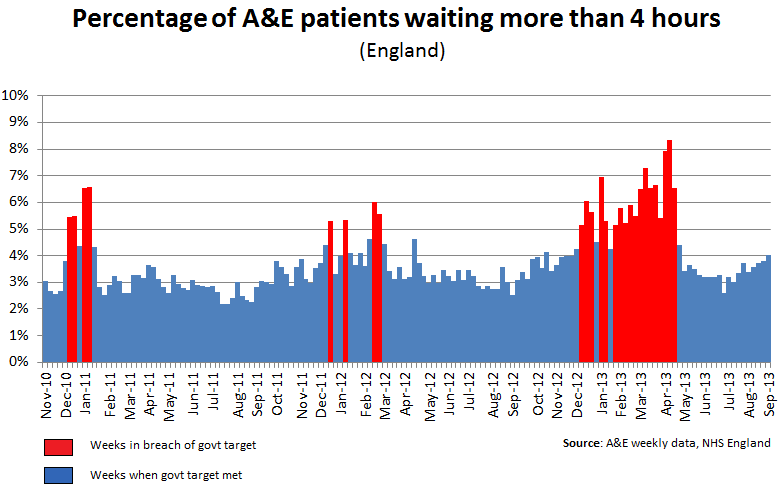 The government recently announced that over the course of the next two years it would provide A&E departments with an extra £500 million for the winter months.
Frontline redundancies?
Mr Burnham also claims that the Coalition "gave...5,500 nurses their P45s". The latest figures do show us that under the Coalition there are now fewer nurses employed by the NHS. This is the case regardless of whether you look at the number of nurses in total (headcount) or how many work the equivalent of full-time (Full Time Equivalent).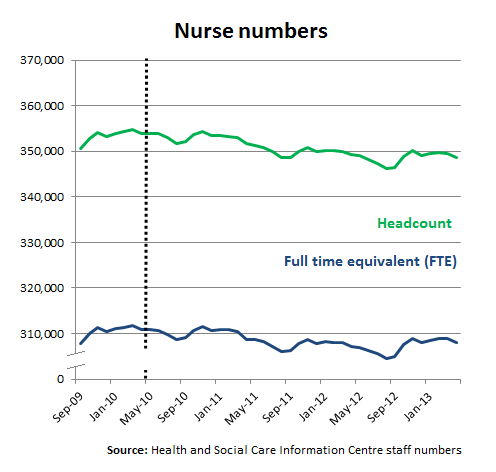 The headcount figures do show, as Labour claim, that 5,269 nursing jobs have been lost under the current government. Using the Full Time Equivalent measure, the decrease has been smaller (2,854 posts). What we don't know is how many are redundancies. Some nurses will have retired or changed career. In addition, the Royal College of Nurses has also observed that there are more NHS nurses moving abroad.
On top of this, Mr Burnham alleged that the government has been behind "six-figure pay-offs to 2,500 managers". The government has said that it doesn't hold this information centrally, and we're still trying to locate a source for this statistic.
UPDATE (3 Oct 2013)
Mr Burnham's office kindly directed us to the source of the claim that the Coalition has authorised "six-figure pay offs to 2,500 managers". The Department of Health's annual accounts for 2010-2013 show that 2,299 people received a six-figure sum as part of their exit package. Of this total, the majority (more than 60%) received a payment of between £100,000 and £150,000.